Accessible only by boat, and located in the Lamu Archipelago, on Manda Island, opposite Lamu itself, The Majlis Hotel is a privately-owned boutique hotel.
overview
With 3 villas, a restaurant, bar and multiple pools, The Majlis Hotel is a medium sized build and is made from mixed materials – stone, wood and thatch. The shared areas are beautifully kept, and much is made of the view of Ras Bitau Bay and Shela Village, which is stunning, and of the hotel's art, which includes an enormous elephant head sculpture by Armanndo Tanzini.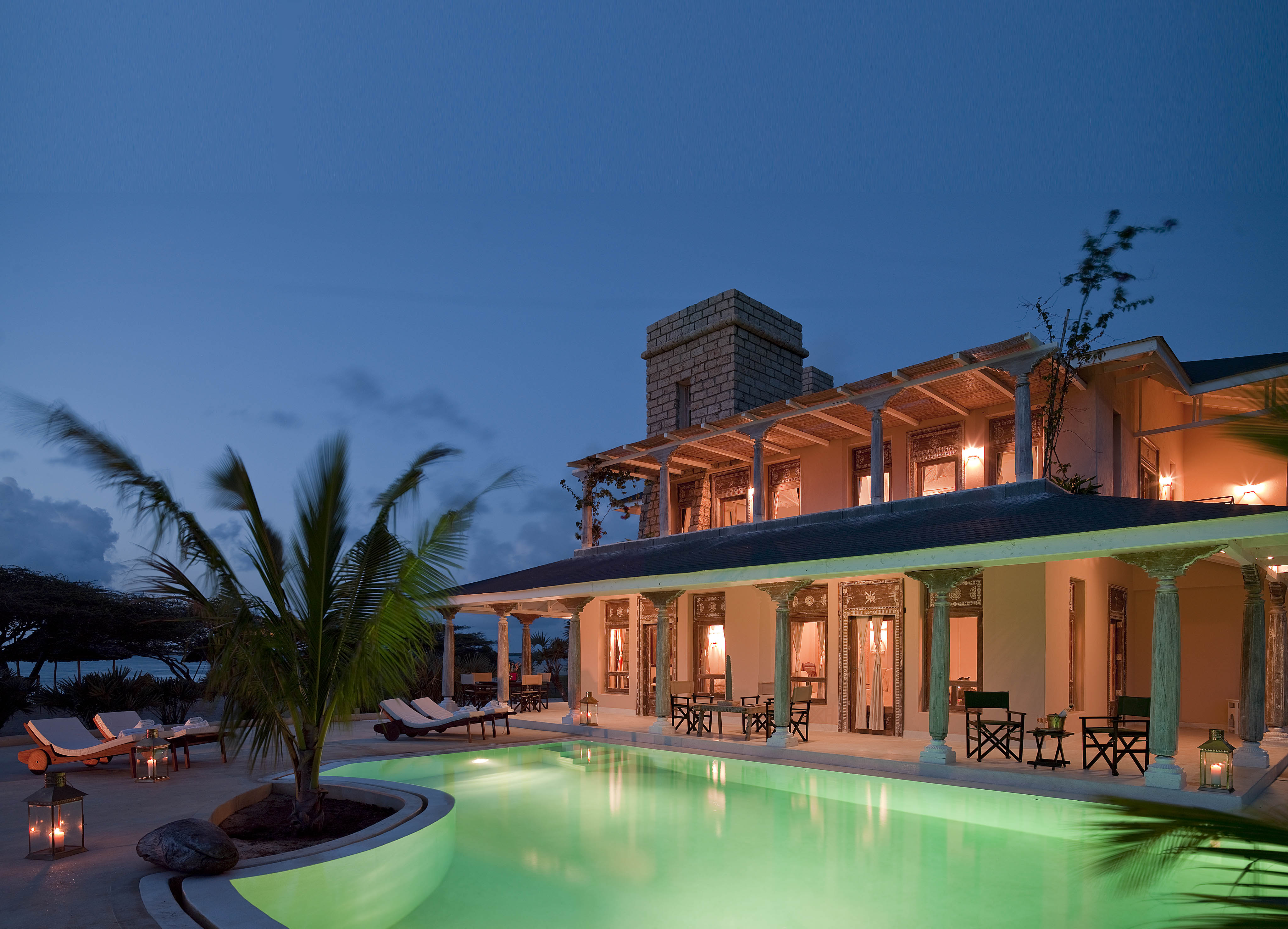 food and service
The food – international, but tipped heavily in favour of Japanese and Italian – is delicious, the service friendly, and families will be pleased to learn that The Majlis loves children.
accommodation
The 3 villas consist, in total, of 25 en-suite bedrooms/suites. There is a dizzying array of room sizes, with the rooms offered either as superior or deluxe, and the suites as junior or royal. Nonetheless, whatever the room, each contains a four poster bed, a seating area, and a changing area. The style is restrained, with carefully chosen artefacts, one or two hand-woven rugs, and furniture that is as well designed as it is comfortable.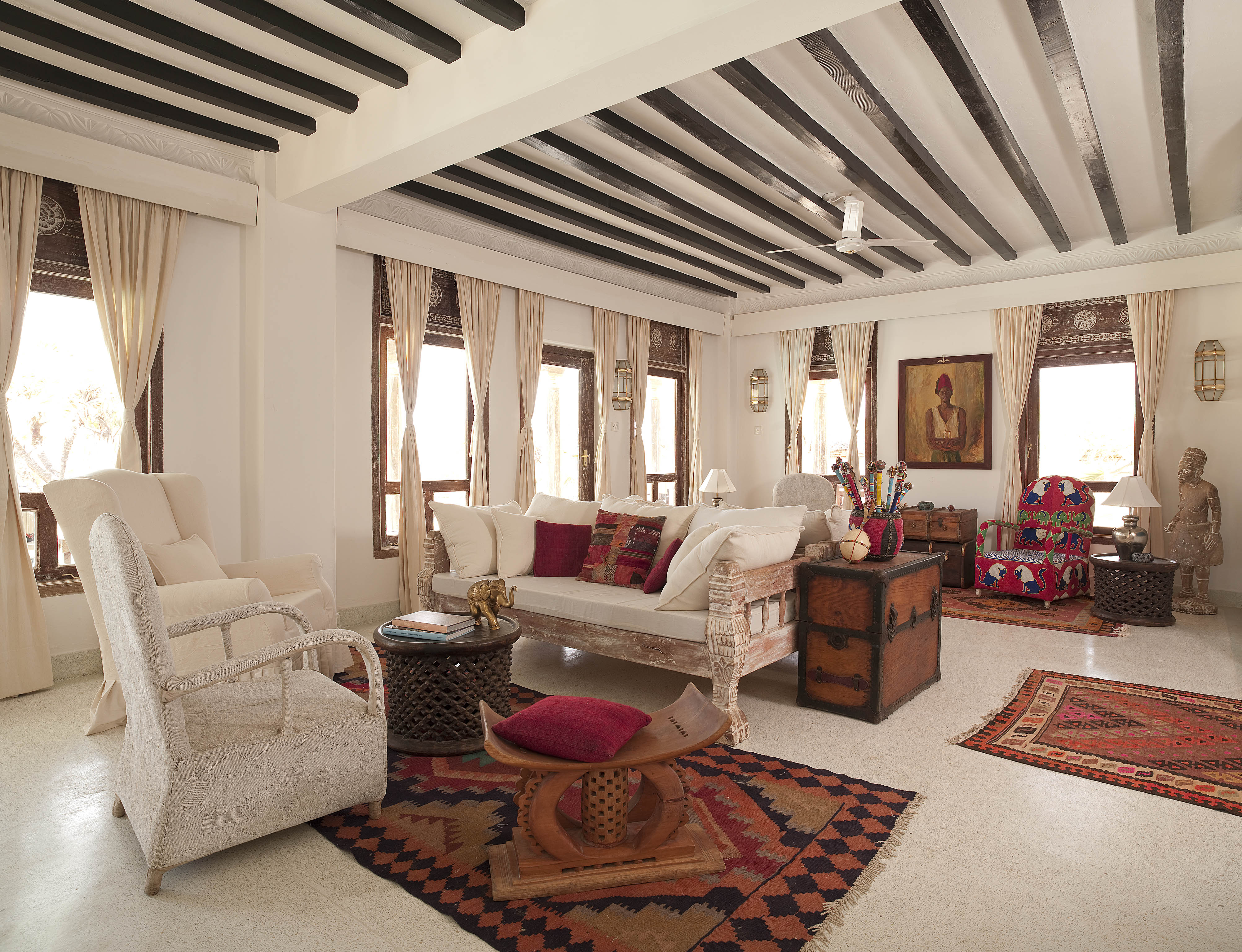 The ceilings are high, beams are exposed, and there is a general feeling of space. Each villa of The Majlis has its own private veranda and pool, and these extra public spaces provide relaxed environments within which to meet and exchange notes with other guests. Wi-Fi is available, but please note feedback has been mixed regarding the speed.
activities
Activities include water sports, diving, snorkelling, Lamu based excursions dhow trips and fishing. Please be aware that the fishing season takes place between August and May.
ethics
Conservation
In a push to reduce its dependency on gasoline, The Majlis has invested in renewable energy sources in the form of solar panels and wind turbines. It is hoped that with these measures in place carbon emissions can eventually be reduced to almost zero. In addition to this, all fresh ingredients used at the hotel are sourced exclusively in Kenya reducing its carbon footprint once again.
Water is a scarce commodity in Manda Island and as a result high levels of water used at the hotel are subsequently recycled for garden use. Moreover all pools have salt water and the hotel is using water efficient washing machines to minimise waste of fresh water.
Commerce 
Over 95% of the Majlis's staff is Kenyan and at its heart the hotel is committed to hiring local talent to train and to support the local community. During the building process, The Majlis was built entirely with local produced material. The 3 villas were built using coral blocks sourced at the Timboni quarry located 2 km from the resort. All the doors, windows and furniture were built by 24 skilled Kenyan carpenters on the back of the resort. The Majlis continues to rely on local workforce and source materials locally wherever possible.
Community 
The Majlis supports the local soccer team of Shela village called "Bright Stars" and contributes to the local orphanages directly.
The hotel is also a significant supporter of an NGO called ANIDAN whose aims are to address the needs of young children across Kenya. On the island of Lamu, off the northern coast, ANIDAN has a shelter where it cares for over one hundred children, with a further two hundred also educated there.