2°
15'
20.49'' S
40°
53'
44.11'' E
Located on Lamu Island, near Lamu town, and designed by Mombasa-based architect Urka Sanchez, The Red Pepper House is an extraordinary boutique beach hotel.
overview
Situated on the beach, in the shade of a thin belt of neem and acacia trees, The Red Pepper House is the private property of a Spanish interior designer and consists of a main house and 5 suites or nyumbas. A stone, wood and makuti thatch build, the hotel's overall design borrows heavily from local building techniques, the open sides, high, cavernous ceilings and shaded verandas all staple Swahili features, their function the provision of cool interiors.

The Red Pepper House's shared areas include a seating area, library, terrace, dining area, a walled garden, forest chill-out zones, beach and swimming pool. The main house is wonderful. Without walls, internal or external, the outside – sand, trees and sun – contrasts wonderfully with an interior characterised by semi-circular slumber seating, polished floors, sisal rugs, crystal chandeliers and a large dining room table and chairs.
Supported by a simple series of wooden uprights, and marked by exposed beams, the house's vaulted roof provides shade and gives the house something of a cathedral-like feel. Outside, discreetly placed sun loungers, the rectangular pool and a bar serving everything from fruit juiced to champagne complete an area that is as simple as it is beautiful.
food and service
Much is made by returning guests of The Red Pepper House's food and service. Headed up by Chef Mohamed Yakat Ali, the kitchen is quickly becoming known for specialising in a Swahili and Mediterranean cuisine, though one that is strained through methods and sauces distinctly Asiatic in feel and taste. With much of the produce organic – the vegetables sourced as locally as possible, the fish and seafood bought off the beach, from Lamu fishermen – the food is at once light and healthy. Equally fine, the service, from restaurant floor to nyumba butler, is excellent, friendly and discreet.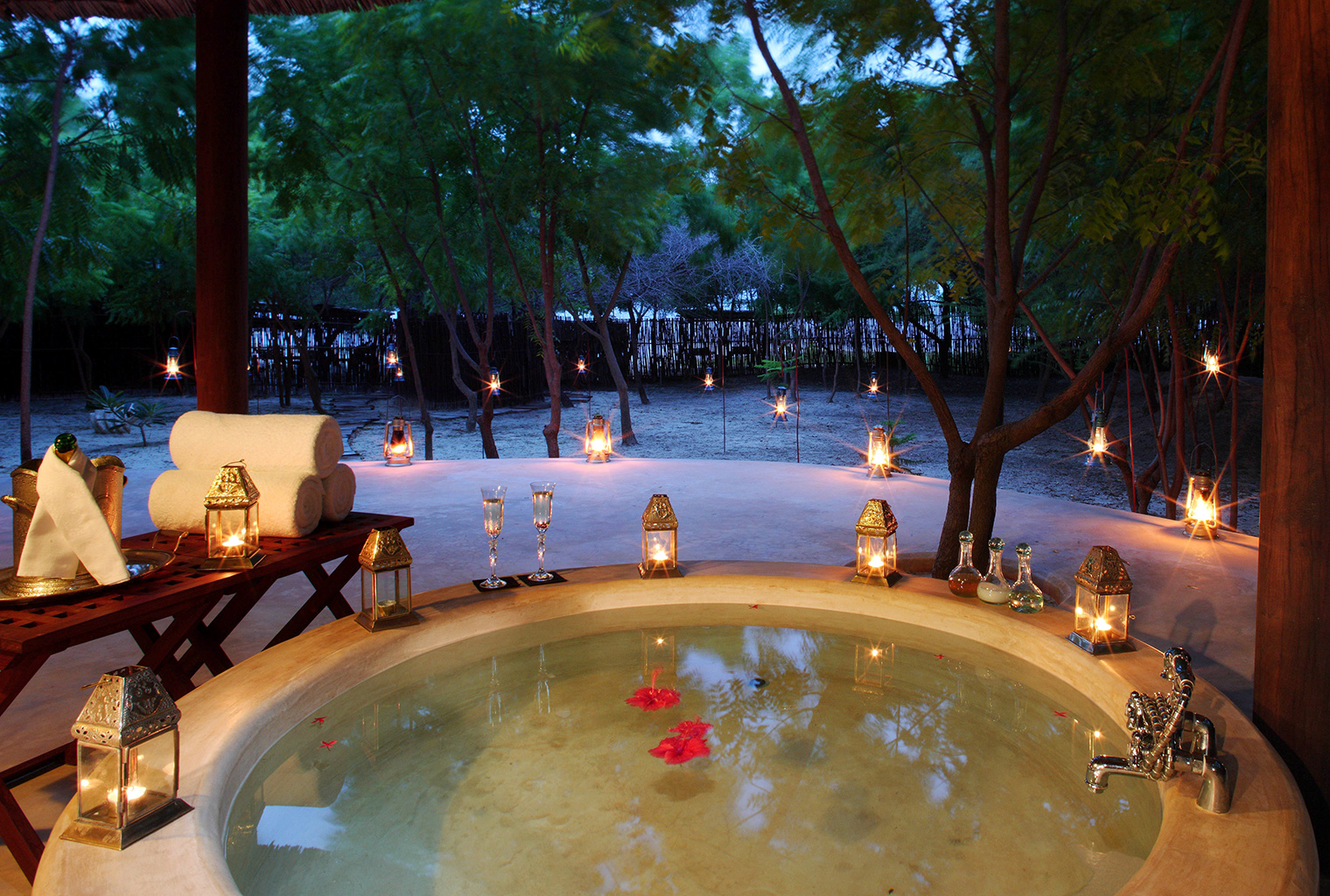 accommodation
The Red Pepper House can accommodate up to 10 guests. Each nyumba is set facing the beach, just inside the tree-line, and consists of a bedroom, veranda, lounge and outdoor bathroom. Stone and thatch builds, its thick-walled exteriors painted bright white, the interior is once again minimal, Swahili-influenced and deeply comfortable. The beds, double or twin, are locally made, the art commissioned off local artists and the overall feel of the sleeping room is very much in keeping with the hotel's general ambience. Free Wi-Fi is available across the house.
activities
Activities at The Red Pepper House include snorkelling, fishing, beach games, Swahili workshops, dhow trips and cultural trips.
ethics
Community 
The hotel is involved in several charitable projects, including a school, hospital and an orphanage, the last of which is situated next door.