Opened for business in August 2010, located between Mt Kenya and the Aberdares, on Solio Game Reserve, and already garnering praise for offering a top drawer safari service, Solio Lodge is a beautiful, first rate luxury lodge.
Overview
A part of the 45 000 acre Solio Game Ranch, known throughout the industry for its highly productive rhino breeding programme, Solio Lodge is a stone and thatch build consisting of a main lodge and 6 sleeping rooms. With streamlined African inspired exteriors countered by minimalist interiors, a great deal of thought has gone into creating a building and space that fits with the plains habitat, while at the same time reflecting advances in design and materials technology.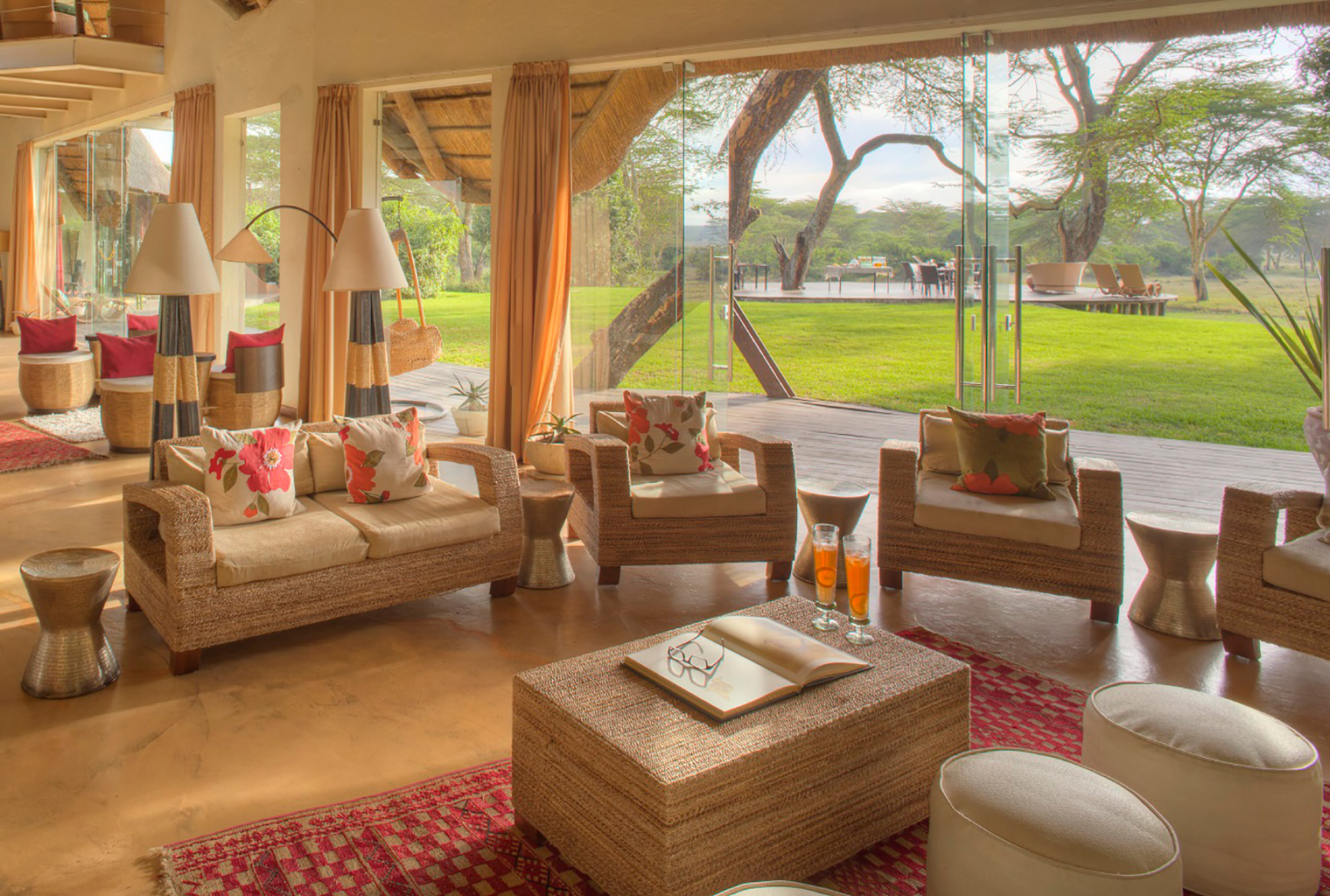 The main lodge, for example, which includes a dining room, bar, lounge and veranda, possesses a wave-shaped roof with low lying edges, polished concrete flooring, whitewashed walls and a very tidy exposed beam ceiling. The stretched glass front looks out onto a semi-domesticated lawn, its soft borders marked by yellow fever acacias, the outdoor seating dominated by baroque lightweight loungers. Inside, the slumber seating is a fascinating sisal covered block design, while dining is on restrained black chairs at glass tables. The fire places – long, rectangular, raised and set into the chimney breast – are flanked by two deep set log shelves. Large pieces of original art are hung throughout.
Food & service
Cooked by Joseph Mbugi Karobia, of Atlantis Palm Jumeirah fame, the food is excellent. When last there (2010), we enjoyed an exquisite Mandela curry with fresh salad and a homemade cheesecake.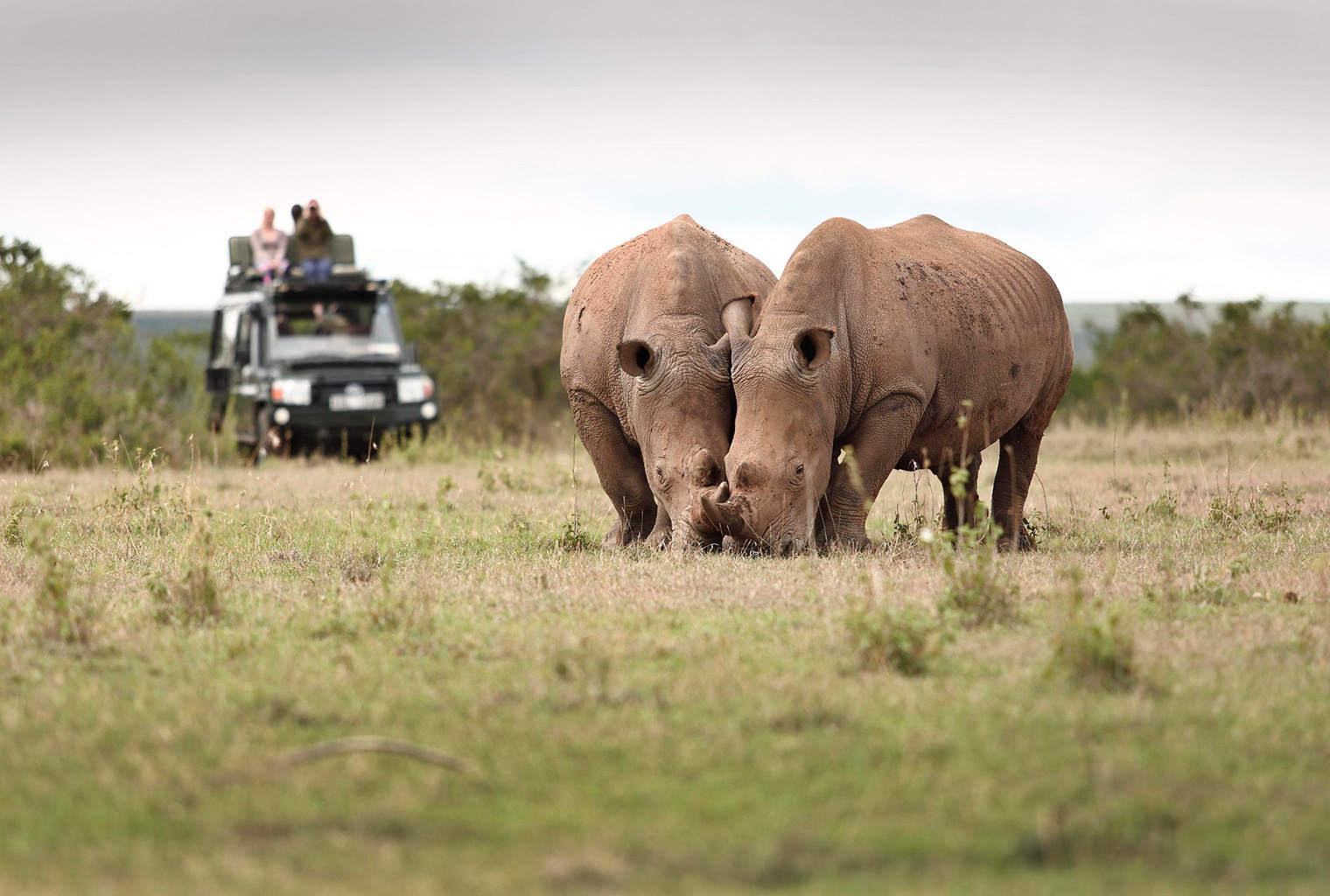 Rooms
The rooms are equally fine. Possessing again the sweeping low roofs and glass fronts, each consists of a lounge area, double bed, fireplace, separate bathroom and outdoor area. While each room of Solio Lodge is themed, the look is neither overdone nor ill-chosen, and everything is stripped down to its elements. Functional lines – a simple leather head bed, the raised, bell shaped fireplace, rugs that follow the room's shapes – are emphasised, and space is left free of unnecessary clutter. The bathrooms – stand alone roll-top baths, showers, sinks and flush toilets – are semi-surrounded by floor-to-ceiling glass, and jut out of the building, much like giant sized bay windows, less of course frames, sills and decorative features.
Activities
Activities at Solio Lodge include rhino tracking, guided walks, wildlife drives, heli-safaris and horse riding.
Impact
Conservation 
Solio Lodge in an effort to reduce the effects of using plastic bottles, has introduced the use of stainless steel bottles in all properties. Guests will be able to reuse the bottles and refill them whenever they need to. Solio also grow a variety of their our own vegetables and herbs in their gardens on site.
Moreover the lodge also supports the following wildlife projects:
Lion Conservation Project
Grevy Zebra Trust
African Fund for Endagered Wildlife
Rhino Monitoring