0°
36'
43.9'' N
36°
48'
10.16'' E
PLEASE NOTE: Loisaba Lodge is no longer in operation. We apologise for any inconvenience. We suggest you consider Loisaba Star Beds and Loisaba Tented Camp as alternative Loisaba accommodation options.
overview
Located on the border between Laikipia and the Northern Frontier District, and originally the home of Count Carletto Ancilotto, who built the property in the 1970's, Loisaba Lodge is the largest of 3 outstanding Wilderness Loisaba destinations, and acts as the focal point for the ranch's many activities. As much a nod in the direction of Ancilotto's taste as it is a monument to his memory, the house looks much like it did 30 years ago. Situated on the edge of a 1000 ft escarpment, marked by two large chimneys, and set in a beautiful mature garden, Loisaba Lodge is a stone, timber and thatch build, its materials all locally sourced.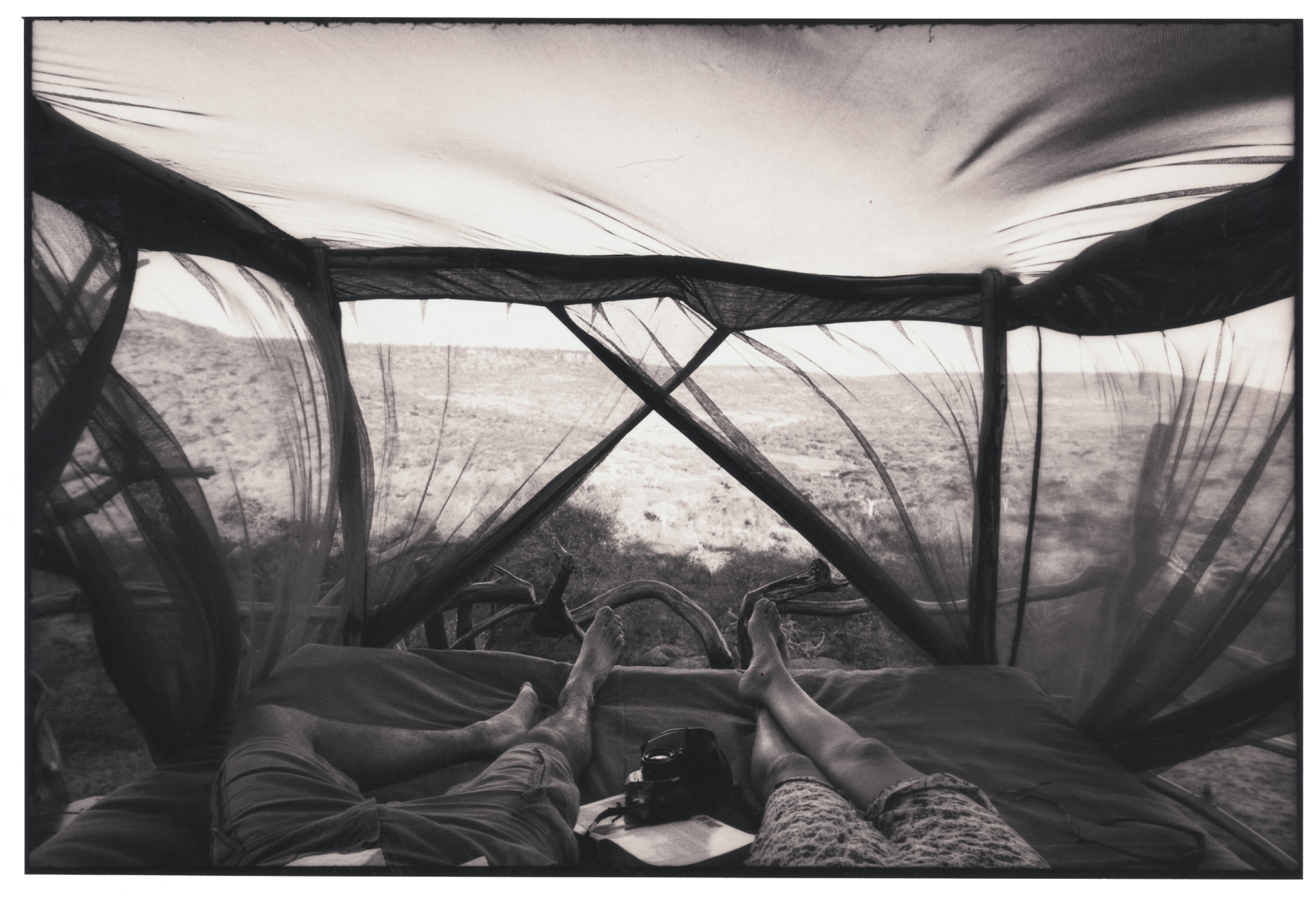 Inside, Loisaba Lodge is cool, idiosyncratic in terms of its layout, carefully thought through. Consisting of a lounge, dining room, library, spa, swimming pool, bar, kitchen and 7 sleeping rooms, the shared areas are characterised by slate stone floors, white walls, great old hand-woven carpets and a wonderful eye for furniture that works without additional clutter. The walls are decorated with photographs, maps and stunning metal moulds, while hand carved sculptures, antique chairs and handmade storage chests create a look that is both East African and European.
food and service
The food is excellent, though not menu based, so expect delicious home cooked fare.
accommodation
Balanced on the lip of the escarpment, the sleeping rooms are approached by way of stone walkway, and each includes private decking, a double or twin bed, seating, just enough room to change in and a separate bathroom. Again, the style here is cool colonial – old wooden floors, handmade furniture, worn hand-woven rugs – and the white walls, occasional art and wild wood mirror frames work well as a muted counterpoint.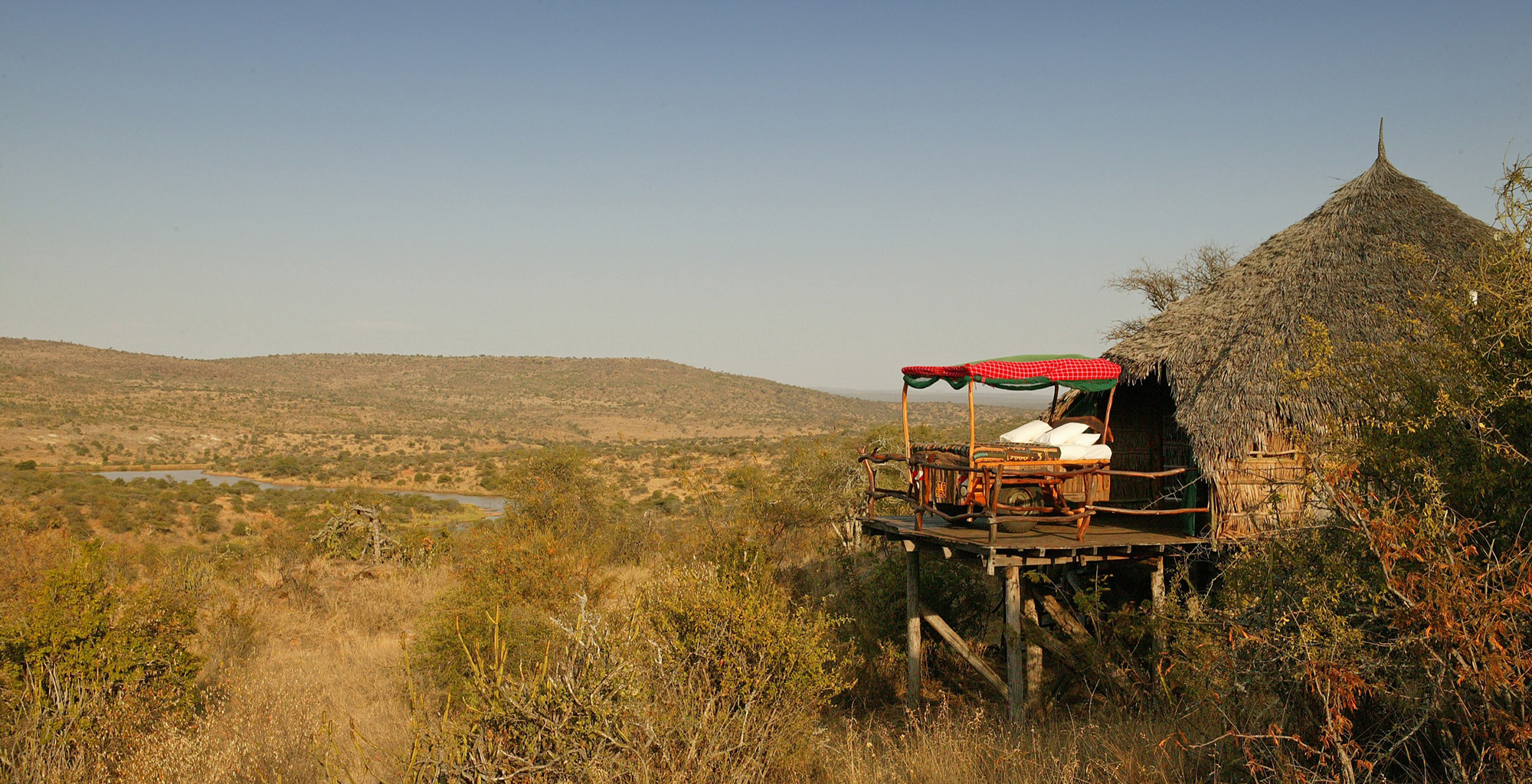 The bathroom – arch, shower, flush toilet and basin – is beautifully maintained. Please note that the rooms are by no means large. Much is made by guests of Loisaba's 2 starbed sites, where guests, under the discreet but watchful eye of local Masaai warriors, can spend the night beneath the stars. Raised on platforms, this communing with nature is a fantastic night out.
activities
Known for its considerable range of activities, Loisaba Lodge offers the opportunity to walk and ride on camels or horseback, as well as the chance to look for wildlife in open Landrovers both during the day and at night. In addition, 2 helicopters can be made available for exploring the surrounding countryside, and for heli-camping and heli-fishing trips – both fantastic. There's more: nights out in a spring located hide, rafting trips, tennis, bird watching, guided walks, sundowners and bush picnics.
ethics
Conservation
All profits generated by tourism activities at Loisaba are dedicated to conservation of the 150 square kilometer private wilderness area, in addition to supporting community orientated health, education and enterprise programmes outside its boundaries with the neighbouring Samburu and Laikipiak Maasai tribes.
Commerce
The Loisaba Community Trust (LCT) is a charitable trust registered in Kenya. It aims to assist the area surrounding Loisaba Wilderness by encouraging community-driven enterprise and fostering the development of philanthropic based community initiatives. On a 100 sq.mi. ranch in the middle of the Laikipiak Plateau in Kenya,  we meld the needs of man and nature by providing a refuge for native species of animals which also allows the local Laikipiak Masaai and Samburu tribes the opportunity for employment and sustainable agriculture.
Community
The property is untamed bush but also a working cattle farm; it conducts important wildlife research and works closely with the community who have defended this land for generations. Guests see Africa as it was before fences were invented. Here there are no game park rules, no caged animals and none of the constraints of western life. Like the wildlife we nurture, you can do whatever you want, whenever you want. The local Samburu and Maasai tribes are full partners in the project so your visit not only conserves the environment but also pays for the education and welfare of the people who call this remote and magnificent region home.