0°
36'
43.95'' N
36°
48'
10.16'' E
PLEASE NOTE: Loisaba House has closed. We apologise for the inconvenience. We suggest using Loisaba Tented Camp as an alternative accommdation.
A part of Loisaba Wilderness, and located in central Kenya, in the Laikipia, on Loisaba ranch, Loisaba House is an outstanding private property.
overview
A stone and thatch build, characterised by huge peaked roofs, by enormous chimneys and by beautifully terraced front grounds, Loisaba House is constructed entirely from materials found on the ranch. Situated on the edge of a 1000ft escarpment, it consists of a sitting room, bar, dining room, pool, kitchen and two en-suite bedrooms. Surrounded by a garden dominated by succulents and acacia, and approached by means of a covered walkway, the house's interiors are marked by polished stone floors, exposed brick walls and a vaulted ceiling that, as well as giving the house a sense of unending space, helps funnel cold air down into its rooms.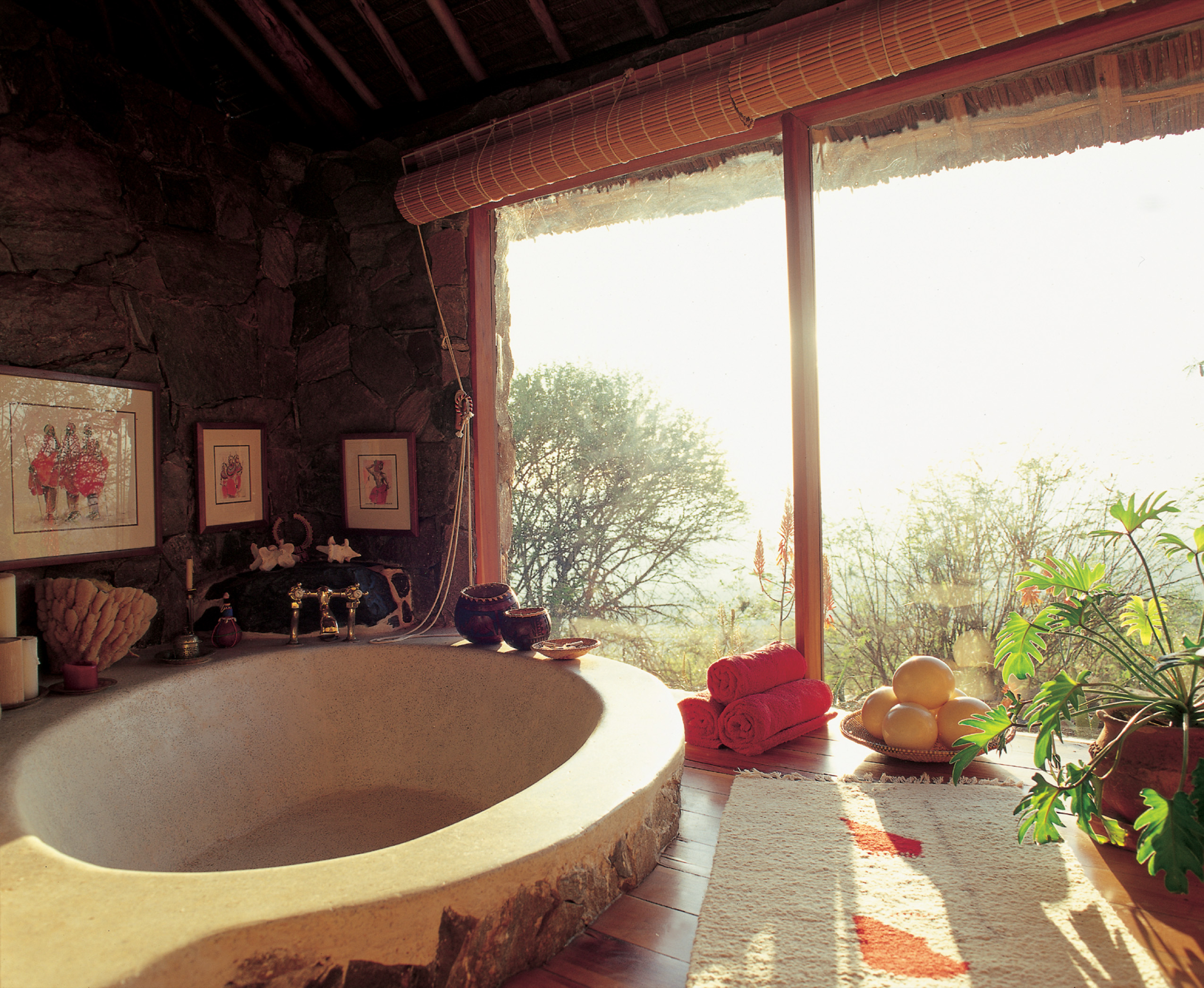 Possessing a mezzanine (to the front of the building), a fascinating range of seating, art and soft furnishings, the sitting room defies all labels, is truly comfortable and has the most magnificent view. With an emphasis placed on organic shapes, there is a good deal of wood here, offset by large leather chairs, and the sculptures (masks, stools) provide a timely reminder as to the location. Upstairs, the mezzanine functions as a slumber room, possesses its own fireplace, and, if need be, doubles up as a kids room.
food and service
Food can either be prepared and served on site, or guests can make use of the lodge facility (a car drive away). However, as Loisaba House comes with its own chef, butler, guide and driver, menus, itineraries and timings are very much in the hands of guests, and most people tend to make the most of what is a very private stay.
accommodation
Away from the main house, the sleeping rooms consist of a double/twin bed, balcony, separate bathroom and plenty of storage/changing room. Like the sitting room, exposed stone work, polished floors and high ceilings dominate, and the bathroom highlight is an enormous sunken bath, complete with a view.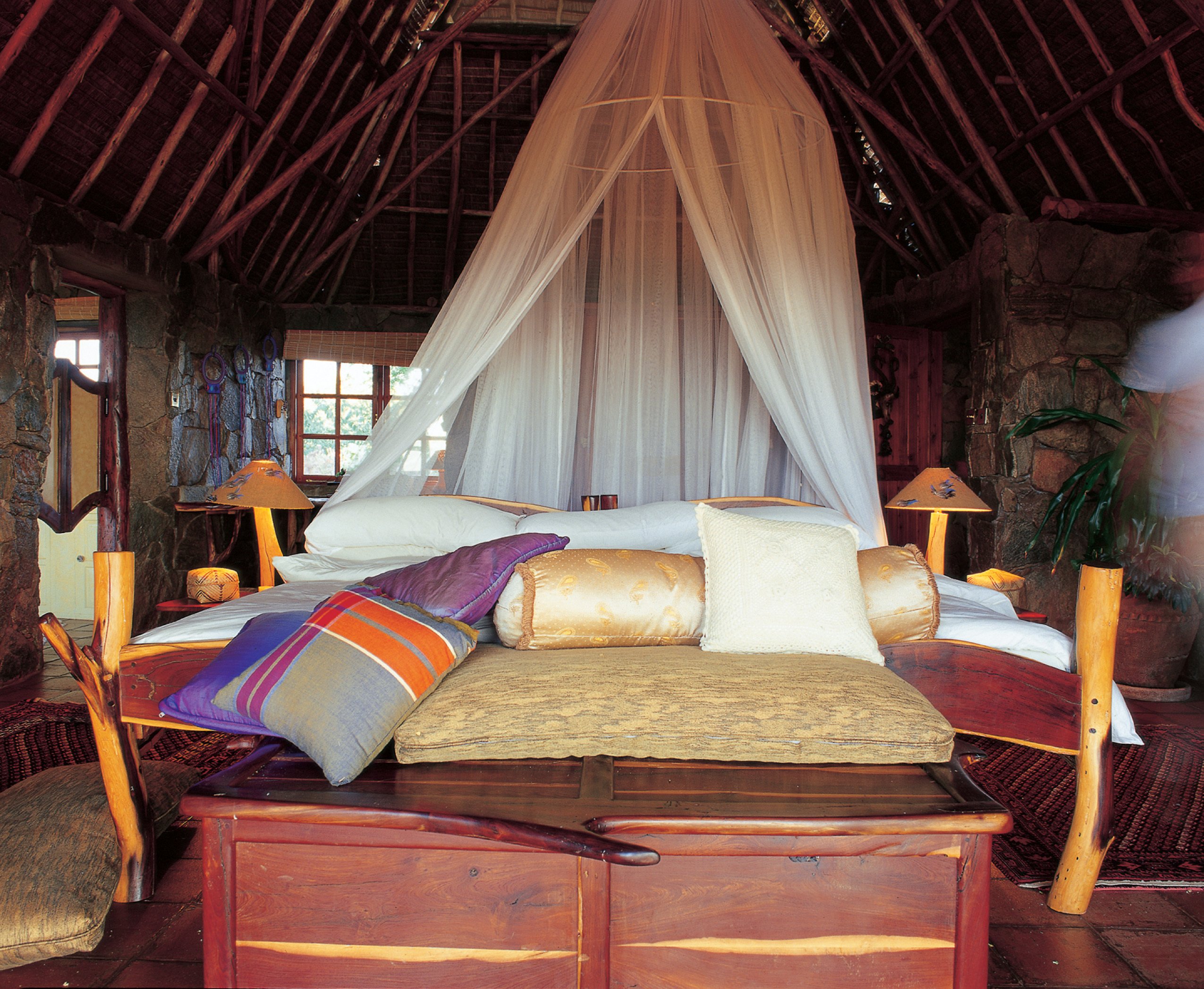 activities
Activities at Loisaba House include camel trekking, mountain biking, rafting, game drives, guided walks and fishing.
ethics
Conservation
All profits generated by tourism activities at Loisaba are dedicated to conservation of the 150 square kilometer private wilderness area, in addition to supporting community orientated health, education and enterprise programmes outside its boundaries with the neighbouring Samburu and Laikipiak Maasai tribes.
Commerce
The Loisaba Community Trust (LCT) is a charitable trust registered in Kenya. It aims to assist the area surrounding Loisaba Wilderness by encouraging community-driven enterprise and fostering the development of philanthropic based community initiatives. On a 100 sq.mi. ranch in the middle of the Laikipiak Plateau in Kenya,  we meld the needs of man and nature by providing a refuge for native species of animals which also allows the local Laikipiak Masaai and Samburu tribes the opportunity for employment and sustainable agriculture.
Community
The property is untamed bush but also a working cattle farm; it conducts important wildlife research and works closely with the community who have defended this land for generations. Guests see Africa as it was before fences were invented. Here there are no game park rules, no caged animals and none of the constraints of western life. Like the wildlife we nurture, you can do whatever you want, whenever you want. The local Samburu and Maasai tribes are full partners in the project so your visit not only conserves the environment but also pays for the education and welfare of the people who call this remote and magnificent region home.