Karisia is a small-scale, expert safari destination in the remote north of Kenya's Laikipia region. Family-run, Karisia's focus is on the rugged landscape and varied wildlife, which can be experienced either by foot or camel.
Overview
Karisia Safaris are run out of Tumaren ranch, a 3,000-acre reserve. There is a permanent camp or lodge on the reserve, which is very well-appointed and comfortable and can be used as a base for day safaris. For the most part, however, Karisia visitors head out into the wilds on a variety of different sort of safari. These can be tailored to suit the needs of any group, but certain things are constant: walking and riding under the guidance of experts, stunning wildlife and landscapes, and – our favourite – camels available for any guests weary of trekking.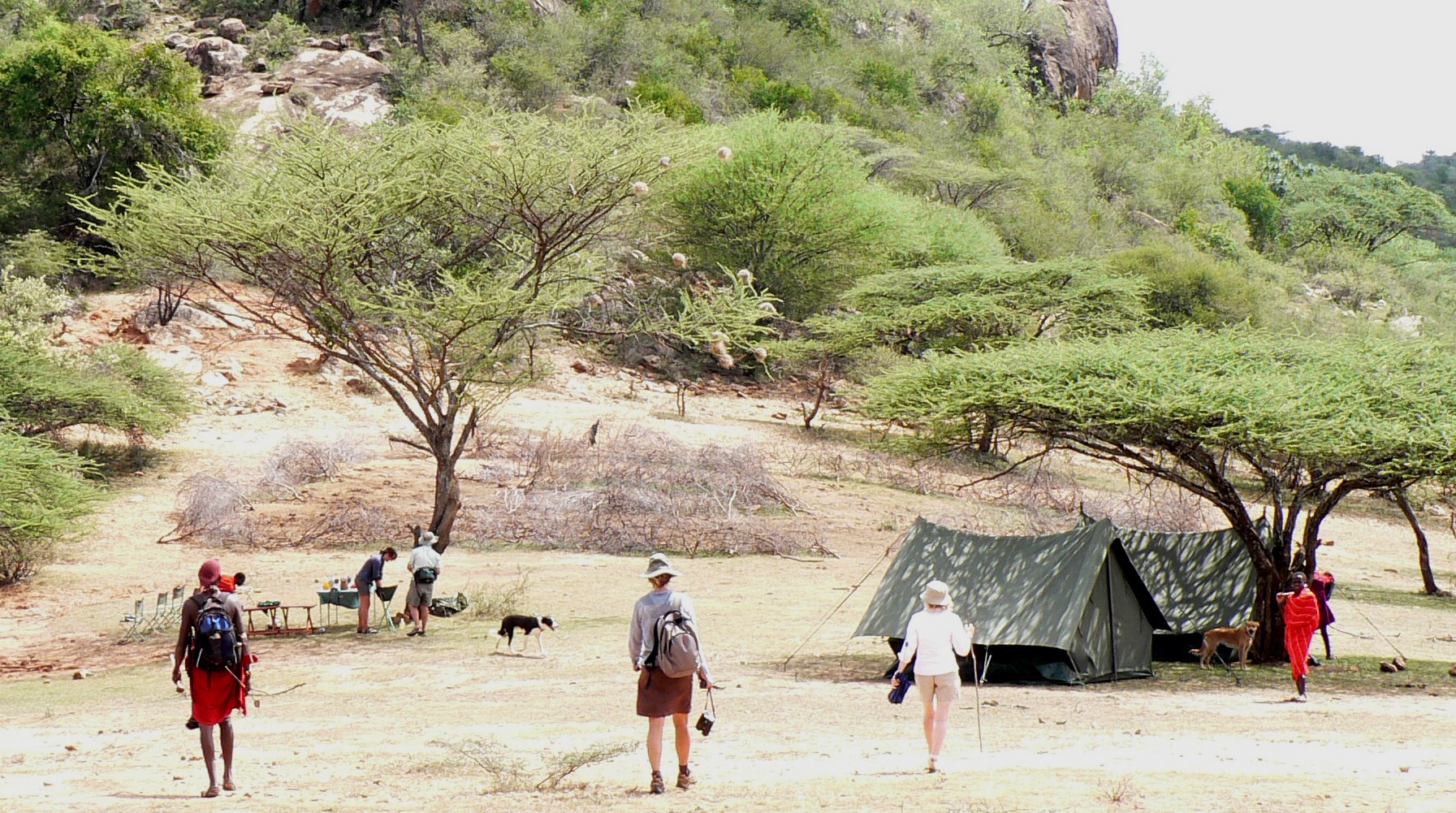 Food & service
The food is freshly prepared (often over a wood fire) and high-quality, while delicious chilled drinks are available for sundowners and with meals. Please note alcoholic drinks are included in the luxury price.
Rooms
In terms of styles of accommodation available to guests, the more basic option is a 'classic safari', with a 'luxury safari' option for those after a little bit more. Both are very comfortable, with shared areas for drinks and socialising, and freshly-dug long-drop toilets. What sets the luxury option apart is the private bathroom facilities and more deluxe traditional safari tents.
There is also a permanent satellite camp. Throughout the décor has a strong local ambience emphasising reclaimed woods and traditional rugs and cushions, but here (and on the base camp) the furnishings and decorations are not restricted by the need to be taken down and erected on a daily basis.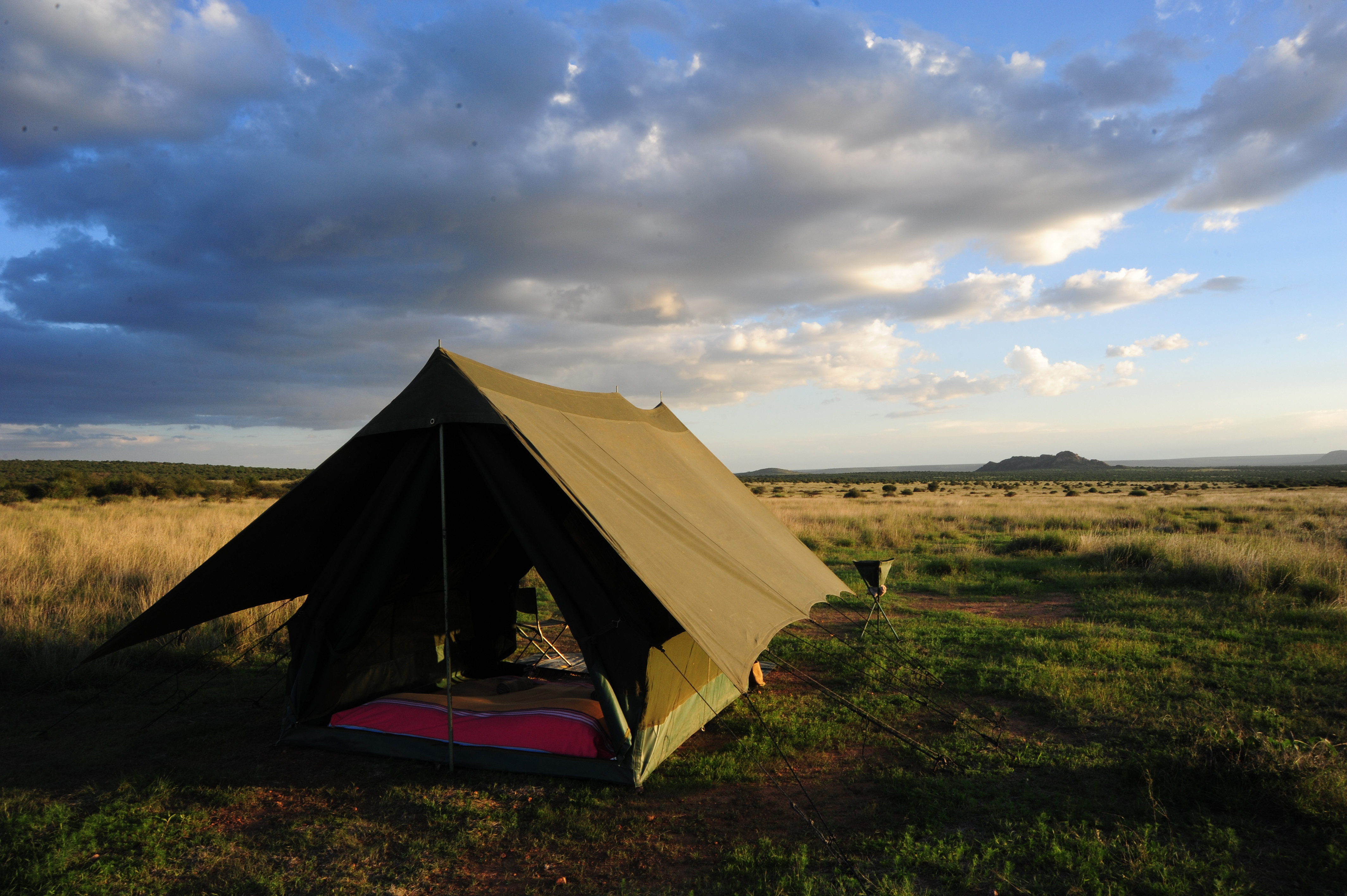 All tents boast comfortable beds, chairs, night-tables, and access to 'bucket showers' and clean toilet facilities. If the luxury option is selected furnishings are more elaborate and extensive, and showers/toilets are private.
Activities
Activities at Karisia are primarily based around excursions, either by foot or camel or both, which can be structured in any number of ways. Cultural experiences, such as fire-making, spear-throwing and animal tracking, are also on offer.
Impact
Conservation
Tumaren Ranch is dedicated exclusively to the conservation of wildlife and game numbers have increased spectacularly as a direct result of the reserve being protected. Predators have come back in an area where they were persecuted not long ago and the plains game have also sprung back since the intense pressure from livestock has been relieved. Karisia Safaris passion for wildlife, natural history and conservation is central to everything that they do.
Commerce
Karisia Safaris for the last seven years have supported the production of local and sustainable honey. Kerry Glen established Ewaso River Honey in 1995, purchasing local honey from Samburu and Lakipia Masai in northern Kenya. She sieves, cleans, packages and delivers this honey to markets in Nairobi employing many local people and allowing the honey gatherers to sell their product to a much larger market.
Within the reserve, Acacia mellifera is the best flowering shrub which makes a fine white crystaline honey that is very popular. Because much of Acacia mellifera is preserved in the area many tons of honey can be produced, encouraging a sustainable business and helping to combat the threat of charcoal cutting.