A part of the far-reaching Laikipia conservation project, in which ranches and communities work together to preserve essential wildlife corridors, Enasoit Plains Camp is an excellent luxury camp.
Overview
Located in northern-central Kenya, north of Nanyuki, near the Lolldaiga Hills, Enasoit overlooks a busy waterhole and consists of a mess area, 6 sleeping rooms, 2 further rooms in the pool house and a family room. A stone, canvas and wood build, Enasoit was initially a private home used to cater for largish groups of family friends, and now accommodates up to 20 guests.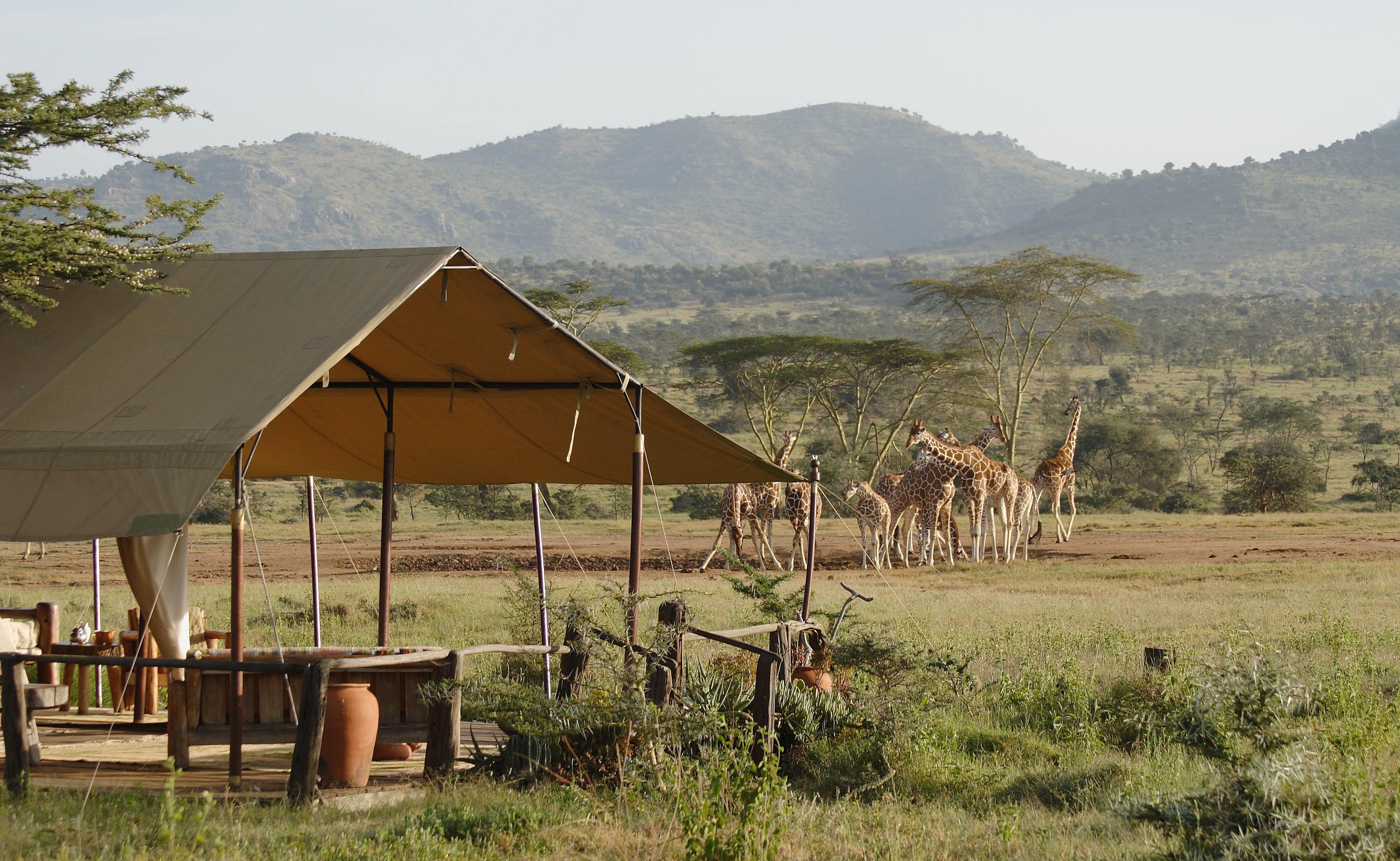 Booked on an exclusive basis, the camp is set in a mature garden of succulents, and the organically landscaped exteriors extend right up to the camp's walls, veranda borders and in and around the pool. Welcoming and relaxing, the shared areas include a lounge, veranda, dining area, spa and pool. Characterised by an old wooden floor, a stretched canvas roof, exposed beams and locally sourced stone chimney and back wall cores, the mess area overlooks the plains and is a wonderful mix of safari paraphernalia – early binoculars, a gramophone, Persian carpets, Laikipia-style stools and chairs.
Downright comfortable, the seating includes chunky hand-made sofas, leather director's chairs and Indian-type cushions. Superbly run and well kept, Enasoit is a delight, and its many idiosyncratic features include an island plant bed, set in the centre of the pool. A new media room offers internet/mobile reception and satellite TV facilities.
Food & service
The kitchen uses local produce alongside vegetables and herbs from the camp's own garden. Breakfast (fresh fruits and cereals) is served on guests' private verandas, and lunch is offered either in camp or at the Pool House. Delicious light canapés are served by the campfire and followed by dinner around the main mess-tent dining table. The service is amicable and efficient.
Accommodation
Raised on the same wooden floors, the Moresque sleeping tents are large, attractive, comfortable, and their purposely stressed appearance, a faded grandeur underpinned by excellent positioning and gorgeous interiors, all of which add to the camp's safari feel. Each tent consists of a double bed, separate bathroom, and a veranda so big it serves as both a private lounge and viewing point.
Like the mess area, the design is very bohemian, with faded hand-woven rugs, small libraries, well-made easy-chairs and Indian throws providing a counterpoint to Enasoit's technologically advanced safari facilities. The bathroom – flush toilet, shower and sink – has stone walls and foundations. It is beautifully maintained.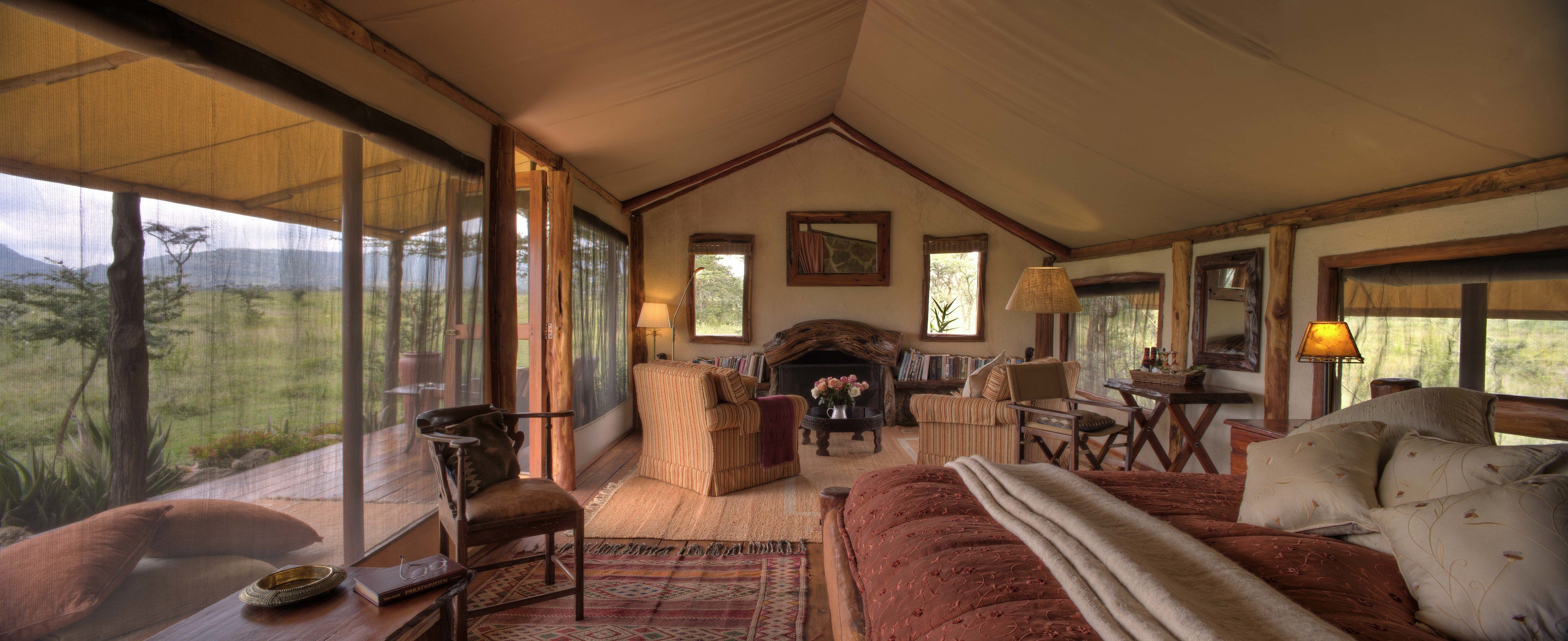 The pool house is similarly wonderful. With a front that opens out onto the pool and its surrounding garden, the house includes a veranda, dining area, lounge and 2 en-suite bedrooms. Large, cool and spacious, its wooden floors, thatched roofing and exposed beams are reminiscent of Kenyan coast properties, while the same eye for laid-back luxury has covered the sofa in an enormous throw, and populated the lounge with black and off-white patterned cushions, brass candle holders and a mix of abstract and Africana art.
In contrast, the bedrooms are much more minimalist; the hardwood beds dominating otherwise emptied spaces, the truncated and whitewashed divider walls serving as both bed head and room break.
Activities
Activities include day and night wildlife drives, guided walks, sundowners, massage, horse riding, heli-fishing and bird watching. Also, Enasoit offers a Lamu-based dhow experience, the distance rendered negligible by private helicopter service. Please note Enasoit is open between June and March.