Situated in the Kenyan Highlands, overlooking Laikipia's Samangua Valley, Borana Lodge is known throughout Africa as being one of the leading lights in wild land management.
Owned by the Dyers, a third generation white Kenyan family, the land – 30, 000 square acres -was originally part of a post World War 1 British government settler incentive. Bought by Michael Dyer's grandfather, and added to his own parcel, Borana has always has been a working ranch.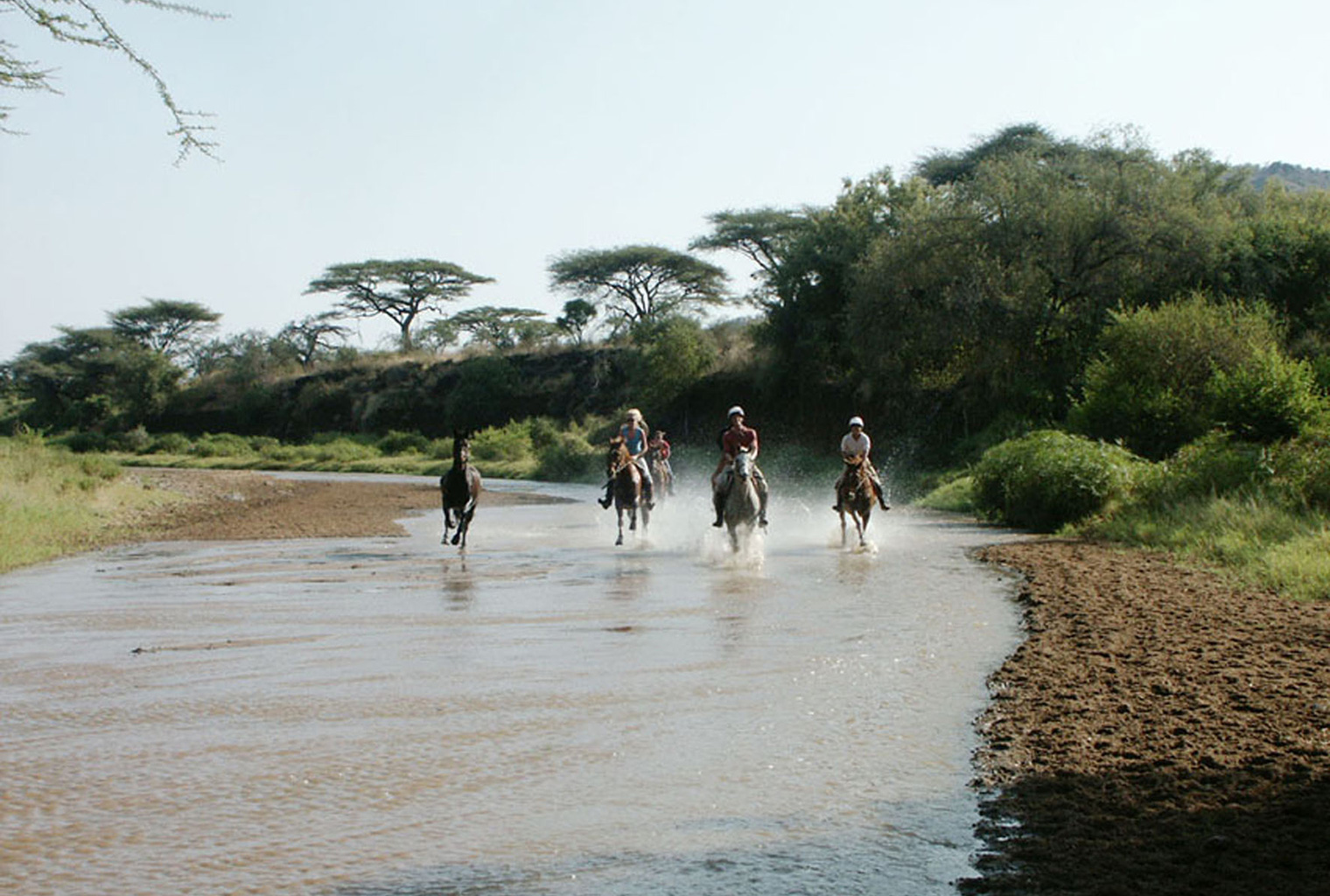 Fortunate enough to have a spring, and therefore a ready supply of water, the area has survived storms, disease and drought, and, following a particularly difficult period in the early eighties, the Dyers resorted to hosting animal shoots, which is when they came to the conclusion that 'preservation and conservation' was the way forward. The link between hunting and land preservation is old and obvious – healthy habitat = good game numbers = good hunting – and it is generally true to say that old hunters make fine conservationists.
No wonder, then, that the Dyer family have formed productive working relationships with other resident ex-hunters. The Laikipia Maasai, whose connection to the land precede that of the Dyers by a few hundred years, traditionally protected their livestock from wild animals, but the late twentieth century problems of drought, overgrazing and population growth so severely affected their traditional living patterns that they, like the Dyers, have been forced to rethink their relationship with the land and the animals it holds. Formed out of mutual respect, and out of sheer necessity, the relationship guarantees that while local Maasai communities benefit from tourism – education, health, diversification of work opportunities -the Dyers, their partners on the Laikipia, and visitors from across the world, benefit from a knowledge of the land that cannot be learned in just one lifetime.
The lodge itself opened for business in 1990. Large, thatched, built into the side of the valley, it consists of a dining room, a lounge and bar area, a small eco-shop, and is fronted by enormous windows. Built from local materials, by local artisans, it is surrounded by eight thatched cottages. A lot of thought has gone into their location, into creating a sense of privacy, and into making the most of the view. Set within a garden made up – largely – of indigenous plants, overlooking a busy waterhole, and within easy access of both lodge and horizon swimming pool, the cottages are en-suite, spacious and beautifully decorated. In keeping with Borana's ethos, the furniture is locally sourced, the beds constructed from local woods, and the polished wooden floors, together with the verandhas, are a nod in the direction of a colonial up-country tradition found throughout the highlands. It is worth noting that two of the cottages – slightly larger, and designed with families in mind – share a giant-sized verandha.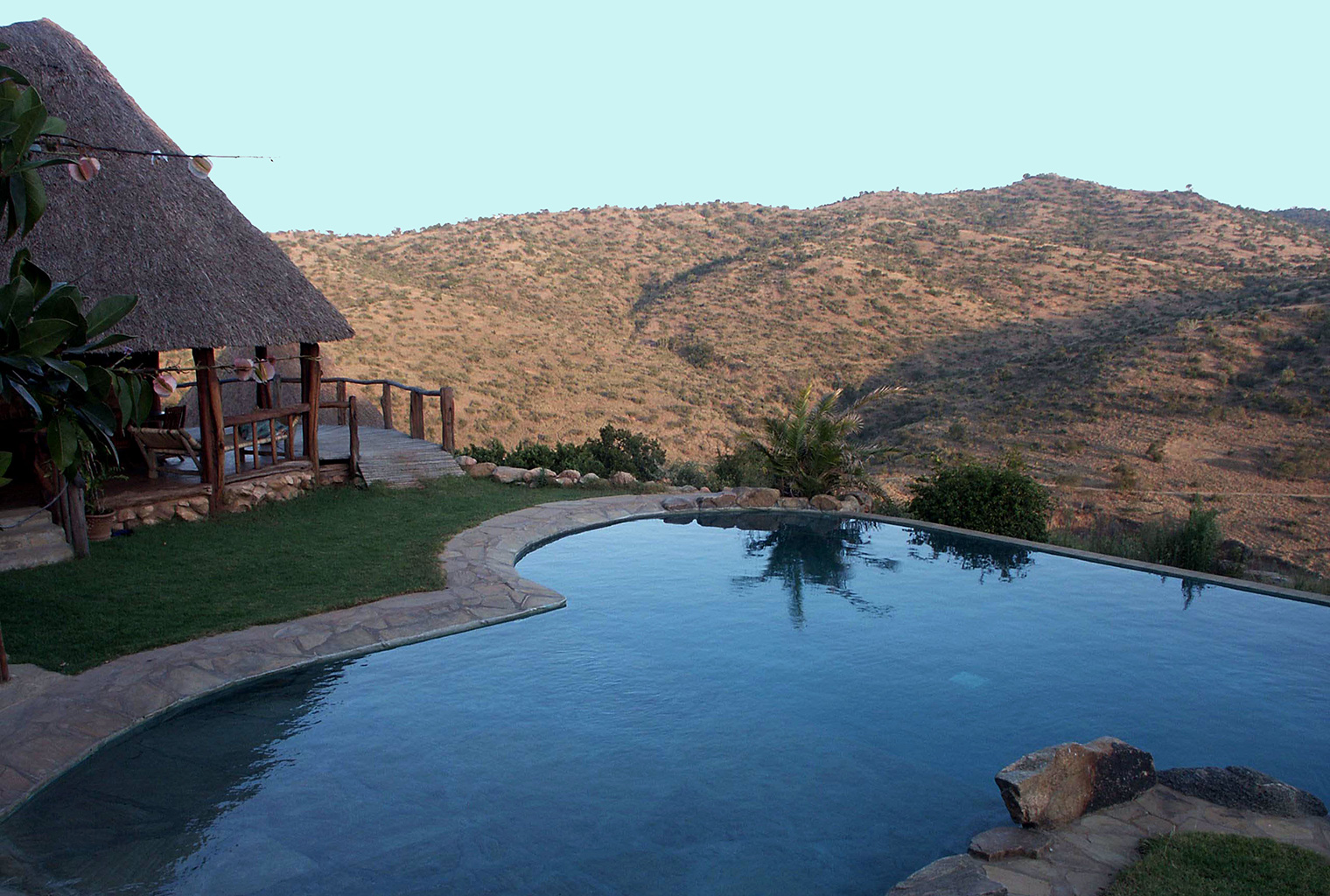 Activities at Borana include horse riding, 4×4 game drives, guided walking safaris, mountain climbing, off-road biking, night drives and an opportunity to engage in one or more of the many work aspects of living on a ranch. Whatever the activity, whatever the interest, visitor feedback is excellent, and the level of guiding is considered to be up there with the best in Africa.
Please note: conscious of energy consumption, the generator is turned off at 10.30 p.m.
Ethical Information
SCC (Supporting Convservation & Community) Kenya is committed to sustainability – making a difference to communities as well as contributing to the preservation of the environment and wildlife in the areas in which we operate. We pursue meaningful and lasting benefits for both the environment and the communities that underpin our operations, with a sustainable and innovative approach.
The staff working in our lodges are local, and send a large proportion of their salary home, to educate members of the family or sustain others in rural areas where jobs are scarce. We are commited to supporting local community projects which include support for schools and education, clinics, social outreach projects and water provision.
At each of our properties, we have a team of top guides who are committed to assisting with the protection of the environment, anti-poaching and animal protection. Our guides play an essential part in our conservation efforts, whilst our managers oversee the initiatives we put in place in order that these efforts are protected. From the water recycling in our Nairobi office through to all our camps, we are committed to recycling, reducing and re-using as much as possible.
A proportion of each guest's payment goes toward the sustainability of this wilderness, which is achieved by working closely with the local community.
Over three generations, our family has dedicated extensive time, energy and finance to conservation. This has been achieved in a number different ways, many of which you will see whilst visiting Borana. We intend to continue contributing significantly to this and our focus is on the following needs:
•    Education
•    Poverty alleviation and employment
•    Health
•    Habitat management
•    Wildlife conservation
A large portion of all revenue generated though Borana goes towards achieving these commitments in order to secure the long-term future of Africa.
Michael Dyer founded The Seven Elephants Tree Nursery in 2000, inspired by a similar venture in Kenya's Rift Valley. This tree nursery now produces more than 30,000 trees annually for reforestation efforts on the ranch and in the surrounding communities.
In 1966 Will Powys, grandfather of Michael Dyer, began an ambitious project to employ the local handicapped people of the area. He opened Hide and Sheep Ltd, which from its humble beginnings in a small wooden thatched building now employs a talented group of blind and physically disabled people from the local community, who together create an impressive variety of top quality sheep and calfskin products.
Borana sponsors a mobile health clinic. We have two nurses and one driver trained in VCT counseling and they visit 12 different locations on a bi-monthly basis. The focus of the mobile clinic is AIDS awareness and family planning alongside an immunisation scheme for babies; minimal amounts of curatives are available for sale.
Borana is now involved in raising money for our five local primary schools.