Located in southeast Kenya, in the Chyulu Hills, between Amboseli and Tsavo West, and home to the now famous East African safari-hand Richard Bonham, Ol Donyo Lodge has for years been the favoured destination for a loyal, well-heeled and well-travelled clientele, and its 2008 overhaul – a complete refurbishment – has only served to further cement a reputation for providing a service that is luxurious, responsible and extraordinarily creative.
Initially set up by Richard and representatives of the local community, Ol Donyo Lodge is situated on the Maasai owned Mbirikani Group Ranch, whose 275 000 odd acres now constitute a huge wild area in which, thanks to various conservation initiatives, both fauna and flora are flourishing.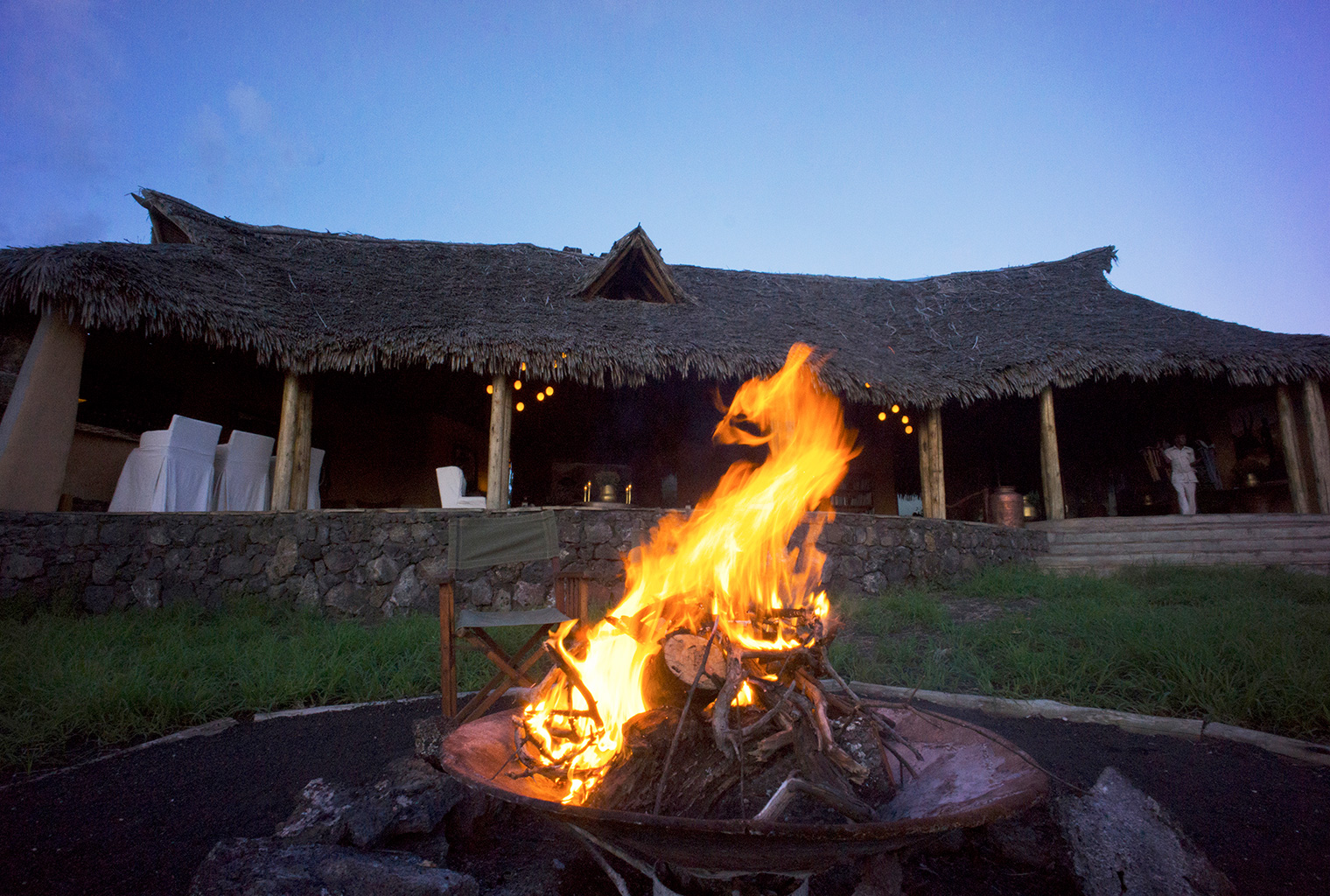 A stone, wood and thatch build, the main lodge overlooks a waterhole, and consists of a beautifully designed living and dining area. With an emphasis placed on creating a space that is both intimate and large, huge iron chandeliers and an enormous fireplace combine with a design that favours winding spaces over straight lines, the arch over the rectangle, a range of artefacts and furniture over a single style – producing an effect that is welcoming and, at the same time, awe inspiring. Below, but still elevated enough to act as a game viewing platform in its own right, is the pool, complete with lounge and dining area.
With room for 20 guests, the sleeping accommodation is housed in 7 discreetly placed stone and thatch villas, which break down into 10 guest suites. Each villa of Ol Donyo Lodge is named, has its own architectural characteristics, and offers, by way of space, a slightly different living arrangement. While some are more suited to couples, and one, the Hide, is just a one bedroom facility, others are large enough to accommodate families, groups or couples travelling in tangent. However, there are similarities. Each is built to the highest of standards, is designed with an eye for both luxury and function. The bathrooms, for example, all contain stand alone baths – which, in some cases, come with their own attached basins – and most have star bed decking, private pools and outdoor showers.
Attached – and a base for its stables – to Ride Kenya, Ol Donyo Lodge is well known for its riding (for more information see our Ride Kenya, Kenya accommodation). Other activities include game drives, hide views, bush picnics, guided walks, massage, mountain biking and trips to Amboseli.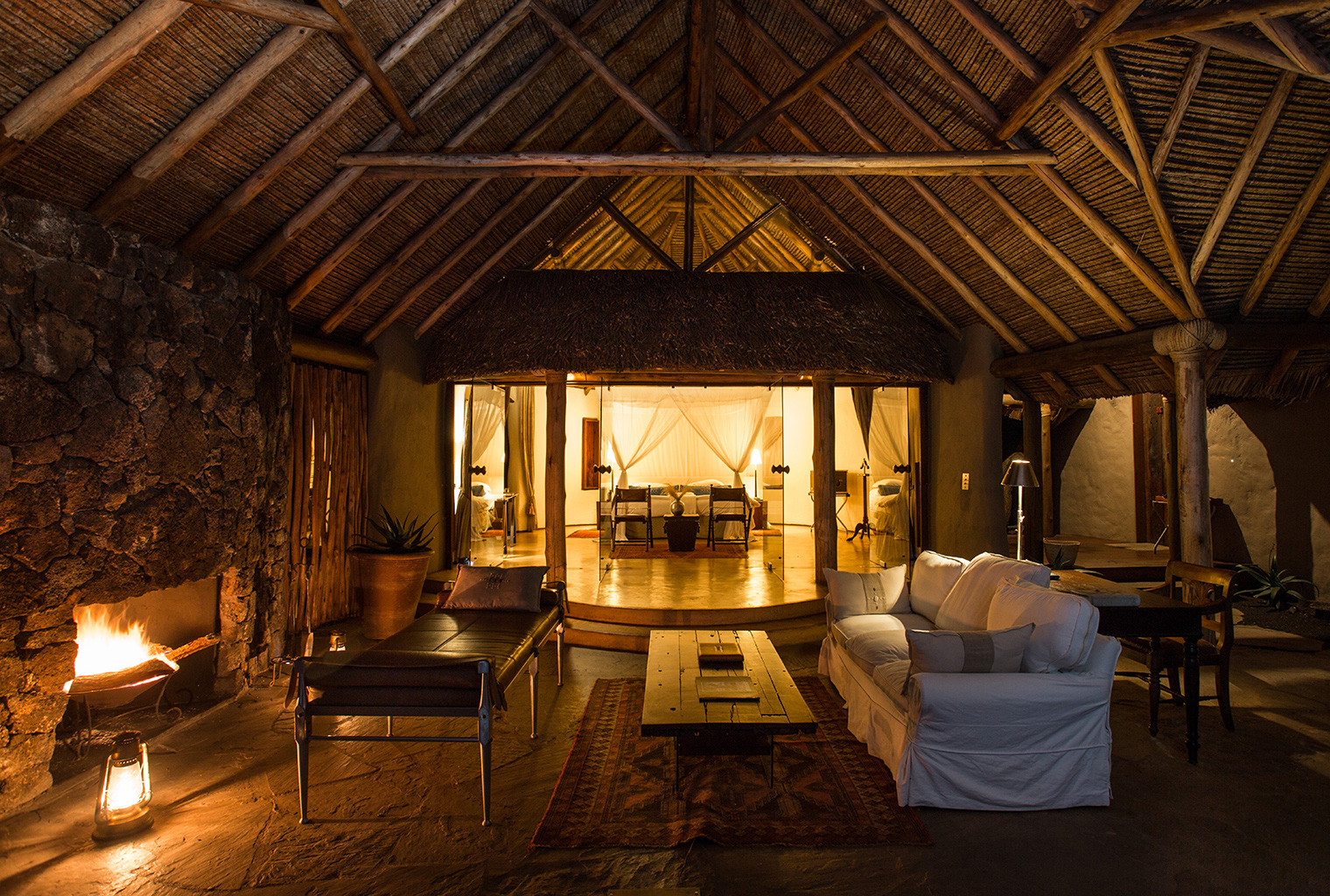 Ethical Information
We believe that responsible tourism has the capacity to protect natural wildlife habitats, support community development and alleviate poverty. It is the only responsible way into the future of Africa.
Our aim is to create best practice, world-class conservancy with long terms commitment to the environment, wildlife and the local communities. In order to qualify for investment each property has to have a balanced score card on the 3 C's: Commerce, Conservation and Communities with a fourth component as a benign overseer, government.
At Great Plains we specifically choose our projects not within national parks and reserves but alongside them because we believe that government has the capacity to take care of existing parks in most countries and they are of
the scale where we can't really play a meaningful role. However we can back up government on one hand but developing projects in the theoretical 'buffer zones.' Mostly these buffer zones are where communities have located. So a good working relationship with communities are vital to conservation. On the other hand, we fundamentally believe that it is ALL our responsibility to increase community welfare, skills, reduce poverty and increase educationquality and spread.
This is not because we have to do it to save wildlife it is because we see ourselves as a part of the planet not apart from it and people are a major part of that. Poverty is the enemy of a healthy planet, it is the enemy of an educated human population and it is often the broken bridge that results in corruption. A very large component of what we do at Great Plains is with an eye on community upliftment, directly via our business and via charity or donations.
Zarafa is our flagship camp in terms of where we want all of our camps to get to and surpass with newer technology coming out all the time. Duba Plains and Mara Plains camps will be closed after the first quarter of 2012 to be upgraded, including many of the features that we have at Zarafa. Selinda Camp also has most of the aspects that Zarafa has, and we're working on the solar panel farm for this camp.
We also have an initiative to contribute to halting the alarming decline in Big Cats around the world: For each guest's four night stay at one of Great Plains Conservation's Botswana (Zarafa, Selinda or Duba Plains) and Kenya (ol Donyo or Mara Plains) camps, we will donate $25 per person per night to the National Geographic Big Cats Initiative.