Located north of Lale's Camp, high up on a river bank overlooking the Omo River, and another addition to the Wild Expeditions portfolio, Mursi Mountains Fly Camp is an excellent and truly off-the-beaten-track accommodation.
Overview
Set and struck at the drop of a hat, an all-canvas affair, and accessed by boat and foot, Mursi Mountains Fly Camp consists of a mess area and sleeping tents. A gazebo-type set up, the shared area includes a dining area and seating. The earth underfoot is soft and the climate warm, even in evenings, so guests can walk around bare foot. Please note there is access to minimal electricity at the camp and no Wi-Fi. Respecting the privacy of the Mursi, photography is limited to arrangements made between host and guide.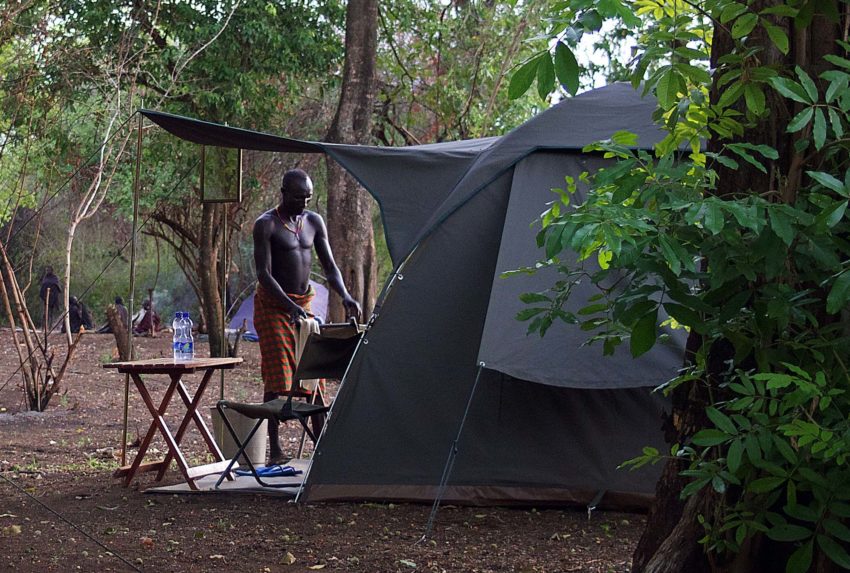 Food & service
Food at Mursi Mountains Fly Camp is a basic affair, often a one-pot wonder, with pasta and sauce or curry and rice as a staple. Self-service is the way of the camp, from drinks in the fridge to the food laid out in buffet style on the table. Depending on guests' needs, staff at the camp, who are from nearby communities, are happy to either join the table at dinner times or to give guests privacy.
Rooms
The tents at Mursi Mountains Fly Camp are basic dome tents and are generally arranged in a semi-circle behind the mess area. The capacity is maximum two people on two single cots and comfortable mattresses on top. Directly in front of the tent is a chair and small coffee table for morning tea and coffee. Amenities include a mirror and canvas basin filled up with warm water for shaving or washing. The long-drop toilet is at the back of the tents. The bucket showers are next door in a separate cubicle and are filled up with hot water when needed, which can be activated by pulling on two separate ropes.
Activities
Wild Expeditions have an understanding with the Mursi people to bring non-cash provisions in the form of coffee and fish hooks for example, in return for camping in their lands. The camp, which is set up a walk's distance from the Mursi village, often plays host to villagers, who visit at prearranged times, their calendar a knotted rope made during the last time down. A market for the Mursi, none of what happens is for show, and guests and community mingle quite naturally. Away from camp, activities include boat trips, bird viewing and fossil hunting.
Impact
Conservation
The camp adheres to the 'leave no trace' ethos and similarly to Wild Expeditions other camps, can be set up and set down with relative ease.
Commerce
Wild Expeditions Ethiopia is an impact investment that has been made by Wild Philanthropy through its investment arm. The company creates local jobs, supports local and national economies and deliver ethically focused travel opportunities.