Situated in a dry river bed, just off the Omo Valley, near Lale's Camp, and run by Wild Expeditions, Hamar Fly Camp is a uniquely authentic piece of off-grid accommodation.
Overview
Set in a lugga or dry river bed, Hamar Fly Camp consists of a mess tent and between two and five sleeping one-person tents. The whole camp can be easily erected and taken down, adhering to the leave-no-trace philosophy. The shared tent is gazebo in style, with canvas roof and no sides. The dry river bed that the tents are in are sandy enough to go barefoot. Please note there is no WiFi or electricity available at the camp.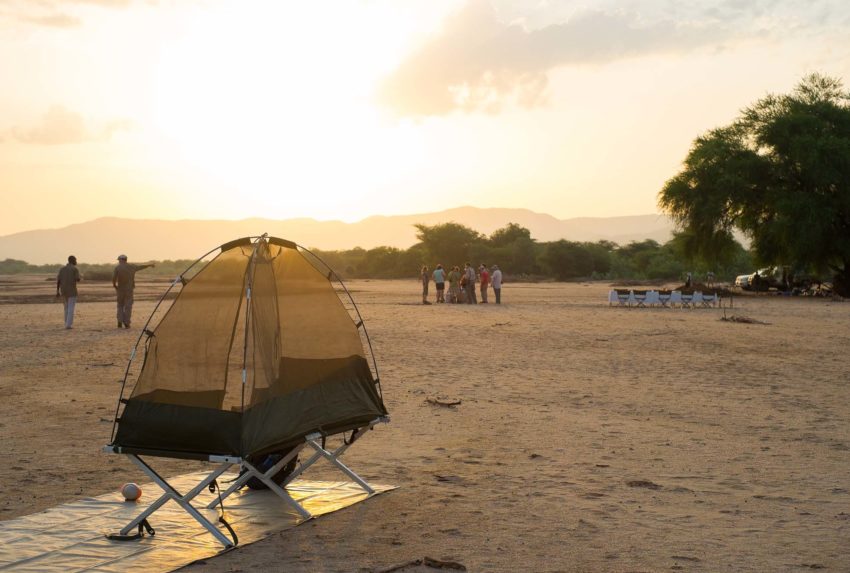 Food & service
The food at Hamar Fly Camp is varied, but basic, usually a pasta with sauce or a curry and rice, served in a buffet style and drinks are on a help-yourself basis. Meals are communal, with guests and camp staff sharing the same table.
Rooms
Reminiscent of Sera's fly camps, each guest tent is a standalone cot, with a mesh top to protect from mosquitos and spaced far enough apart for privacy, giving the ultimate experience in off-grid camping. Toilets are long-drop in style – essentially a hole in the ground with a canvas cubicle for privacy and a comfortable toilet seat. Rope-operated bucket showers are available.
Activities
Activities include guided walks, bird viewing and visiting the nearby Hamar village. Known for their striking body art, and in particular their Goscha hair – braids of ochre and resin – decorations, trips that involve the Hamar are negotiated by the camp guide, and very much worth the time and effort it takes to get there.
Impact
Conservation 
The camp adheres to the 'leave no trace' ethos and similarly to Wild Expeditions other camps, can be set up and set down with relative ease.
Commerce
Hamar Fly Camp is run by Wild Expeditions, an outfit that run mobile camps throughout Ethiopia and a result of Wild Enterprise's first investment. Charity and community-owned, it broke even within the first year of starting up. All profits are reinvested in the charity and the community. The company creates local jobs, supports local and national economies and deliver ethically focused travel opportunities.