A fine piece of accommodation, Maykelo Lodge is situated in the Dilha Mountains, just minutes from Theodros Airport in Gondar.
Overview
Mayleko Lodge is traditionally constructed using reclaimed hardwoods, sustainable and recycled materials, and local skills. The lodge is available for both exclusive group bookings or choose from one of the 17 bungalows or 10 rooms. Each room has been beautifully designed and blends traditional elegance with modern luxury, and includes a swimming pool and fitness room. Free Wi-Fi is available in the lobby. The welcoming reception staff can assist in booking tours, accommodation and transport, and there is a shuttle service to the airport and royal enclosures. A car rental service is also available. Despite its proximity to the airport, airport noise is not a problem.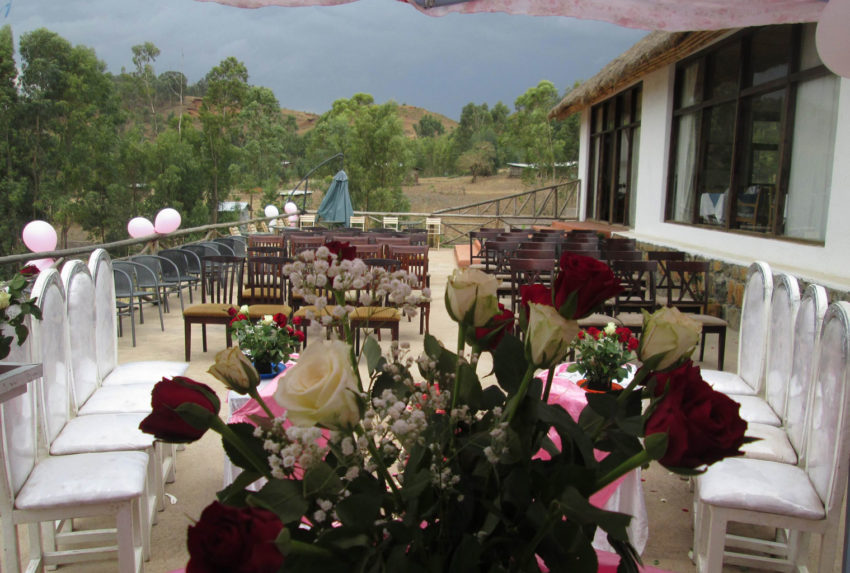 Service & food
A path at Mayleko Lodge leads uphill from the huts to the elevated restaurant and bar and a wide terrace, which makes the ideal spot for admiring the Dilha Mountains. The restaurant feels like a Tuscan trattoria and makes for a charming place to sit, and access to old school games such as darts, chess and backgammon add to the strictly-analogue ambience. The menu includes vegetarian and Italian dishes, as well as traditional cuisine. Breakfast is scrambled eggs served with vegetables, breads and, of course, delicious Ethiopian coffee.
Rooms
Constructed out of natural, local and sustainable materials, with stone walls and thatched roofs, the rooms at Mayleko Lodge look and feel very natural natural feel. The rooms are light, spacious and comfortable, all tastefully furnished and with both traditional and modern fixtures. Standard rooms sit adjacent to each other with two fixed full-size beds. Bungalows offer one king-size and one queen-size bed. All rooms are beautifully designed and include an en suite shower room. The rooms come with verandas offering guests wonderful views of both the gardens and the mountains
Activities
Activities at Mayleko Lodge include trips to the ancient castle of Fasiledes and the city of Gondar, to nearby St. Mariam church, or to Irham-Seghed Kkuregna Iyasu and Itemie Mininwabs castle.
Impact
Conservation 
The philosophy for the Lodge is to minimise the impact on the environment with involvement and help from the local community.
Commerce 
The lodge promotes energy efficiency and ethical employment practices, and contributes to the local economy.