Located on Meskel Square, 15 minutes from Bole international airport, Hyatt Regency Addis Ababa is an ideal high-end urban base for exploring the Ethiopian capital.  
Overview 
Positioned a brief walk away from the United Nations Conference centre and within short distance of the presidential palace, this 188-room hotel (the first Hyatt Hotel in Ethiopia) combines convenience with modern character. Hyatt Regency offers guests two on-site restaurants, four distinct bars, a spa, fitness centre, and outdoor heated infinity pool.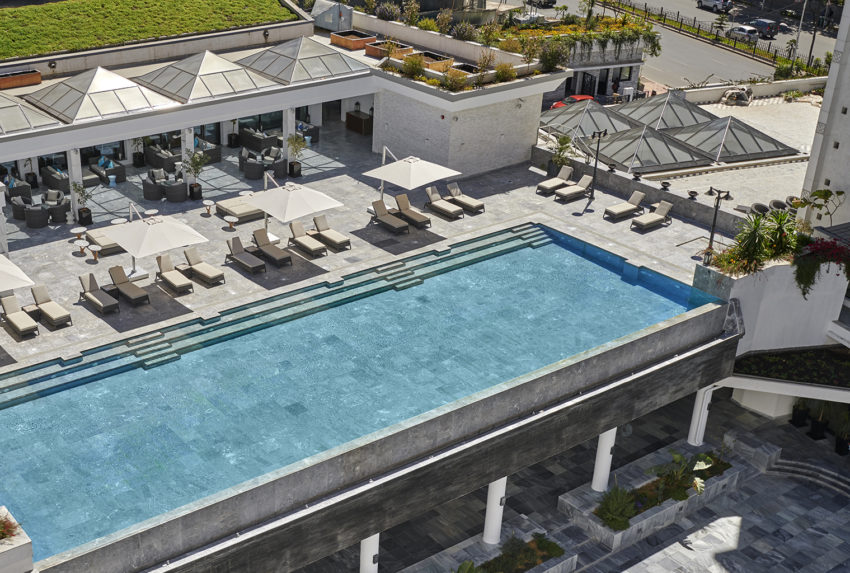 Service and food 
Among Hyatt Regency's many strengths is its excellent range of dining and drinking options. The kitchen, which seats an impressive 177 guests and combines casual dining with sharp service, offers Levantine inspired cuisine. The Oriental, which overlooks Meskel Square, infuses western BBQ and Asian flavours. Cascara Coffee & Cocktails serves coffee suffused cocktails and small, gourmet bites. Pool Bar & Lounge provides an array of drinks and snacks next to the heated pool. Metro, nestled in the basement, is designed with evening entertainment firmly in mind. Furthermore, The Market, located in the lobby, is the perfect place to grab an Ethiopian coffee and quick snack-to-go in the morning.  
Rooms  
Of the 188 rooms, 12 are Regency Suites, 2 are Regency Executive Suites, and, for those who require space and a stunning courtyard view, there is one luxury Presidential Suite and one Royal Presidential Suite. The standard rooms are tastefully decorated in shades of cream with touches of golden yellow. The beds are comfortable, and large windows allow plenty of sunlight to filter through. The en-suite bathrooms are contemporary, defined by the walk-in shower and chrome fittings. The suites are similar but have more space and extra furniture – coffee table, plenty of room to write, and cushioned chairs. There is also quick Wi-Fi available across the hotel.  
Activities 
Hyatt Regency's central location gives guests the opportunity to explore the many highlights of the bustling Addis Ababa. Alongside the U.N Conference centre, the African Union Headquarters and government offices are just a short drive away, while the Addis Ababa National Museum and Holy Trinity Church – two sites of great historical significance – are also close to the hotel. Within the hotel, the outdoor pool and spa offer calm areas to relax, while the 2,530 square foot fitness centre isn't lacking in space or high quality equipment.