The sumptuous, neo-classical Addis Sheraton is not only the most glamorous address in Ethiopia's capital, but one of the most elegant places to stay anywhere in Africa. Popular with ex-pats, wealthy business travellers and visiting dignitaries alike, it drips in marble and lavish furnishings, delivering unexpected levels of luxury which are recognised by its plethora of international awards.
Overview
It's difficult to find fault with the Sheraton. Perfect for those seeking a glass of fine wine, high style comfort and respite, after a couple of dusty and tiring weeks on the road. Certainly, the pleasures of an outdoor cocktail on a balmy evening, followed by dinner in the superb French restaurant Les Cascades or equally enjoyable Indian dining room Shaheen, are hard to argue with; as is the quality of massage on offer in the spa. That, in addition to a rare ATM in the lobby and internet access throughout the hotel, means home comforts are an intrinsic part of your stay.
Food & Service
Addis Sheraton is undoubtedly the best-looking and most attentively managed hotel in the country, and while it's very 'international' in feel, if you look hard enough, there is still a sense of the local in the form of some great traditional food to savour – notably the excellent breakfast buffet – alongside an attentive, professional service. Gourmet in-room dining is also available, whilst worldwide cuisine is just steps away: the Sheraton presents an astounding eleven restaurant and bar options.
Rooms
Centrally located opposite the National Palace, on a hilltop overlooking the city, and surrounded by wonderful flowering gardens, Addis Sheraton boasts 294 deluxe guest rooms including 33 suites, 20 classic suites, 9 junior suites and 4 executive suites. There is a wide selection of boutiques, a small spa, heated pools (with an underwater music system), a Vegas-style fountain light show and – one of our personal favourite highlights – a terrific pastry trolley!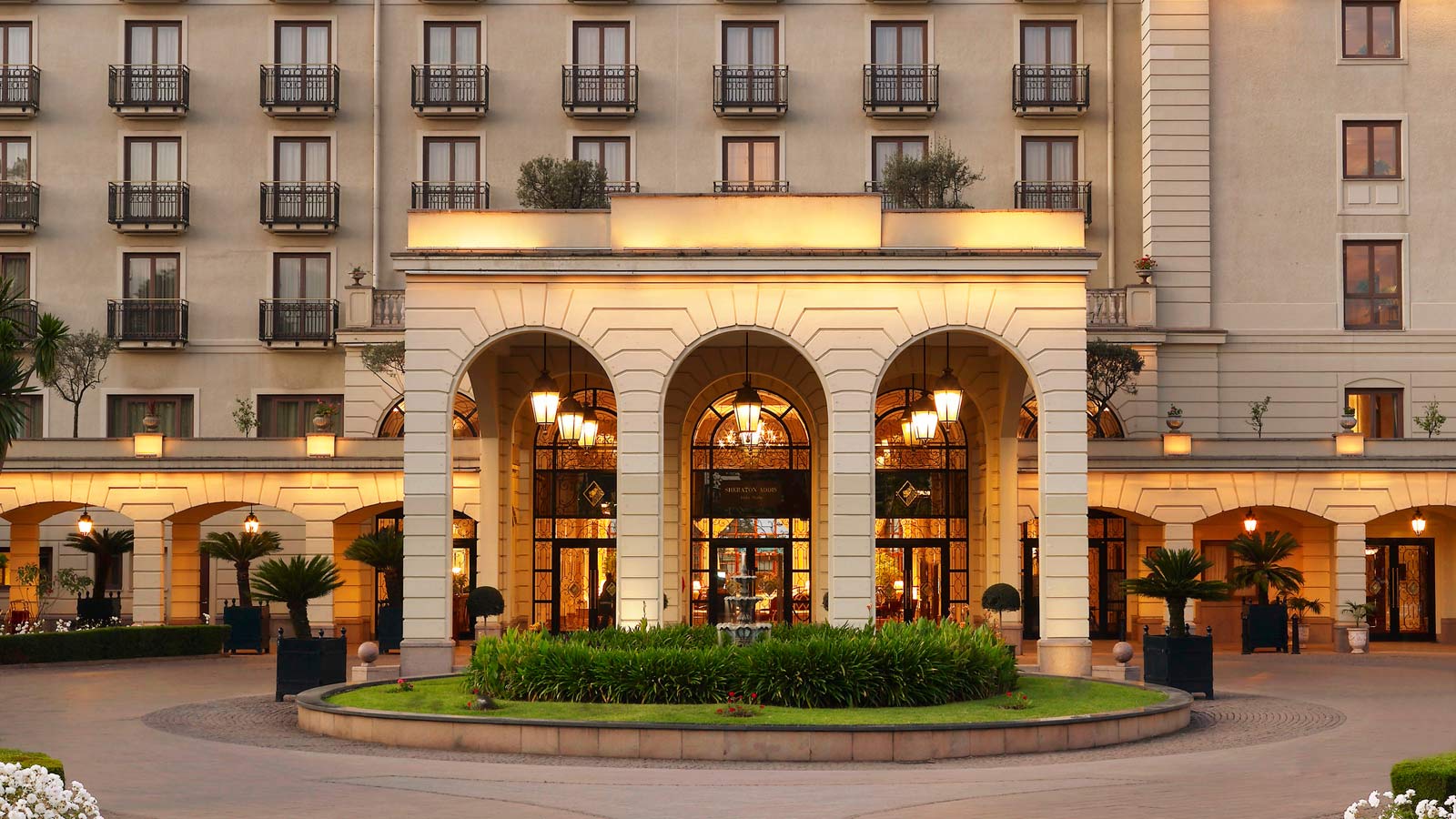 Activities
The Sheraton's ideal location in the centre of Addis Ababa makes finding the National Museum, United Nations Conference Centre, and the UNECA headquarters a breeze, whilst the Merkato and Bole International Airport is just 7km away. Heated outdoor pools with towels, sun beds, and umbrellas, are open daily, whilst The Aqva Club offers exemplary sauna, massage, and jacuzzi facilities.