Located 60 miles west of the capital city, on the coast, and gateway to the Dahlak Archipelago, Eritrea's old capital Massawa is quite different – climatically and geographically speaking – from Asmara.
While geographically relatively close, the cities are separated by a 2,500-metre high escarpment and connected by a dizzying road of hairpin bends. It's quite a trip. The views are spectacular. The land after the rains are lush green. The journey's marked by a series of historical sites – chief among these is Debre Bizen monastery, set high on a mountain, and which, legend has it, was moved here in order to save its monks the distraction of women's faces. The birdlife is spectacular.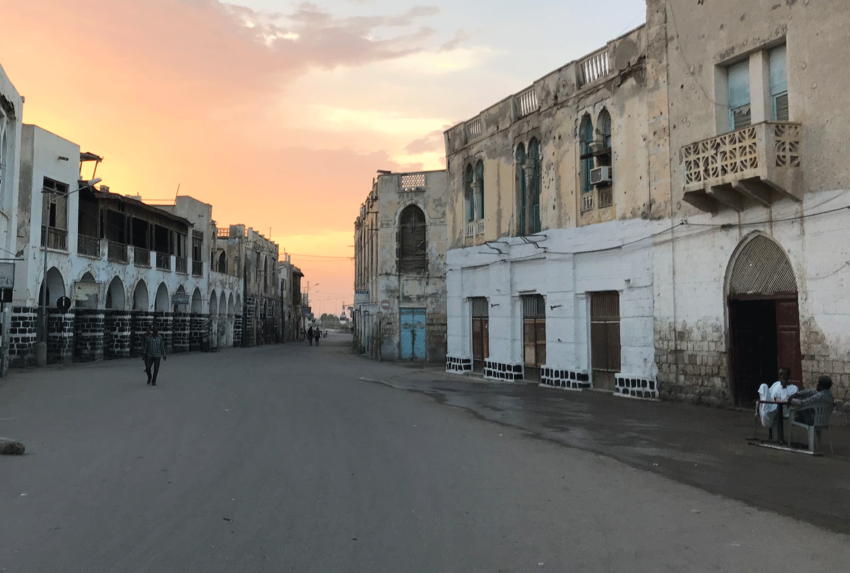 Despite its use as ideal stopover for travellers visiting the islands beyond, Massawa is a beautiful city in its own right. It has played a role as an important port in the history of many empires, kingdoms and sultanates over the last few thousand years. The town's appearance, particularly its architecture, are in parts reminiscent of Zanzibar's Stone Town and in others much like a southern Italian provincial town – testament to a past that includes occupation by the Ottomans, Arabs, Portuguese, British and Italians.
Unfortunately, hostilities between Ethiopia and Eritrea saw the old town blanket-bombed, leaving only 10% intact. Joint efforts by Eritrea and UNESCO to restore some of its buildings have taken place. Architecture of note includes the 15th century Sheikh Hanafi mosque, the shrine of Sahaba, and several houses made from coral-block. Built later on, the Imperial Palace, St. Mary's Cathedral, and the 1920s Bank of Italy are also worth a visit. Massawa, like the capital city, is very safe day or night and impromptu walks can be a good way to see the city, slow down, talk to the locals, and go for a drink, whether for coffee or something a tad stronger.
Do note that the quality of accommodation at Massawa is very basic and not at all the same standard as that found in Asmara. Equally, Massawa is very hot, with temperatures averaging 30°C, with highs of 47°C. However, don't let any of this put you off. The adventurous will revel in the various trials and tribulations resting here necessarily entails, particularly given the charm of the place. Will Jones guided the FT's Catherine Fairweather and her partner the British photographer Don McCullin here early 2020. They stopped off at Sallam's Restaurant for a Yemin-style kingfish with roti and chilli sauce, chased down by a beer or two. It was, says McCullin, 'maybe the best meal of my life; the fish, this table, this moment, in this square.' Massawa's beautiful, and possesses a genuine wonder in the Dahlak Archipelago.
Please note that – currently – the only accommodation in Massawa itself is Dahlak Hotel.