Located 10 minutes from the main airport, Asmara Palace Hotel was originally owned by intercontinental before changing hands to an equally notable hotel outfit.
Overview
More of a logistical stopover experience than anything else, Asmara Palace is large, clean, comfortable and well-staffed. All faded grandeur, the exterior of the hotel centres about a large glass front, with much of the interior floor and furnishings being made from marble. The public areas are large and include a number of restaurants bars and cafes, indoor and outdoor pools, a spa, tennis court, two squash courts and facilities to cater for the likes of yoga, aerobics and table tennis. Please note that whilst Wi-Fi is available throughout the hotel, it is somewhat temperamental.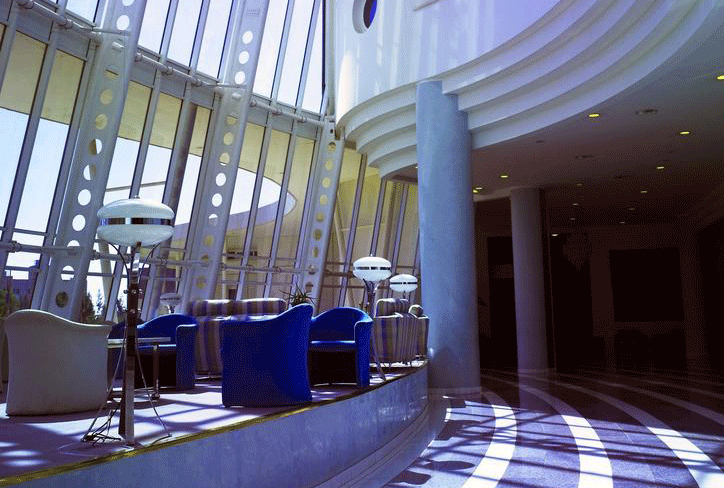 Food & service
The food and beverage facilities at Asmara Palace Hotel are legion, the different restaurants, cafes and bars offering anything from traditional Italian-Eritrean fusion food to buffets and Irish food to sit down à la carte menus to very fine coffee. The service is extremely polite and attentive. Please note that daily laundry services cost extra.
Rooms
The 200 sleeping rooms at Asmara Palace Hotel come in five classes, ranging from standard to presidential, though guests should be aware that standards are not comparable to similar stays in Addis Ababa or Nairobi. Saying this, the rooms are well-styled, the beds are comfortable, and the bathrooms clean and fairly modern.
Activities
Owing to its position, activities at Asmara Palace Hotel are generally confined to the hotel itself. The facilities lend themselves to a number of sports such as tennis, table tennis, squash, and football, while classes include aqua fitness and yoga. There are a number of spa treatments.