Please note that Virunga National Park opens 1 April 2021. It has been shut the past year in order to protect the mountain gorilla from being infected by Covid-19.  
Set within Virunga National Park, Nyiragongo consists of 12 basic summit shelters set close to a beautiful stratovolcano and the world's largest lava lake.
Overview
Basic accommodation at Nyiragongo is twinned with a stunning setting, with wooden shelters set close to the volcano rim where trekkers can see down into a lava lake and see and hear hot gases exploding though the lava.
Food & service
There is no food available to buy on Nyiragongo. For an additional fee snacks, lunch and dinner on day one and breakfast and snacks on day two can be provided. Water is also included for both days. A sleeping bag, jacket, fleece top, hat and rain poncho can also be hired. Park rangers lead all treks and porters (unaffiliated with the park) are available for hire to carry loads up to 15kg.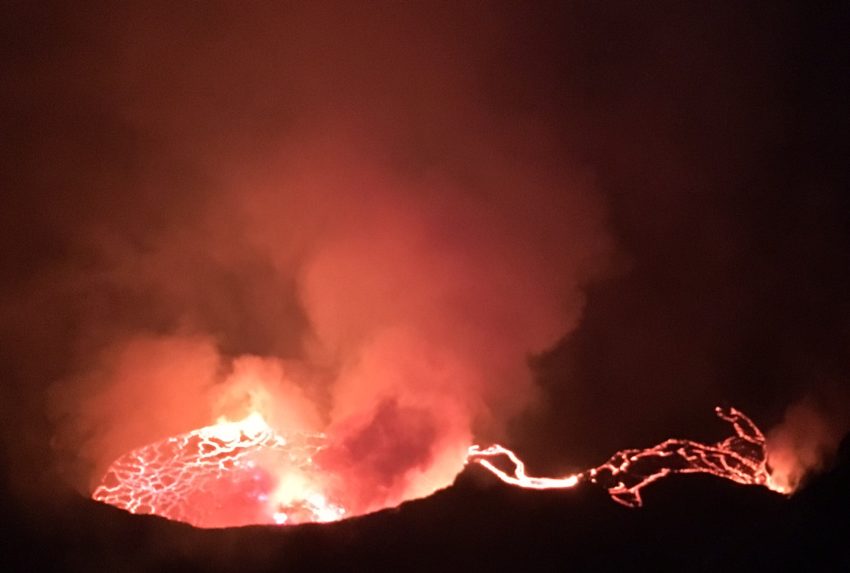 Rooms
Each of the twelve summit shelters at Nyiragongo contains two single beds for guests to put their own sleeping bags. The shelters are not luxurious, but they are a welcome escape from the elements. Payment for staying in the summit shelter is included in the trekking permit fee.
Activities
The time required to reach the summit of Nyiragongo depends on the average fitness of the group, but typically takes 4-6 hours. Trekkers should bring raincoats and cold weather gear as rain showers are common on the climb up during the rainy season and temperatures at the summit can dip below 0°C/32°F.
The lower slopes of the volcano are home to a variety of animals, including chimpanzees, monkeys, and bushbuck. Nyiragongo's summit rim is largely devoid of vegetation and is often snowy.
Impact
Conservation 
In the past access to Virunga Park, where Nyiragongo is set, was threatened by armed conflict. Thanks to the dedication of the park's rangers and wardens, Virunga has been able to survive and is safe to visit today.