Zarafa Camp, an exclusive four tent luxury camp in the 320,000 acre Selinda Reserve of Northern Botswana, combines the traditional definition of five-star luxury fixtures and fittings with the new-age buzz-words of experiential travel; exclusive experiences, ecologically sound principles, benefiting local communities and conserving habitat and wildlife.
The below copy was written by Richard Story, editor-in-chief of Departures Magazine, and appeared in the January 2010 issue. Journeys by Design designed Richard's itinerary.
Zarafa, in its understated way, is about as close to five-stars as one could hope. Its four tents—yes only four: maximum eight people—are not only extremely comfortable but very beautiful: Persian rugs, sliding glass doors, copper bathtubs, and thread-counts to die for. Each comes with its own plunge pool, telescope, and Canon EOS 40D digital camera with memory card. By any standard, Zarafa would be extraordinary, but because it was built to the particularly demanding eco-standards of Derek Joubert (Zarafa co-founder), the camp is also the model of low-risk luxury. Here on the Selinda Reserve in northern Botswana, one of the richest natural habitats on earth, Joubert and his partners at Great Plains Company have managed to create something both sumptuously luxurious, but at the same time as green as any camp in Africa.
The in-house electricity generation system coupled with stringent use of recycled hardwoods and careful operating processes helps to keep the carbon and emissions footprint to a minimum. Joubert says he hopes that Zarafa will make a difference. "I will feel we've done our job if a guy who comes here for say two or three days, then leaves here on his G-5 to fly to Geneva to close a deal, is influenced even this much," he says pressing his fingers together, "by the green technology and ethics of this camp." The idea is for business decisions, no matter what the business, to be made in some small way by what they learned on safari here.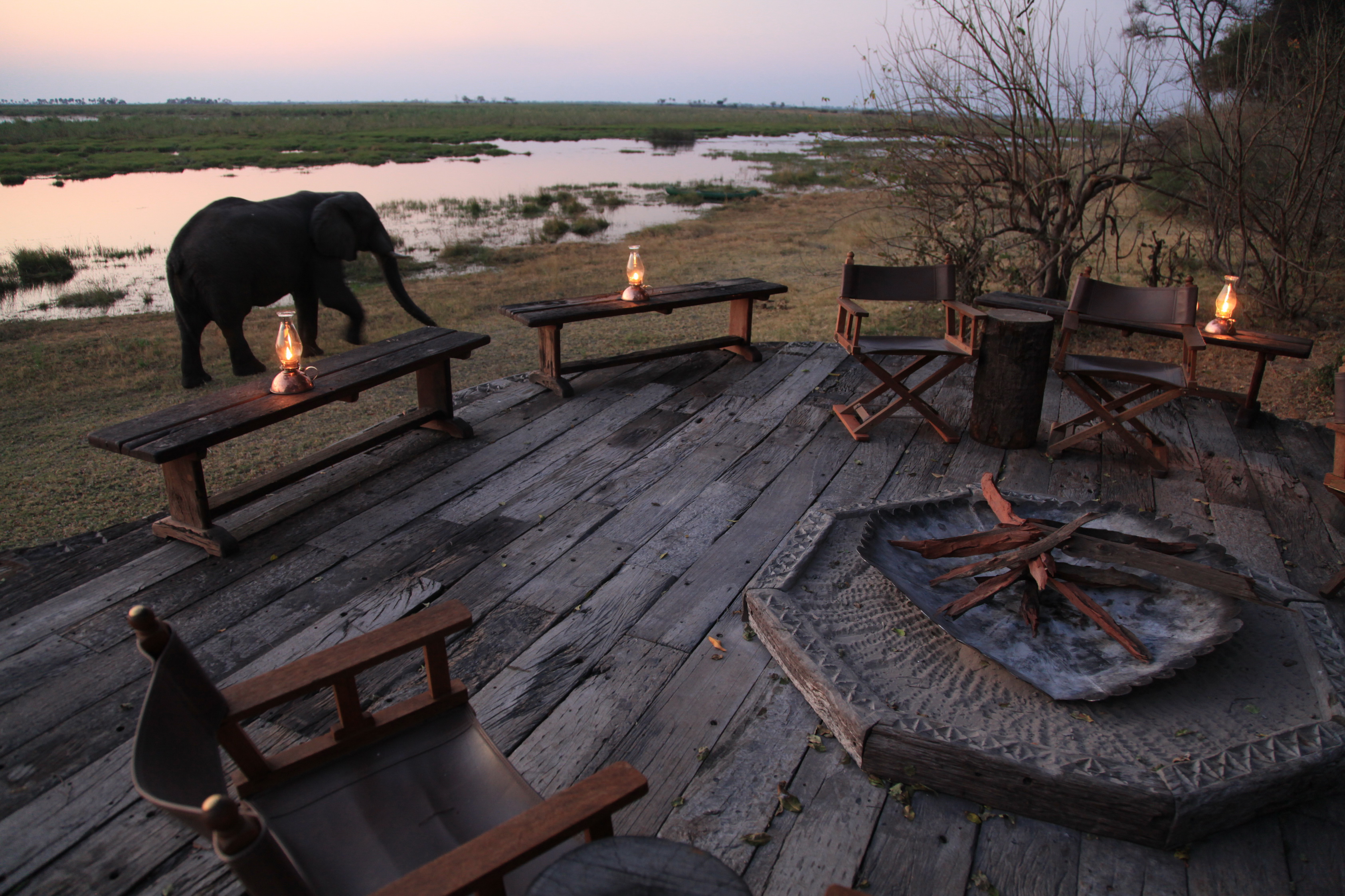 So committed is Joubert to getting it right that The Great Plains Company lives by a self-described policy of "copy lift rather than copyright." What that means is that the entire blueprint for the operations, not only at Zarafa, is available for everyone to see. Great Plains actually wants to share their business plain, technology and their work ethic with as many people as possible. "We don't want anybody to own it but rather to share it."
The whole step-by-step process of building the camp, complete with architectural and environmental details, are now available on-line. Since Zarafa can hold eight persons and since there are 325,000 acres, that translates to roughly 75,000 acres per guest. It helps you imagine just how, in terms of density of tourism alone, it may be the lowest in the world.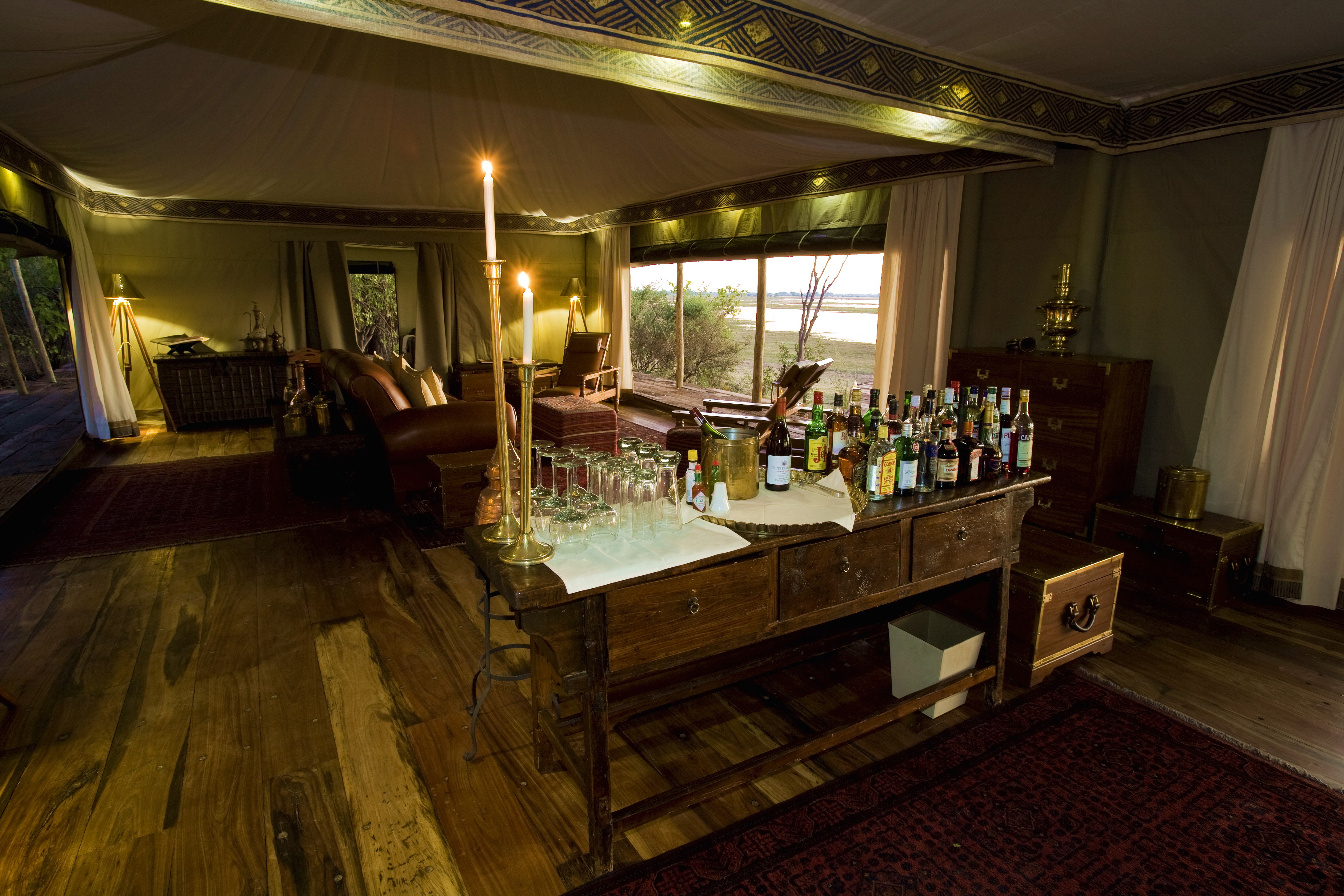 Impact
Conservation 
Great Plains Conservation bought the lease for the Selinda Reserve in 2007 and on day one immediately stopped hunting in the reserve, resulting in other concessions following suit. As a result this year is the first time since the 1960s that no hunting has taken place in northern Botswana at all, allowing wildlife to flourish and regain natural migratory routes.
Zarafa Camp, built two years ago on the banks of the Selinda's Zibadianja Lagoon, really shines in its eco-credentials of construction and operation.
Guests on wildlife drives or walks are encouraged to use reusable metal canteens, filled from triple-filtered, purified borehole water in smart 1920s-style leather filling stations. A biogas system converts vegetable waste from the kitchens into gas which is used to cook food for the camp guests.  Grey water is filtered and purified water is put back into the environment. Perhaps most impressively, wildlife vehicles run on a mixture of 85% recycled and filtered cooking oil from nearby Kasane kitchens, mixed with 15% diesel, providing for clean emissions. These same vehicles have a strict policy of sticking to a network of well-used tracks, only venturing off-road to see exceptional sightings.
Commerce
The camp is constructed using as much as possible recycled and locally sourced materials. Campaign-style furniture is fashioned partly from recycled Boxing Day Tsunami wooden flotsam, sitting atop hardwood decks of reclaimed Botswanan railway sleepers. The finest and most exquisite linen is made locally in Francistown.
This all combines to make Zarafa one of the greenest, guilt-free camps on the planet in one of Botswana's largest and pioneering wildlife concessions.