18°
31'
59.34" S
23°
31'
20.06" E
Owned and operated by Great Plains Conservation, located on the Selinda Reserve, along the Selinda spillway, Selinda Camp is an authentically run luxury lodge.
While old timers will miss its previous incarnation, the spit and sawdust bush camp that it once was, Selinda Camp is today a beautiful wood and thatch build consisting of a main lodge and 9 sleeping rooms. The shared areas include a dining area, lounge, decking, shop, bar, gallery and plunge pool. Characterised by untreated wooden floors, open sides and plenty of space, the main area is furnished with leather studded sofas, low tables, bench seating, old stressed storage chests, director's chairs, brilliantly coloured cushions, mokoro shells and drapes made from Masaai necklaces. The gallery, which from time to time hosts guest photographers, is set above the shop, and shows many of Beverley Joubert's best works, prints of which are available for sale. The food and service at Selinda Camp are excellent, with special diets and tastes easily catered for.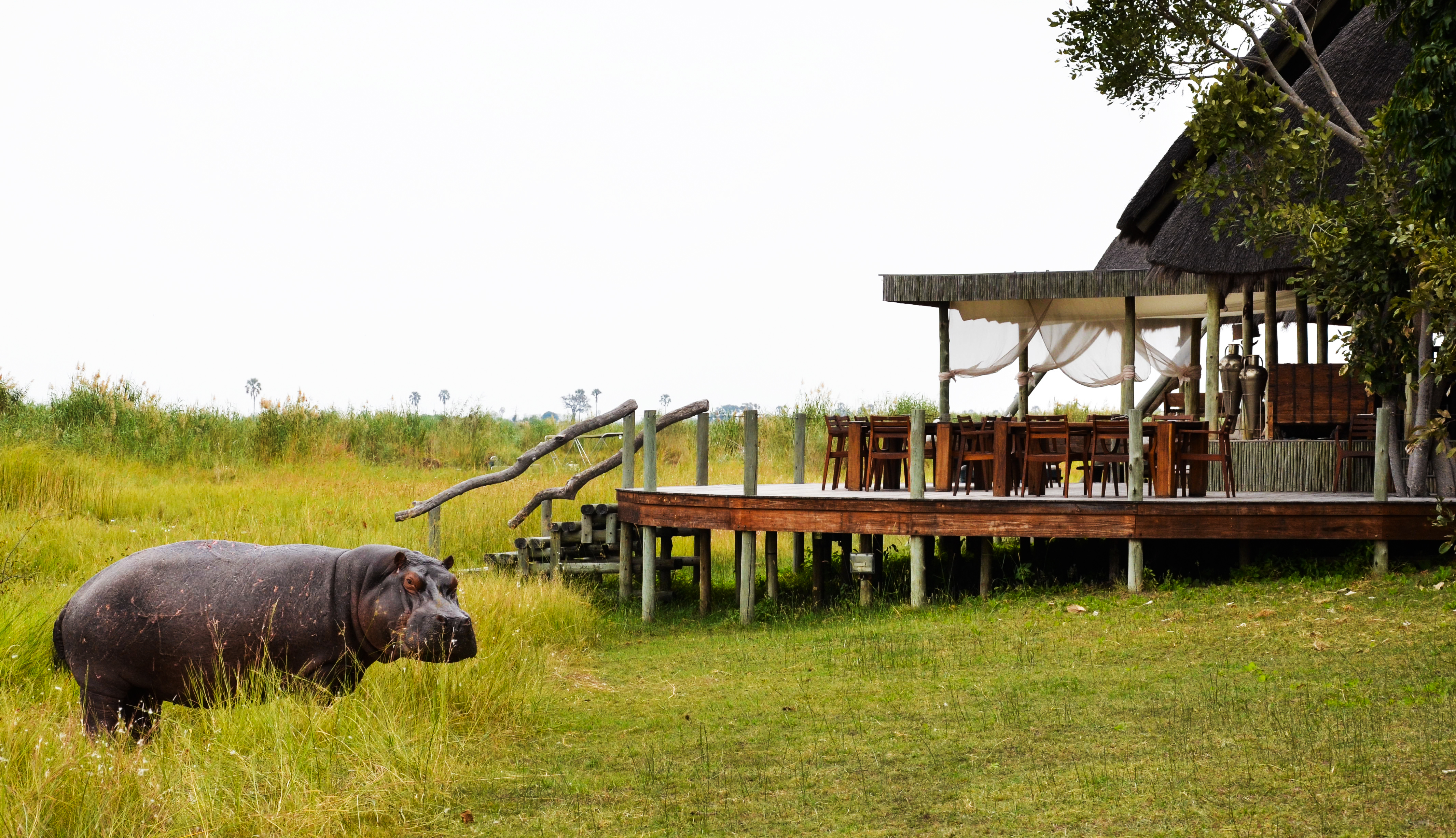 Well spaced, raised on wooden platforms and approached by means of a set of wooden steps, the tented rooms are beautiful, large and extremely relaxing. Each includes a large verandha, sliding doors, double bed and en-suite bathroom. The verandha doubles up as a lounge, and possesses a sofa and easy chairs. Dominated by the bed and its headboard, which serves to divide the space in two, the room is simply furnished, with a Persian rug, a pair of leather easy chairs, a writing desk and a Joubert photograph being the only extras. A double sink and mirror are fixed to the back of the dividing wall, while the bathroom is positioned to the rear of the tent. Again, simplicity is the key, with a gorgeous stand-alone bath taking centre stage.
Activities include game drives, guided walks, boating, canoeing, fishing and sleep-outs. The guiding here is excellent, and an excellent new lookout hide was completed in January 2011.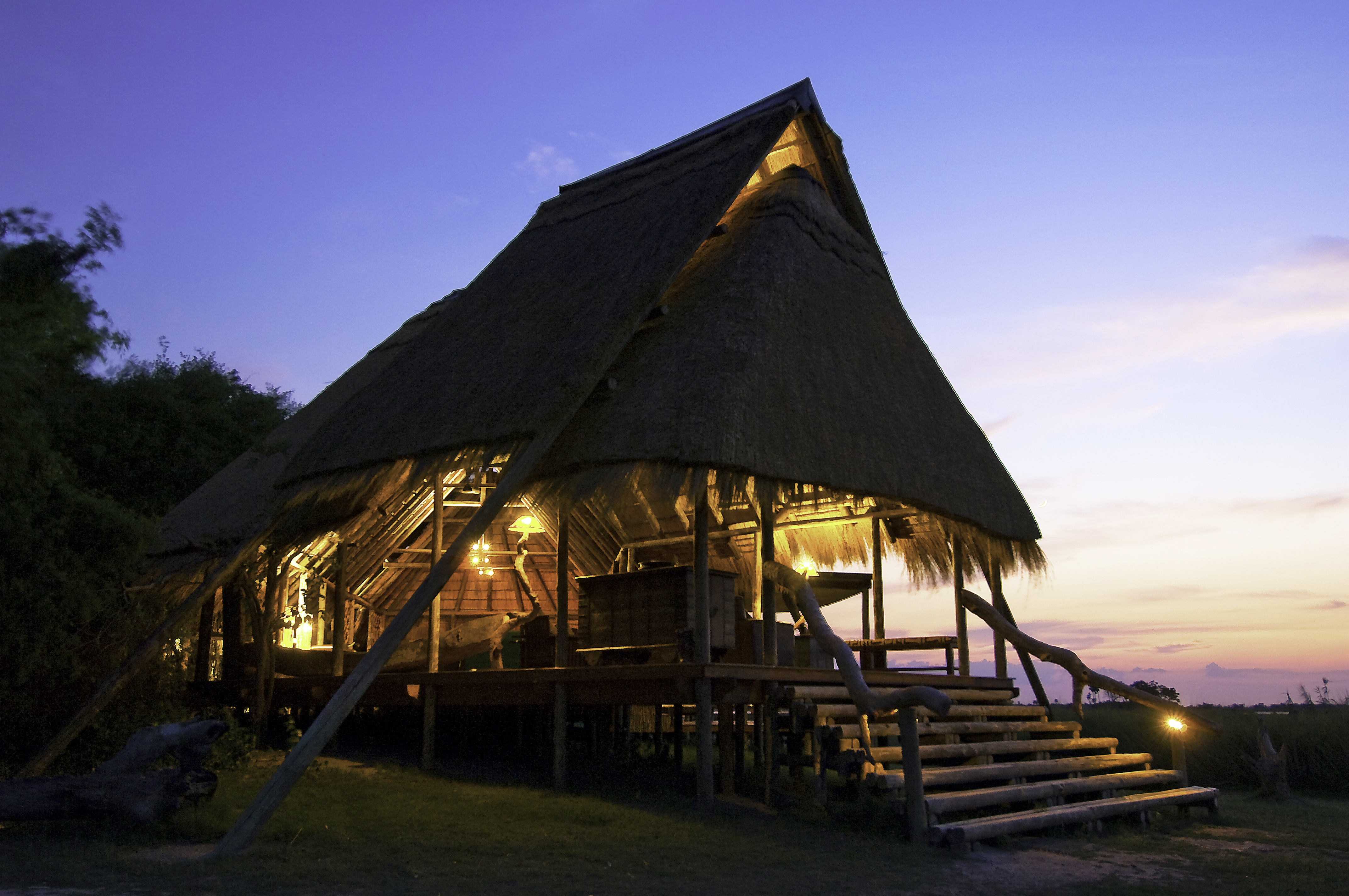 Ethical Information
We believe that responsible tourism has the capacity to protect natural wildlife habitats, support community development and alleviate poverty. It is the only responsible way into the future of Africa.
Our aim is to create best practice, world-class conservancy with long terms commitment to the environment, wildlife and the local communities. In order to qualify for investment each property has to have a balanced score card on the 3 C's: Commerce, Conservation and Communities with a fourth component as a benign overseer, government.
At Great Plains we specifically choose our projects not within national parks and reserves but alongside them because we believe that government has the capacity to take care of existing parks in most countries and they are of
the scale where we can't really play a meaningful role. However we can back up government on one hand but developing projects in the theoretical 'buffer zones.' Mostly these buffer zones are where communities have located. So a
good working relationship with communities are vital to conservation. On the other hand, we fundamentally believe that it is ALL our responsibility to increase community welfare, skills, reduce poverty and increase education
quality and spread.
This is not because we have to do it to save wildlife it is because we see ourselves as a part of the planet not apart from it and people are a major part of that. Poverty is the enemy of a healthy planet, it is the enemy of an educated human population and it is often the broken bridge that results in corruption. A very large component of what we do at Great Plains is with an eye on community upliftment, directly via our business and via charity or donations.
Zarafa is our flagship camp in terms of where we want all of our camps to get to and surpass with newer technology coming out all the time. Duba Plains and Mara Plains camps will be closed after the first quarter of 2012 to be upgraded, including many of the features that we have at Zarafa. Selinda Camp also has most of the aspects that Zarafa has, and we're working on the solar panel farm for this camp.
We also have an initiative to contribute to halting the alarming decline in Big Cats around the world: For each guest's four night stay at one of Great Plains Conservation's Botswana (Zarafa, Selinda or Duba Plains) and Kenya (ol Donyo or Mara Plains) camps, we will donate $25 per person per night to the National Geographic Big Cats Initiative.