Located in the very north of the Okavango Delta, on the Vumbura Reserve, Vumbura Plains is – by any measure – an outstanding luxury lodge.
Overview
Situated beneath a stretch of jackleberry trees, overlooking (sometimes flooded) plains, Vumbura Plains Camp is a wood and thatch build divided into two linked but entirely independent wings: north and south. Raised and consisting of a shared area and 7 sleeping tents, each wing includes a lounge, bar, restaurant, extensive decking and fire-pit.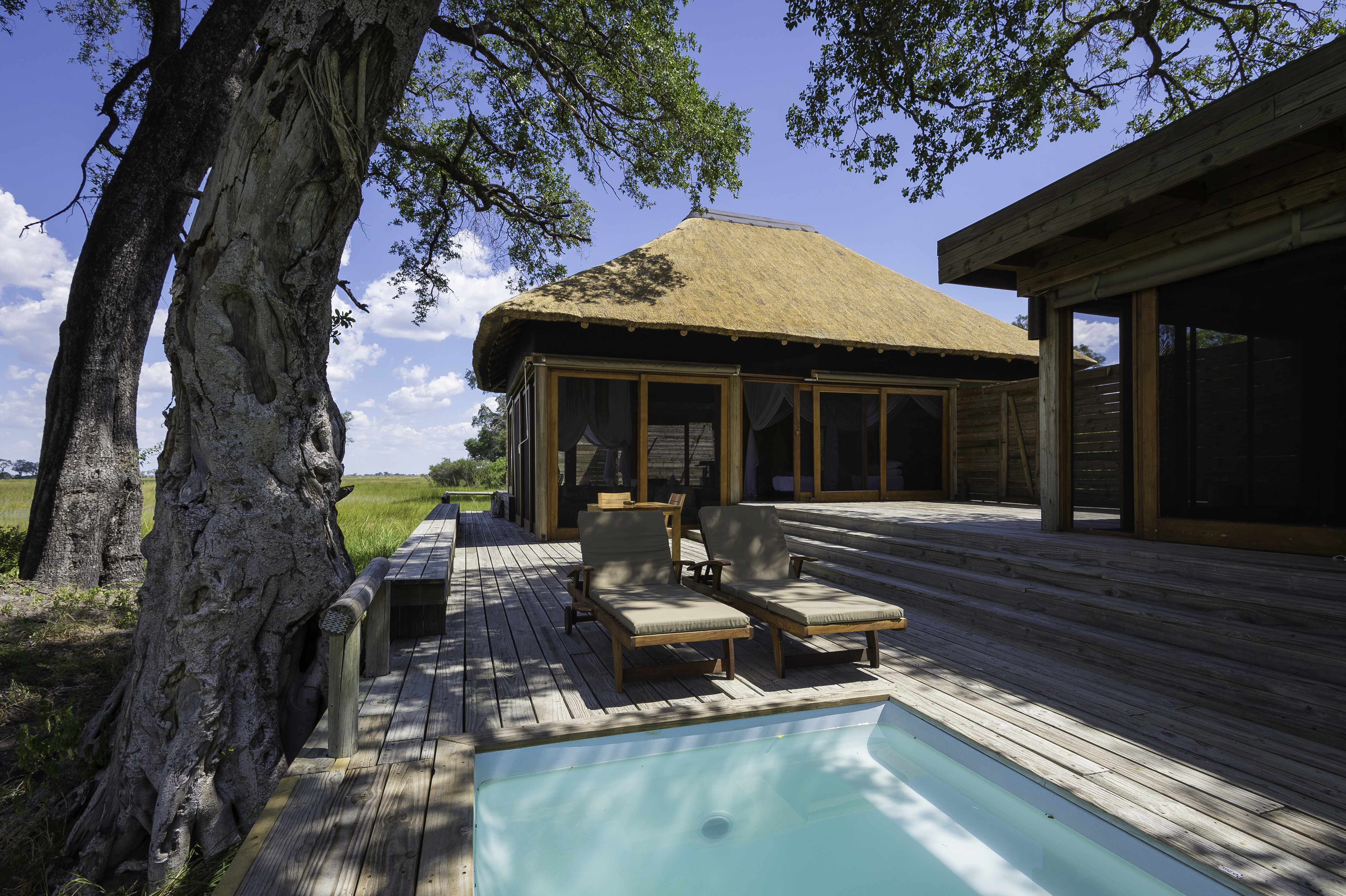 Open-sided, clear and simple, the style is very much of the kind of beach bar one might find in Thailand or India – less the drapes and intricate patterning: plain wooden flooring, sunken seating, tree stumps for tables, scattered cushions, a library, fire bowl and a couple of hanging loungers.
With both shaded areas and suntraps competing for attention, most guests make the most of downtime by doing nearly nothing – except chat, drink and eat, of course. Comfortable, fun and free, the whole feel of the place is both welcoming and stimulating.
Food & service
Feedback with regards to food and service has been unrelentingly excellent. Meals – early start cold breakfast, brunch, tea and cake and dinner – are delicious. The ostrich salad's a must, as are the steaks and stir-fries.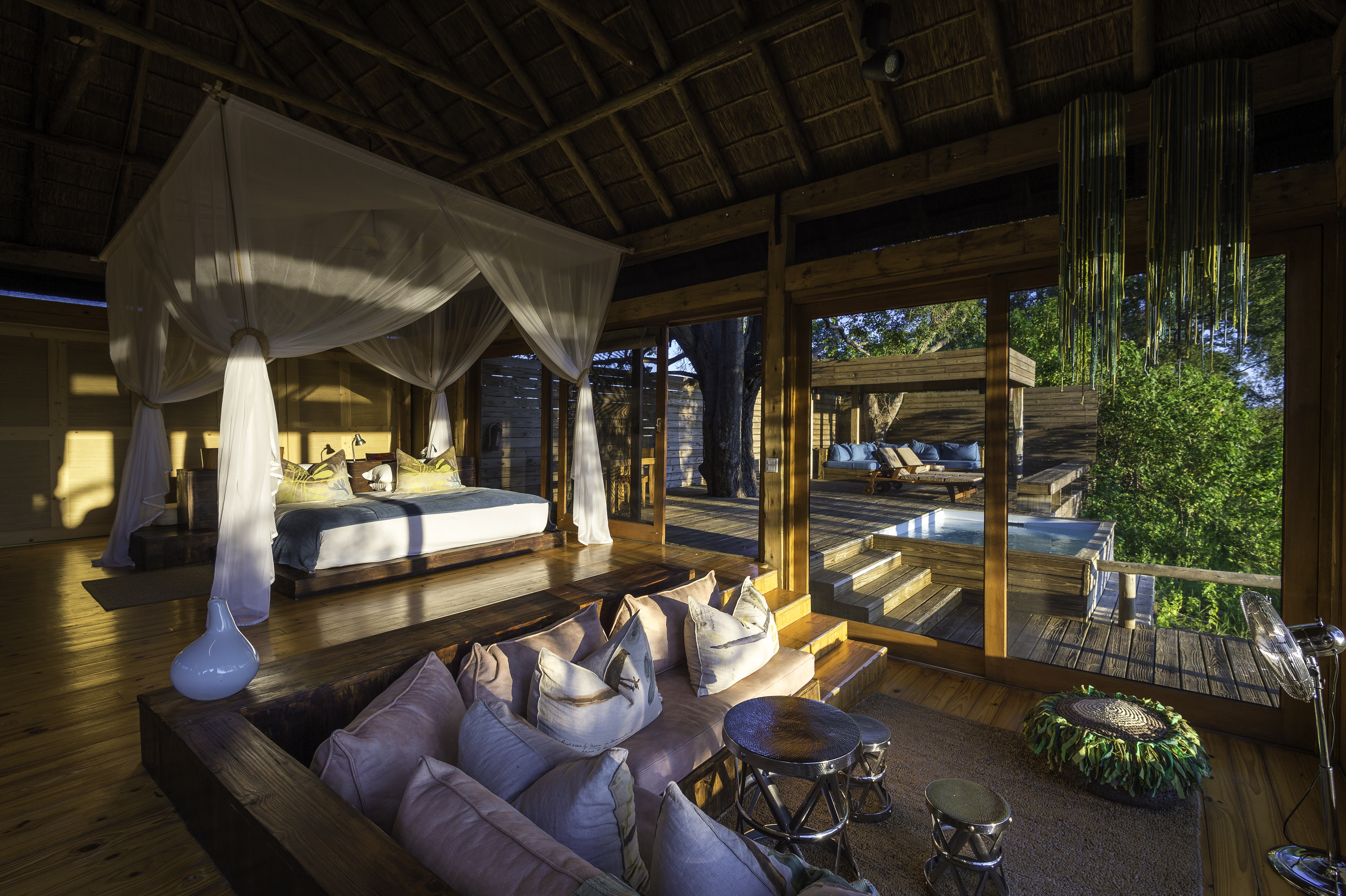 Nibbles are available throughout the day, as are drinks, with the smoothies taking top non-alcoholic spot for sheer tastiness. The service – from restaurant floor to room care to management – is a delight. Fun, efficient, inclusive and highly professional, it's the people that make the stay – and make it they do.
Rooms
The sleeping accommodation at Vumbura Plains Camps is outrageously fine! Accessed by way of a wooden walkway, huge and marked by light pine floors, floor-to-ceiling glass, cavernous ceilings and great acres of space, each suite includes a giant four poster double, a sunken seating area, en suite bathroom, private plunge pool and veranda.
The views are unquestionably excellent, the style – the furnishings – functional, beautifully crafted. Everything about these rooms oozes comfort. Please be aware there is no Wi-Fi at the camp.
Activities
Activities at Vumbura Plains Camps include guided walks, riverboat and moroko trips, wildlife drives, sundowners and bird watching. Please be advised that, like many camps, there is no camp fence, and it is for this reason that guests are escorted to and from their rooms.
Impact
Conservation
Researcher Simon Dures is examining the genetic structure of the lion population living in Botswana's Okavango Delta.
Commerce
Five local villages worked together to form the Okavango Community Trust, which subsequently partnered with Wilderness. Its main role is to ensure the positive benefits of ecotourism are shared equally among the local community, and it has successfully advocated for greater training in both conservation and work based skills.
Community
Wilderness Safaris supports Children in the Wilderness, a programme which provides educational life skills and environmental awareness for children who live in villages close to conservation areas. At this moment in time (2018) CITW has benefited over 10,000 children from seven African countries.