Another Wilderness Safaris product, located in Botswana's Okavango Delta, in the Jao concession, Kwetsani Camp is a small luxury lodge with a first rate reputation.
Overview
Situated on a delta island, built largely on stilts, and sympathetic in design to the immediate habitat, Kwetsani Camp makes fine use of the jackleberry dominated woods beneath which it shelters. Consisting of a main area and 5 tree houses, it is built from locally sourced woods and thatching.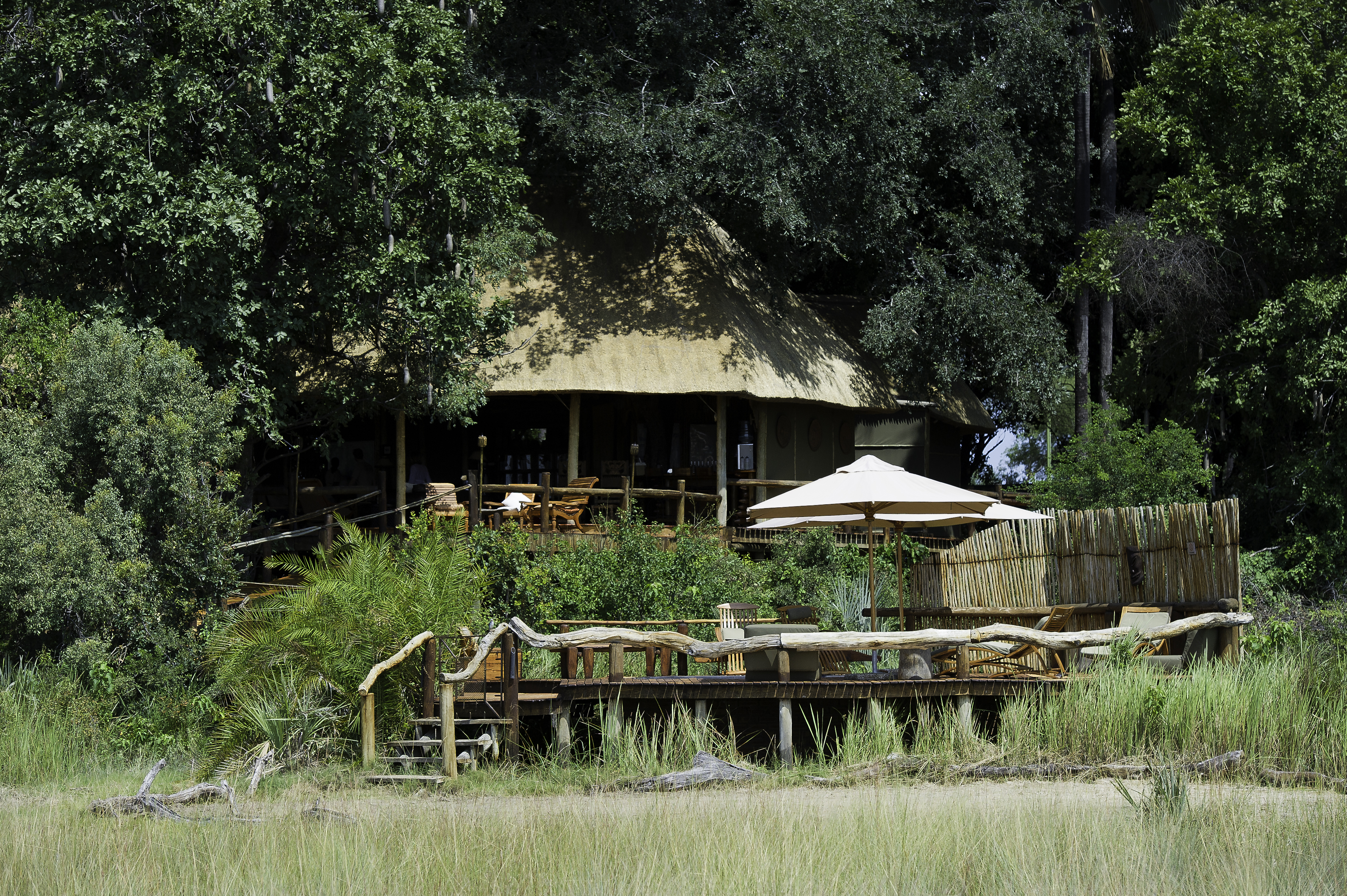 The shared areas include a lounge, dining room, bar, plunge pool, decking, a shop and library. Much is made by guests of the shared toilet, which possesses one of the finest views in Kwetsani Camp. Stylish, well cared for, the main areas are characterised by leather seating, expansive wooden flooring, blonde wood features and well chosen, ornately carved artefacts.
Food & service
The food is excellent, the service equally as fine.
Rooms
Accessed by way of raised wooden walkways, and supported by stilts, the sleeping tents are not strictly tree houses, but their positions, height and views certainly give the impression of being so. Spacious, cool and protected by a thatch roof, each room of Kwetsani Camp possesses a double/twin bed, a veranda, low stick-weave walls, fine netted canvas windows and upper walls, glass fronts and a separate bathroom.
Set on highly polished floors, the design is minimal: comfortable armchairs, leather topped bed bench, a beautifully worked headboard. The bathroom – twin sinks, flush toilet, inside/outside showers – is equally simple, equally beautiful, and various toiletries and amenities (safe, fan, net) are provided.
Activities
Activities include wildlife drives, guided walks, mokoro trips, fishing, bush picnics and guided walks. Please note that mokoro trips are dependent on the time of the year – April through to October is normally good.
Impact
Conservation
Kwetsani supports the Botswana Predator Conservation Trust, the longest-running large predator conservation research programme in Botswana. Founded in 1989, it initially focused solely on the African wild dog, before branching out into wider large predator conservation research.
To encourage greater cooperation between local communities and the region, the Jao Concession and the University of Botswana formed a committee to help tackle the prominent issues of over-fishing and poaching.
Community
Wilderness Safaris supports Children in the Wilderness, a programme which provides educational life skills and environmental awareness for children who live in villages close to conservation areas. At this moment in time (2018) CITW has benefited over 10,000 children from seven African countries.