Hosted and guided by Marleen and Simon Byron, the latter a Conde Nast Traveller's top 25 guide, Beagle Expeditions's Kweene Trails is a mobile tented experience operating predominantly in Botswana.
Overview
Marleen and Simon, together with their daughter Dalia, spend no more than 100 days per year hosting, which amounts to about 10 expeditions. No expedition is the same and the itinerary of each one depends largely on the season, the level of recent rains, and the needs of their guests. Some are undertaken on foot and some by boat, while others can be done via mokoro or customised expedition vehicle. Whatever the trip, the camp is a canvas construct, consisting of a mess tent and sleeping tents. The mess tent consists of a dining table and chairs, a coffee and tea station, and a fire pit with camp chairs and a bar, all set up by the camp team before guests arrive. Please note that Wi-Fi is not available.

Food & service
Kweene Trails runs a top-notch service, with a comforting family feel to it in amongst the excitement of the adventure. All food is sourced locally and the menu, which is completely dependent on the time of year, is cooked on the open fire by experienced bush chefs. A good selection of soft and alcoholic drinks are available and premium South African wines are a common theme.
Rooms
Although the camps are simple, they are luxurious, and sleeping arrangements are magnificent 3x3m dome tents. The bedding atop the bedrolls is made with fine Egyptian cotton, for maximum comfort. Guests should note that the beds are rolled out onto the floor, which though comfortable, may for some be an issue when it comes to getting up.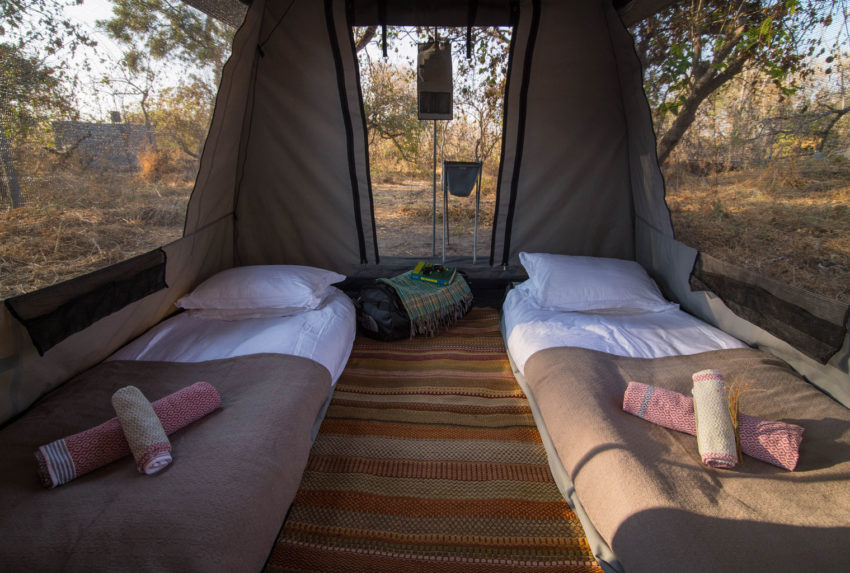 Activities
Activities take place in hugely biodiverse ecosystems of the Kalahari, Okavango and Chobe region, as different from one another as they could be. Kweene Trails's guides say it's important to see as much of these varied ecosystems as possible in order to gain a good understanding of the steady ecological dynamic. A typical day's expedition may consist of venturing into the delta by aluminium boat setting up camp on an island and exploring them by foot, picnicking on the waters edge and finishing it off with a drink reading your book with a drink in a hammock.
Conservation 
For every guest that books a night on safari with Kweene Trails, the camp donates 200 Botswanan Pula per person, per night to their own registered trust, the Beagle Education Trust. The camp's owners also have a strong vision for improving relations between the local communities and wildlife; fencing in human homes and ploughing fields, thereby preventing unnecessary conflict.
Commerce
All of the camp's supplies and services are obtained locally, which provides a crucial stimulus for the surrounding economy.
Community
Kweene Trails believes that community empowerment is grounded in educational progress. One of the Beagle Education Trust's main aims is to employ high-quality English teachers in primary schools around the Okavango Delta conservation region, with the intention of fundamentally enhancing the levels of spoken, read and written English in nearby communities.