19°
12'
54.75" S
23°
8'
9" E
Remote, seasoned and located in Botswana's Okavango Delta, north of Moremi, in the Kwara Game Reserve, Kwara Camp is a small, nicely aged lodge whose reputation for exceptional guiding, tracking and all round service more than makes up for the fact that it is not the most luxurious of destinations.
Situated on the banks of a deep water channel, and yet within easy reach of a plains habitat, Kwara is rare in that it can offer – throughout the year – both water and land based safaris. A thatch, wood and canvas build, Kwara Camp consists of a mess area and 8 sleeping tents. The shared areas include a lounge, bar, dining area, shop, plunge pool and balcony. Cosy, comfortable, bright, the lounge is open sided, naturally lit and possesses an assortment of low, comfy seating. Dining is communal – buffet and a la carte – and feedback consistently reports the food at Kwara Camp as excellent.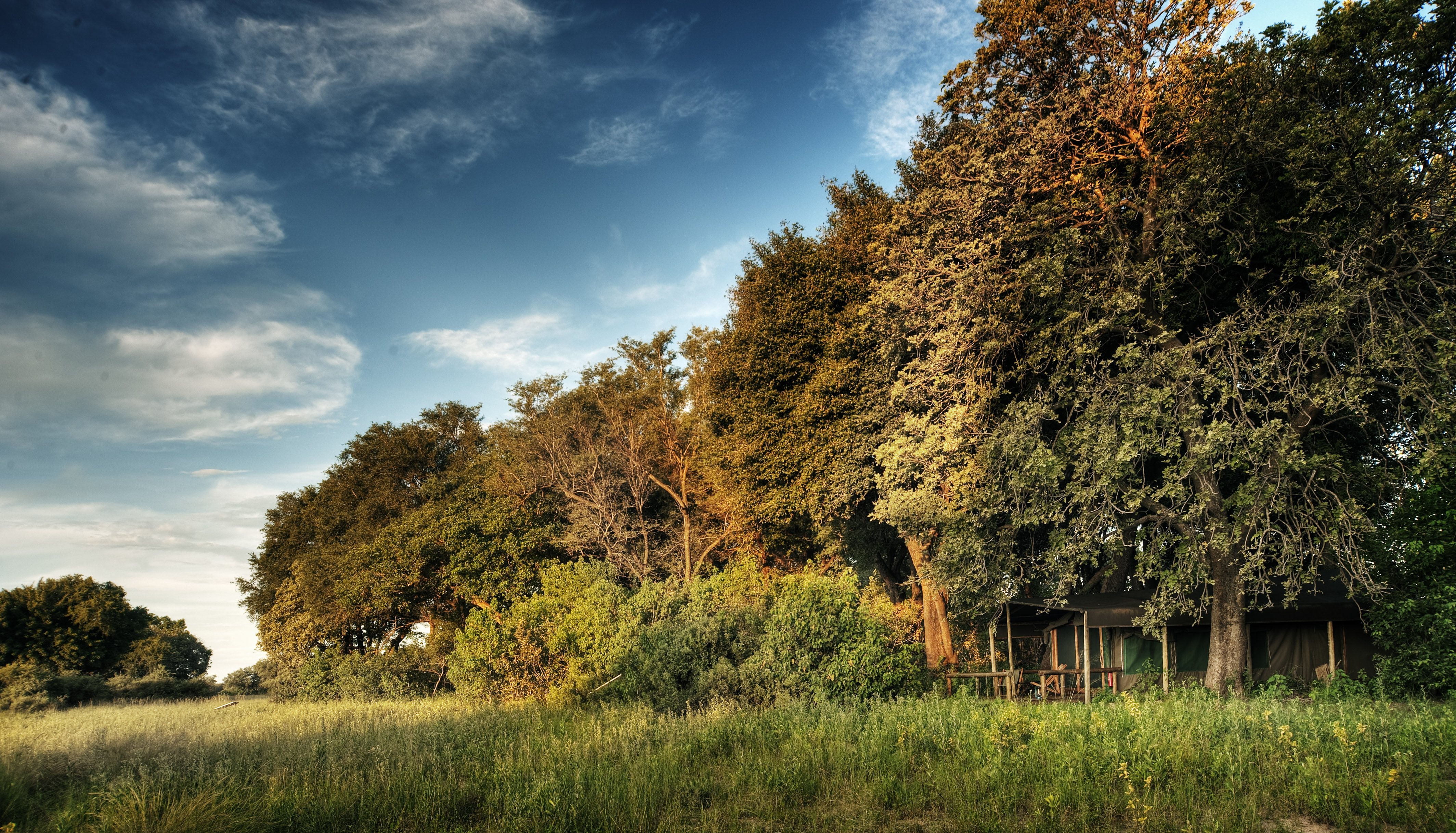 Raised on teak platforms, the sleeping tents are reasonably large and simply designed. Each possesses a balcony, en-suite bathroom, double / twin bed, storage and loungers. The bathroom includes a double sink, flush toilet and showers. A side flap leads to an outdoor shower. Various amenities – toiletries, coils etc. – are provided and storm lanterns provide extra lighting. Please be advised that some tents at Kwara Camp have a plains view, while the remainder look out over the lagoon; and that one of the rooms – the honeymoon tent – has a stand-alone bath.
Activities include night and day game drives, guided walks, power boating, mokoro trips, fishing and bird watching. The walks are conducted by both tracker and guide, the combination of which significantly raises the chances of positive sightings.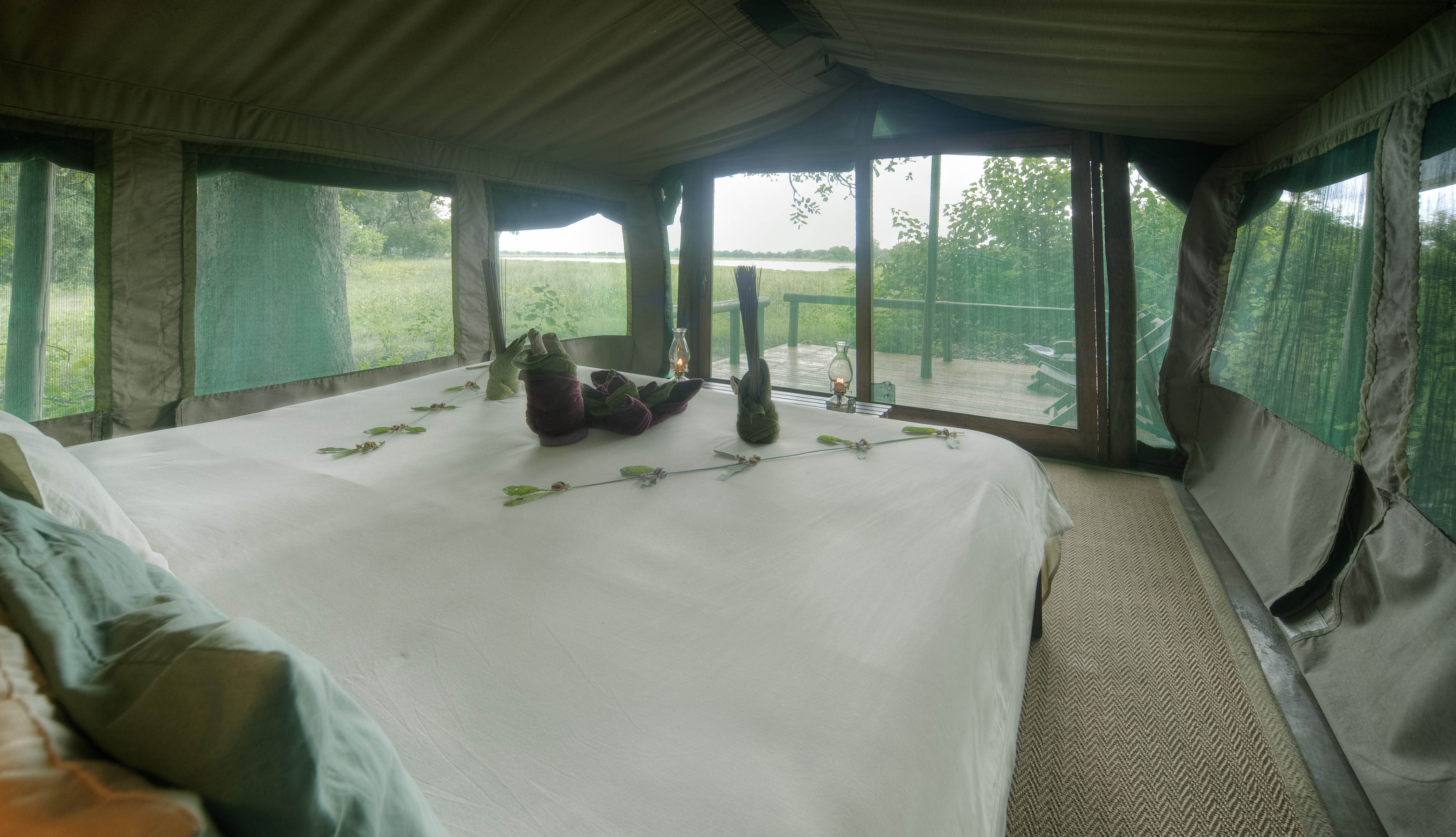 Ethical Information
Environmental responsibility
Minimising the footprint of your wildlife experience
Kwando Safaris camps are pioneering the comprehensive use of eco friendly power, hot water generation and waste water treatment.
Solar Power and Water Heating
In a land blessed with an abundance of sun, the natural option for generating power and heating water must lie in solar technology. The massive developments in such technology have provided us with ideal solar power solutions for our camps.
Kwando Safaris camps are located in environmentally sensitive areas and to ensure that the camps cause minimal impact on their surroundings, the company has invested in highly efficient solar generating equipment to operate the entire camp. All electrical appliances used in the camps are energy saving products – from light bulbs to fans and ice machines. Protecting the environment need not mean going without those all important comforts while on safari!
Waste Water Treatment
All waste water in Kwando Safaris camps is treated using above ground state-of-the-art sewerage treatment plants. This ensures that there is no cross contamination of the soils or ground water through discharge of grey or black water. The fully treated end product is eventually returned to the ground.
Environmental Design
Intelligent design compliments the use of environmentally friendly energy generation. The use of insulated walling (where applicable) and thatch within the design of the camps avoids the need for cooling systems which use a large amount of power. Insulation and thatch provide a comfortable interior temperature regardless of the extremes of heat and cold which are characteristic of our desert areas. Insulated cladding for hot water geysers and piping greatly increases the efficiency of the hot water systems by reducing heat loss from the system overnight, especially during the colder months of the year.
Social responsibility
Kwando Safaris is a solely citizen-owned company and takes its employment and empowerment policies very seriously. All of Kwando Safaris' operations, including the sales and reservations team, are based in Maun, the tourism capital of Botswana.
We try to offer careers, not just jobs, to all our staff. Many of our camp managers started off in junior positions, many of our guides started as trackers, and our receptionists as waiters or tent ladies. The company pay scales are at the top of the industry in Botswana and both merit and long service awards are made to our staff. The opportunities afforded talented and passionate citizens are widely sought after throughout the country.
As part of the company's social responsibility programme, Kwando Safaris supports the Lady Khama Charitable Trust (LKCT). The LKCT supports several charitable initiatives throughout the country and Kwando Safaris operates a 'matching' scheme for the benefit of the Trust and its associated charitable beneficiaries.