Owned and operated by Ker & Downey Botswana, and located in the south-west of the Okavango Delta, on the NG27 concession overlooking the Xudum river, Kanana Camp is a relaxed and beautifully designed luxury lodge.
Overview
A wood, thatch and canvas build, and protected by a mix of jackalberries, acacias and sausage trees, Kanana Camp consists of a main lodge and 8 sleeping tents: seven spacious twin and double-bedded safari tents and one family tent.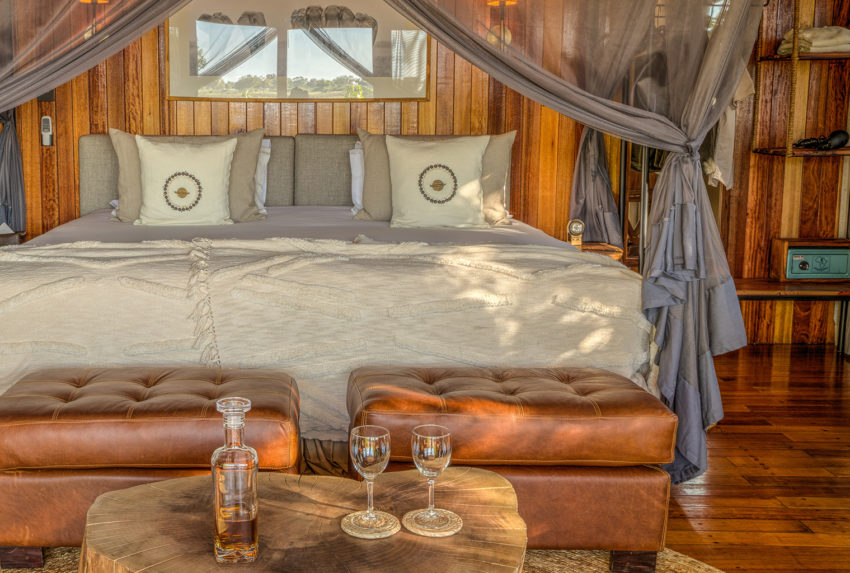 Raised, circular and split on 3 levels, the mess area includes a small reading area, bar and dining room to one side, all of which lead around to a small platform and launch site for the canoes and mokoros.
Food & service
Characterised by open sides, Persian carpets, super comfortable seats and low elegant tables, the main lodge is a lovely place to eat, meet and exchange notes. The food is very good, and the feedback with regards to service at Kanana Camp is unremittingly excellent.
Rooms
Raised on stilts, accessed by elephant dung pathways, and strung out to the left of the main mess, overlooking the river, the sleeping tents of Kanana Camp are both discreet and beautifully appointed. Each tent possesses a double/twin bed, fan, balcony, seating area, separate bathroom and enough room to change in.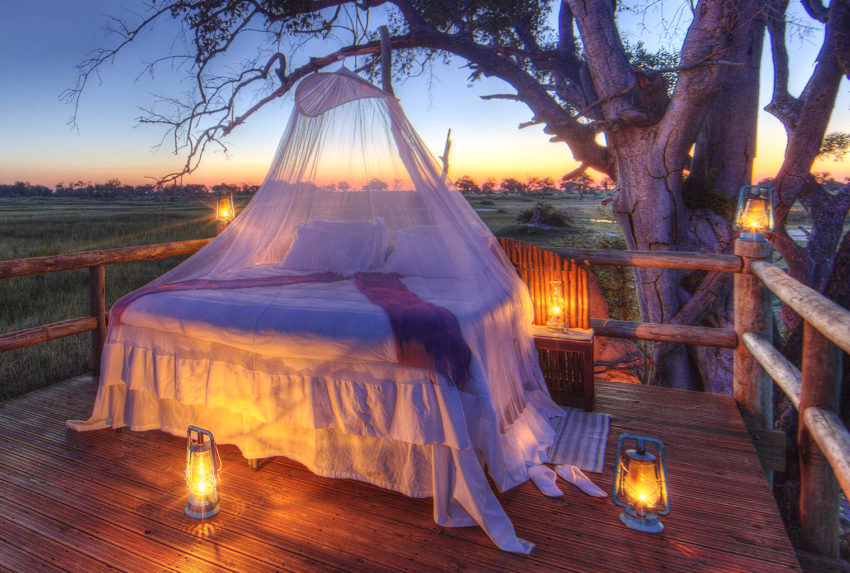 The bathroom is divided into 3 areas – shower, flush toilet and sink – and the brass fittings go well with the hardwood features. Marked by highly polished floors, canvas walls and plenty of storage space, the tents are extremely welcoming.
Activities
Activities include private walks, mokoro excursions, day/night drives, motorboat trips and fishing.
The concession is strictly for photographic use only, and is one of the best Delta areas for wildlife and bird concentrations. Last time we visited we landed across the path of a female lioness hunting red lechwe. The nature of the habitat means that it is the perfect place to experience the diversity of species found in the Okavango Delta.
With access to one of the largest heronries in the Delta and excellent for Pel's Fishing Owl, Kanana is also an excellent bird watching spot.
Impact
Community 
Kanana Camp supports Bana Ba Letsatsi (Sunshine Children), an NGO which supports over 250 vulnerable, at-risk orphaned children and youths. The centre offers a place of safety for education and counselling, providing food, medical attention, clothes, showers, training, haircuts and meeting any other needs encountered by the children.