Located in the Okavango Delta, on the edge of the Gomoti River, in the community-run NG32 concession, Gomoti Plains is an excellent eco-luxury lodge.
Overview
An all-canvas affair consisting of a shared area and 10 luxury sleeping tents, Gomoti Plains includes a mess tent, swimming pool, library, spa and curio shop. The mess tent is large and split into a dining area and large lounge and bar with sofas, cushions and stylish furnishings designed to fit with the camp's overall modern rustic look, the centre-piece the cross section of a dead tree. Please note that whilst Wi-Fi is available, it is intermittent and limited to certain areas of the camp.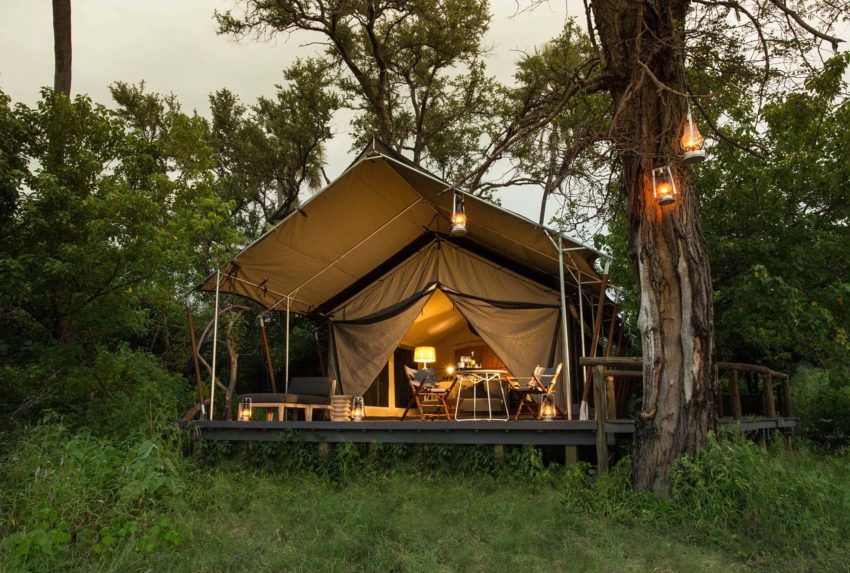 Food & Service
Prepared by local chefs, the food at Gomoti Plains is wholesome in style and meals are taken outside under the stars or in amongst the cosy warmth of the inside furnishings, either communally or at private tables. The feedback from guests as to the quality of service has been excellent.
Rooms
Raised on wooden platforms, the sleeping tents at Gomoti Plains come in two sizes: double and family. Each room includes a large en-suite bathroom, flush toilets, inside and outside showers and twin basins, and a king-size bed – at the end of which is a sofa looking through the tent's netting onto the delta. Similar in style to the mess tent, the classic luxury look and feel is ever apparent in its design and each fitting, from the washing baskets and lampshades to the coffee stands and cushions. The family tents include an extra room and sleep four. Please note there is also a private camp available for exclusive hire.
Activities
Activities at Gomoti Plains include safari drives around the flood plains and along the river systems of the camp to spot anything from elephants and buffalo to any predators, large and small that reside nearby. The drives can involve spot-lighting, which involves going at night time. Walking safaris are also available for those keen to take these experiences on foot as well as trips on traditional Botswana canoe called a mokoro.
Impact
The concession that Gomoti Plains sits within is run by the local community, meaning that levies from the lodge help fund education and hospital bills as well as giving the community an incentive to protect the wildlife.