Located in northern Botswana, in the northern most reaches of the delta, adjacent to the Moremi Game Reserve, on a 33,000 hectare wildlife management area called NG23, Duba Plains is a remote and first-class luxury lodge.
Overview
A raised, open sided wood, canvas and thatch build, Duba Plains Camp is situated in the shade of a grove of mangosteen and jackleberry trees, overlooks the floodplain, and consists of a main area and five sleeping tents. The main mess area is split between two levels and includes a lounge, bar, library, dining room, coffee and tea stations, fire pit, wine cellar, and an outdoor area. With an open and light atmosphere, and finished to a high standard, the overriding style is simple, the dining room table and chairs well made, the lounge seating low and comfortable. Atmospheric preparatory and celebratory meetings take place beneath the camp's giant ebony trees. Guests have complementary use of the camp's stock of 5D Canon cameras, which shoots as good film as it does photographs. Please note that children from 6 years are welcome.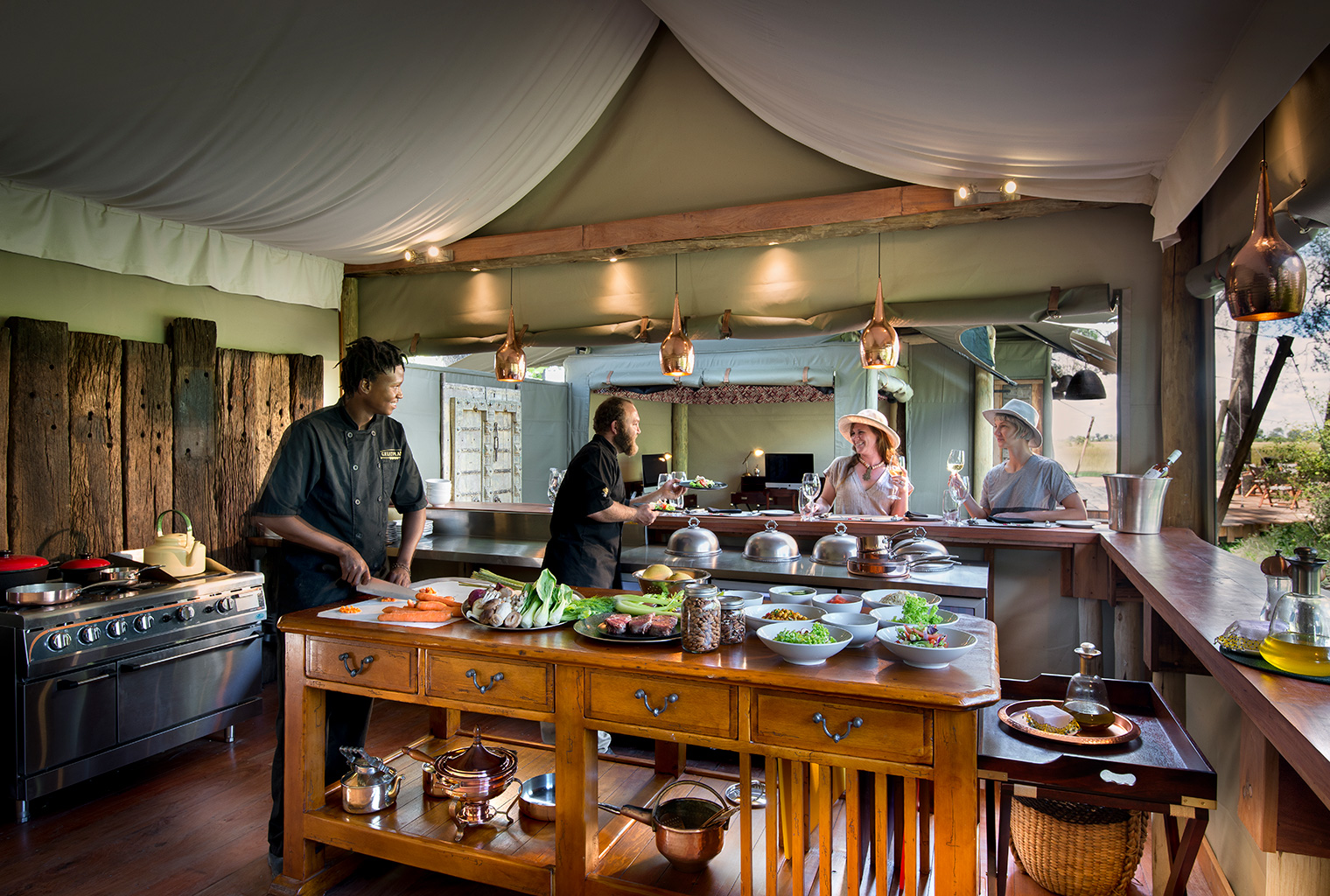 Food & service
The food – breakfast and lunch buffet, dinner a la carte – is good, the service fantastic. The camp's wonderful interactive kitchen allows guests direct access to its chef and creations, making the business of dining that bit more intimate, fun, and informed.
Rooms
Easterly facing, the sleeping tents are also raised on wooden decks, affording excellent views of the seasonal flood plain. Each tent has a double/twin bed (high density mattresses and headboards that double as shelves), a seating area, ceiling fans, a writing desk, side tables, private balcony, plunge pools, and en-suite facilities consisting of a flush loo, double vanities, indoor and outdoor showers, and a bath.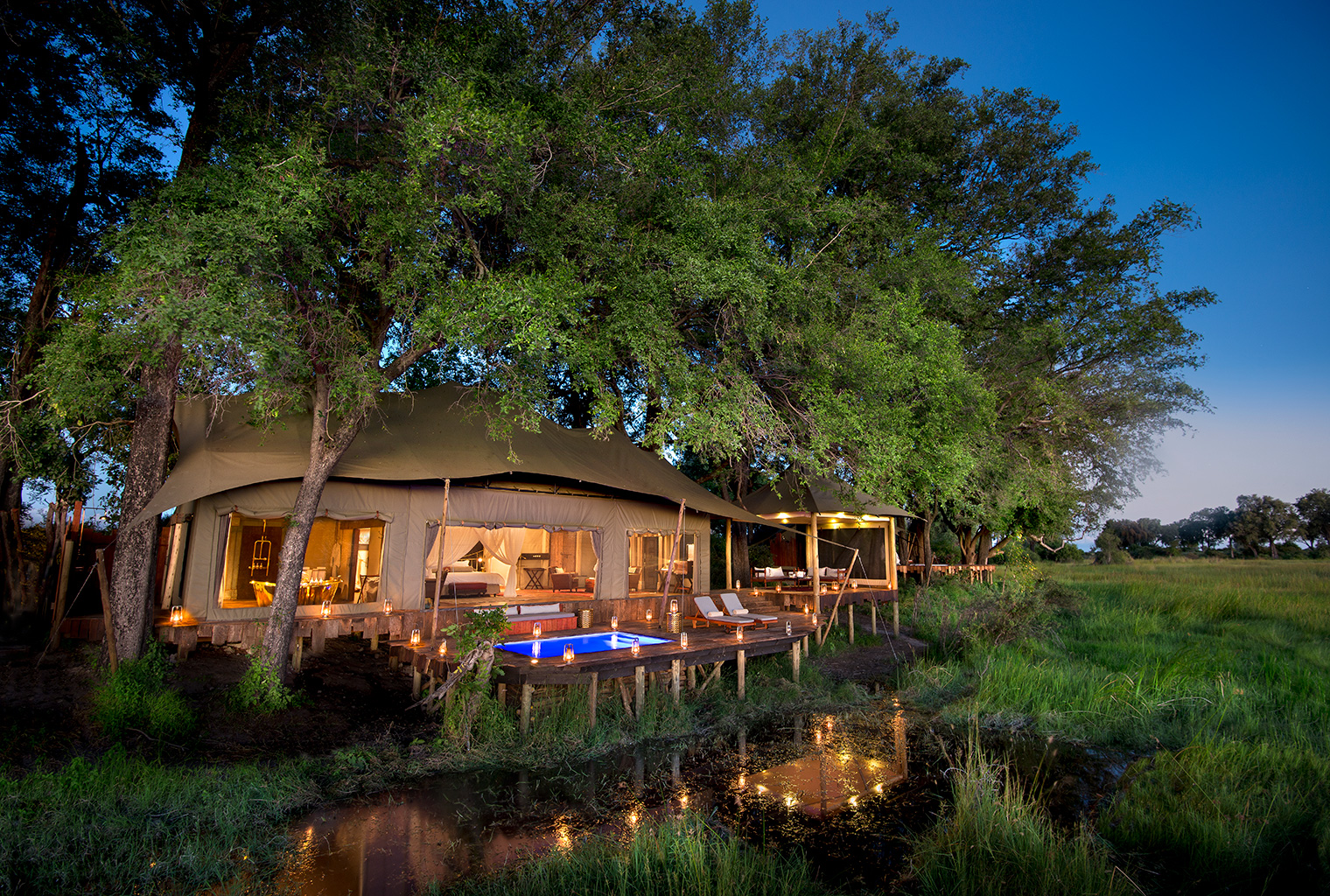 Like the main lodge, the style is simple, and metal director's chairs, the odd rug and one or two carefully chosen artefacts are enough to complement a room that is well kept, attractive and welcoming. Do note environmental-friendly air conditioning is available.
Activities
Activities include day and night wildlife drives, seasonal walks, and mokoro trips, the last of these available from about June/July onwards – as are the deep-water boat excursions. When flooded, the area available for walking and wildlife drives drops by about 40%. Please be advised therefore that the best time for seeing the buffalo is in fact in the wet months from December through to March, before the floods arrive.
Impact
Conservation
Duba Plains is a base camp for Rhinos Without Borders, a vital project which aims to conserve the rhinos of South Africa by translocating 100 of them to Botswana. The camp's Young Explorers Club teaches children who stay about wildlife and the environment, helping to ensure future generations are educated about the importance of conservation. Starting in November 2018, the camp's 'no plastic' campaign will remove plastic straws from the camp, replacing them with locally made reed straws.
Commerce
The camp hires from local villages and takes care to stock locally made items, such as jewellery and baskets.
Community
Guests are invited to take a tour of Eretsha village and learn about Botswana culture, while the solar lantern project encourages guests to donate lanterns to surrounding school children.