The smaller and more intimate satellite to Chitabe Camp, and located in the Chitabe Reserve, on a sometime island situated in the floodplains of Santantadibe River, Chitabe Lediba is fast becoming northern Botswana's premier small luxury lodge.
Overview
Set in a mixed forest habitat, an area more dry than wet, Chitabe Reserve is a wood, thatch and canvas build, and consists of a main camp and 5 sleeping tents. Raised, thatched and open sided, the main camp includes a lounge, bar, dining area, boma, firepit and veranda, curio shop and pool.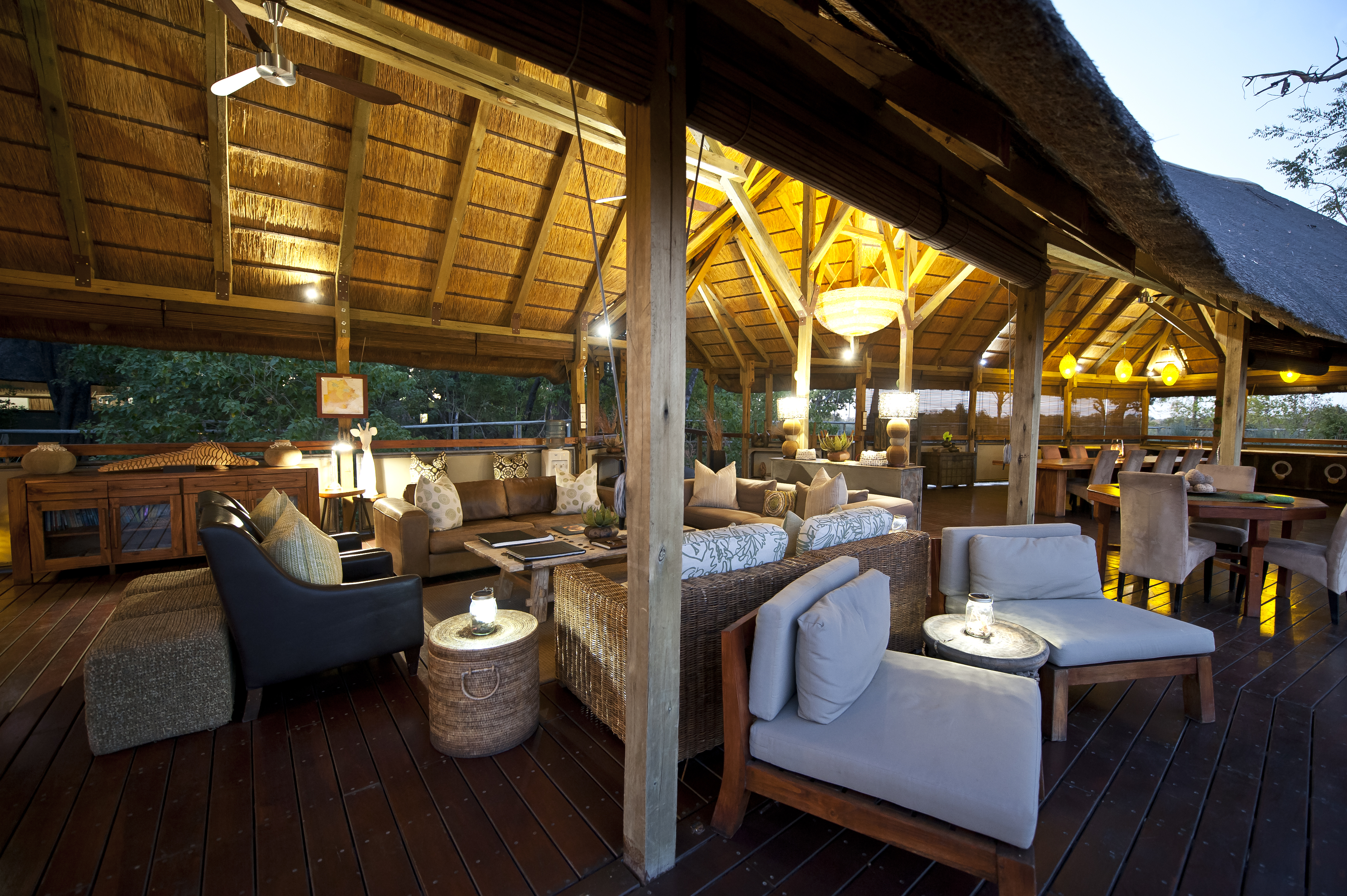 Open plan, beautifully designed and characterised by leather sofas, wicker slumber seating, directors chairs, low tables, a small Africana library, a mix of blonde and dark polished woods, the lounge and dining area works brilliantly; a homage to boho-chic, less the self-conscious awkwardness. Please note there is no Wi-Fi at the camp.
Food & service
As with Chitabe Camp, the service and food is wonderful. Friendly, interesting and interested, the role of hosts understood to be much more than branded efficiency, Chitabe Lediba's fine reputation rests on the quality of its staff, from chef to restaurant floor to guide: unassailably excellent. Meals, inside or out, are usually taken communally, and the food, generally buffet, is delicious – African-European.
Rooms
Of the 5 Meru-style sleeping tents at Chitabe Lediba, 2 are family units, with adjoining bedrooms. Approached by means of a raised walkway, beautifully situated along the tree line, overlooking the floodplain, raised and employing wherever possible the same mixed polished woods, each room consists of a double/twin bed, en suite bathroom, private veranda and seating area.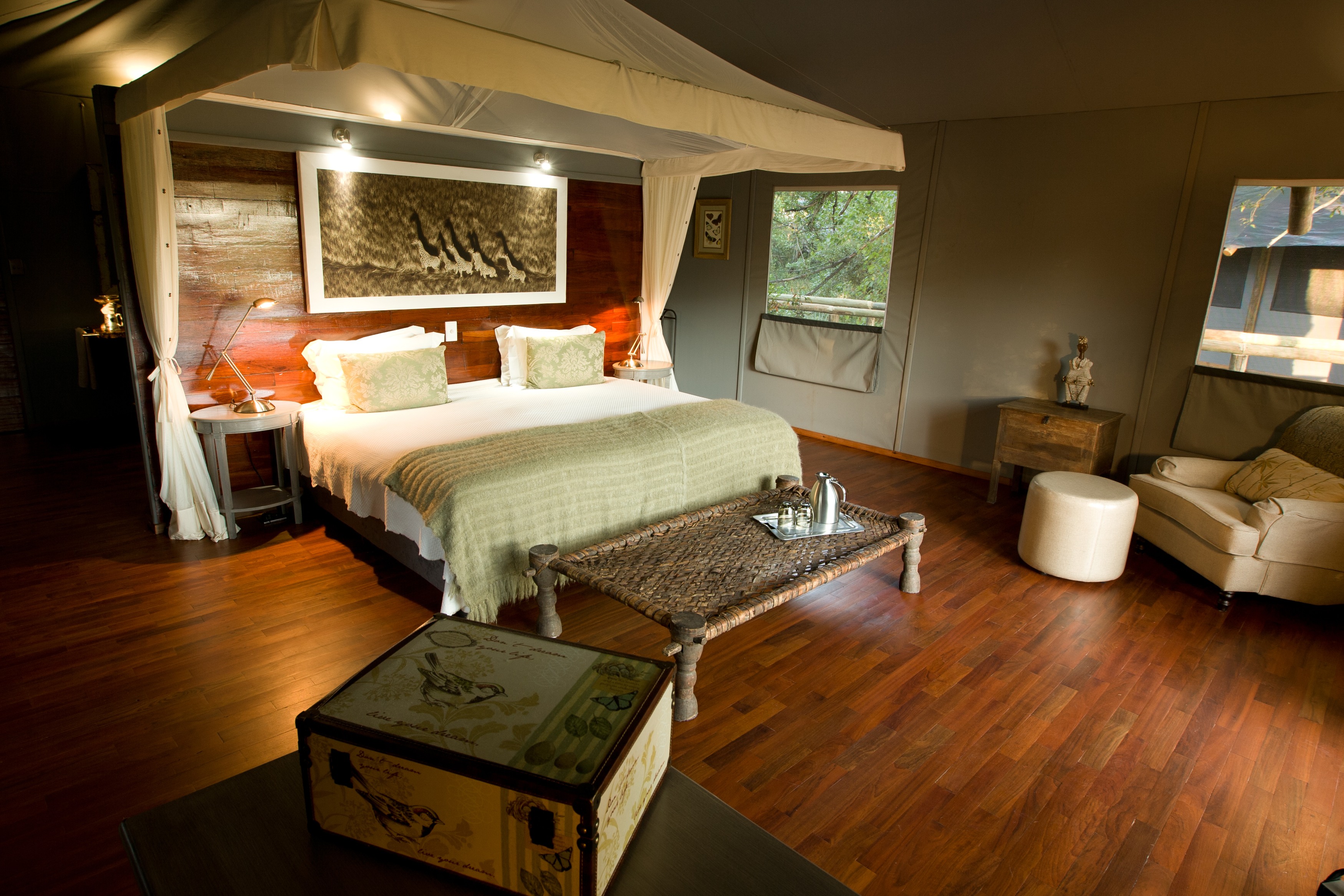 Save the differences in size, the look here is, like the main camp, very much about the quality of wood and fabric, the ubiquitous writing desk a simple blonde wood design, the polished dark wood flooring reflected in the frames and twin-basin mount, the rugs, art and sculpture perfectly complimenting the room's overall feel. The view from the veranda is something else!
Activities
Activities at Chitabe Lediba include wildlife drives, guided walks, bird watching and sundowners. Please be advised that while the area holds enormous promise wildlife-wise, with leopard, lion, elephant, buffalo and aardvark all regularly sighted, Chitabe's much vaunted wild dog pack, subject of much research, is no more – having, as of late 2012, fragmented and dissipated.
Impact
Conservation
Chitabe Lediba supports the Botswana Predator Conservation Trust, the longest-running large predator conservation research programme in Botswana. Founded in 1989, it initially focused solely on the African wild dog, before branching out into wider large predator conservation research. Chitabe Lediba assists the programme financially and logistically, by providing funds and guides to assist with data collection.
The camp has, since 2009, helped support an annual Aerial Survey of the region to establish accurate data on local wildlife populations. The camp is also 100% solar powered, while water treatment and reverse osmosis filtration helps reduce water and plastic waste.
Community
Chitabe Lediba proudly hosts an annual two-day Christmas party for staff and their children, offering the families a range of conservation lessons, wildlife drives, and fun activities.