19°
42'
44.04" S
22°
53'
10.56" E
Another super high spec lodge from &Beyond, and located on the Moremi Wildlife Reserve, in the Okavango Delta, Xudum Okavango Delta Lodge is exactly what you might expect of an organisation bent on changing the face of sustainable tourism: a luxury eco-lodge of the highest order.
Set on an island, a 40 minute boat ride from the mainland, and constructed almost entirely out of (recycled) wood and thatch, Xudum Okavango Delta Lodge consists of a main lodge and 9 sleeping rooms. The main lodge includes a lounge, dining area, bar, an open kitchen, veranda, shop and numerous rest areas. Characterised by a very simply designed restaurant space (lightweight tables, director's chairs), a lounge populated with sofas, one or two handmade tables, a writing desk, a hammock, a couple of reclaimed tyre swings and chandeliers fashioned from sticks, the emphasis here is on the natural, the lightest of footprints, a look that, in contrasting the bleached uprights with dark floorboards, melds beautifully with the lodge's surrounding.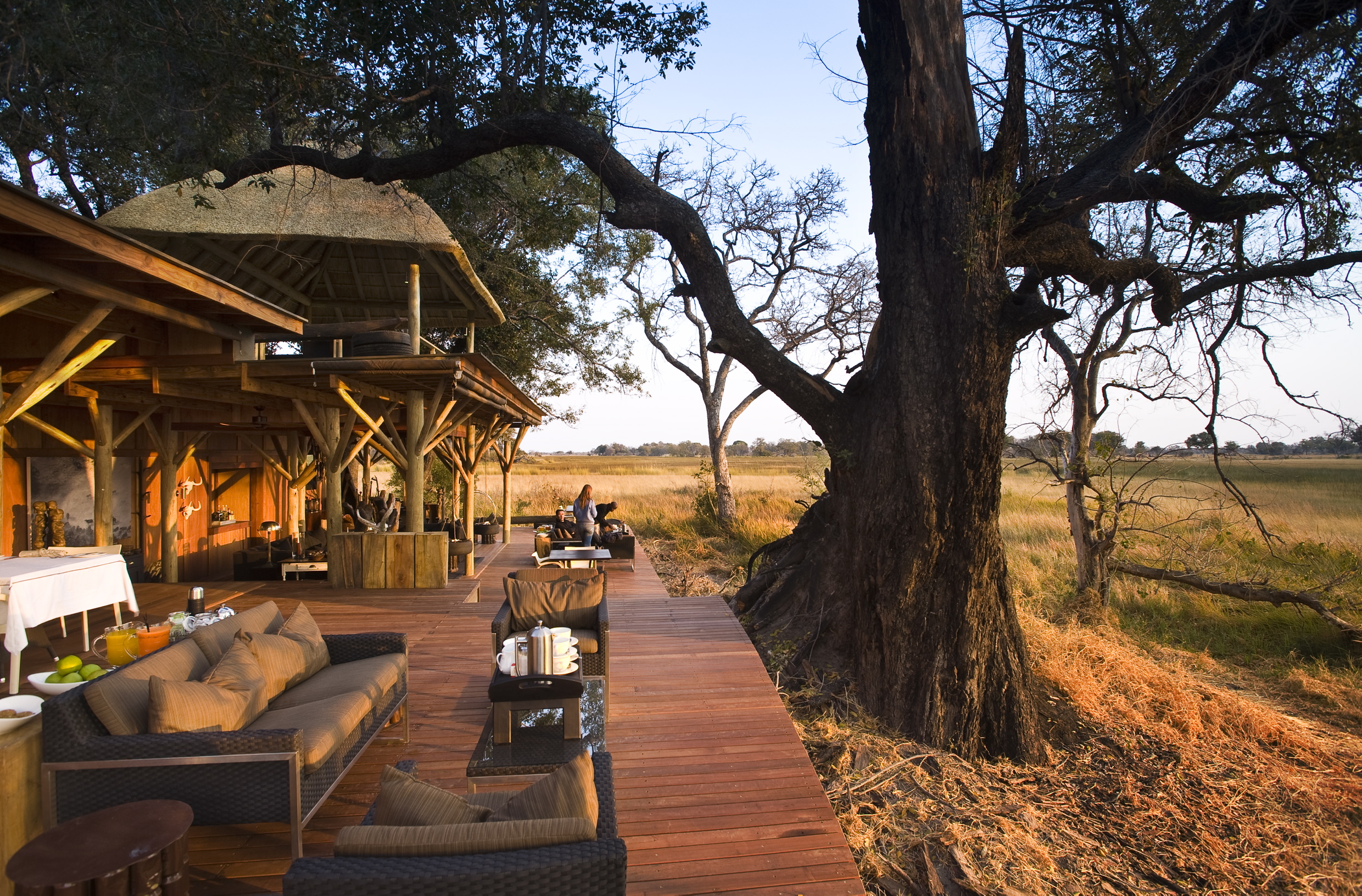 The recipient – with regards to food and service – of unfailingly fine feedback, Xudum Okavango Delta Lodge is wonderfully managed, the guiding exceptional, the care both relaxed and attentive. In keeping with &Beyond's signature Pan-African approach to the business of food, meals at the lodge are varied, African dishes influenced by European sauces, European and Asian dishes with traditional African twists. Available inside, outside, communally or in the privacy of one's suite, the standard of food is fantastic.
Equally good, the suites at Xudum – set on different levels, their high peaked roofs lending the otherwise Scandinavian-like cube a very smart Robinson Crusoe feel – are divine, sustainable architecture at its best. Approached via a rough-and-ready path, and accessed by way of a set of wooden stairs, the external look is simple, the prevalence of glass key to a beautifully lit interior. Composed of a veranda, double bed, seating area, en suite bathroom, rooftop lookout and private pool, the overall style is restrained, the dark floorboards a real feature, the walls less so (a little thin / partition-like looking), the bathroom – standalone bath, basin and toilet – genuinely wonderful. All in all, a cool and beautifully designed retreat.
Activities at Xudum Okavango Delta Lodge include game drives (night and day), guided walks, canoe trips and sundowners. The lodge lays claim to its very own pod of hippos, and the species of bird and aquatic life here is especially rich. Please be aware that the game here is not as prolific as it is in other areas.
Please note: children under the age of 6 are not permitted on game drives, walks and boat trips.