Little sister to Wilderness Safari's super-lodge, Mombo Camp, designed in the same vein, and located in Botswana's Moremi Game Reserve, on Mombo Island, adjoining the northern tip of Chief's island, Little Mombo is an intimate and first rate luxury camp.
Overview
Raised (sometimes to heights 12 to 14 ft), and constructed largely of wood and thatch, Little Mombo is situated in the same plains as Mombo Camp, and is connected to the main camp by a long wooden walkway. Despite this, Little Mombo is entirely self-sufficient, and consists of a main area and 3 sleeping tents. The shared areas include a lounge, dining room, bar, pool, fire pit, library, a boma-style outdoor seating area, a sala and extensive decking.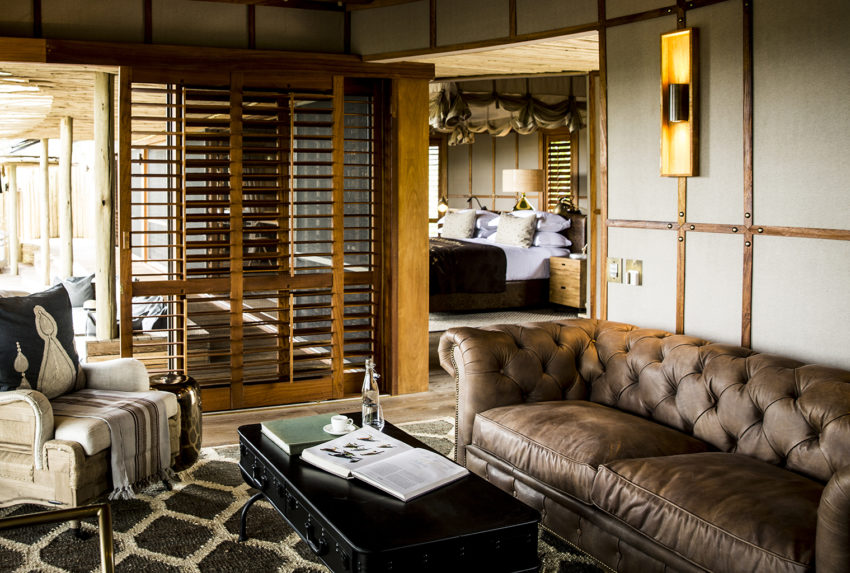 Chic, smart and polished, the main lodge of Little Mombo is marked by open sides, exposed uprights, a beautifully maintained wooden floor, comfortable sofas, wicker chairs, low coffee tables and wonderful views. The library, which is separate and built into the side of a tree, is especially welcoming.
Food & service
The food – early breakfast, buffet brunch, tea and a la carte/boma dining – is fantastic, as is the service.
Rooms
Accessed by walkways, beneath which animals freely wander, the en suite tents are exactly the same as those found at Mombo Camp. Each possesses a double/twin bed, private lounge, balcony, bathroom and changing/storage room. Large, airy, beautifully designed, and furnished with comfortable seating, mahogany writing desks, lampshades fashioned from guinea fowl feathers and porcupine quills, foot stools and leather benches, the sleeping rooms are a delight.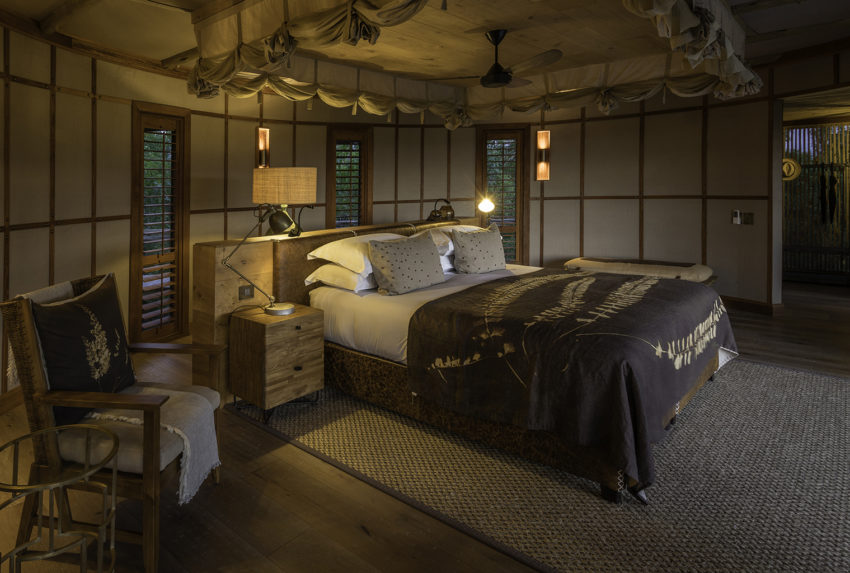 Equally fine, the bathroom is enormous, and contains a double headed shower, twin sinks and flush toilet. A door leads to an outdoor showering area. Each room of Little Mombo comes with the usual amenities – safe, net, coil, spray – and bespoke toiletries. Please note there is no Wi-Fi in the camp.
Activities
Activities include wildlife drives, Rhino conservation talks, massage treatments and sundowners.
Impact
Conservation
The Botswana Rhino Reintroduction Project is an ongoing initiative between Wilderness Safaris and the Botswana government which began in 2001. Since then, core breeding herds of both white and black rhino have been returned to the wilds of Botswana. In addition to this, the camp is also involved with the Botswana Lion Genetics Study. This has been funded by Wilderness Wildlife Trust in order to develop a comprehensive understanding of the past and present genetic structures of the lion population centred on Botswana's Okavango Delta.
Community 
Wilderness Safaris supports Children in the Wilderness, a programme which provides educational life skills and environmental awareness for children who live in villages close to conservation areas. At this moment in time (2018) CITW has benefited over 10,000 children from seven African countries.