A flagship Belmond Southern African property, and located in Moremi National Park, in northern Botswana, Khwai River Lodge is a large luxury safari lodge.
Situated overlooking the Khwai 's floodplains, in the shade of a belt of fig and leadwood trees, Khwai River Lodge is a wood, canvas and thatch build consisting of a main camp and 14 sleeping tents. The shared areas include a lounge, dining area, bar, library, spa and gym, observation post, extended decking, a boma and pool. Largely concentrated in one enormous, open sided building, the lounge, bar and dining area is characterised by polished wooden floors, a cavernous ceiling, a series of seating areas, an open fireplace, slumber seating, chunky tables, campaign storage chests and co-ordinated low lighting. Plush, comfortable and beautifully appointed, the main area provides both a place to rest between game drives and the chance to meet and exchange notes with fellow travellers.
Much is made by returning travellers of the service at Khwai River Lodge. Management is personable, guests are assigned the same guide throughout, and the staff – from restaurant floor to bar to tent care – is excellent. The guiding is especially good, and the game drives are educational, exciting and wonderfully opulent. The food is also good, with breakfast and lunch that bit better than dinner. The cuisine is both international and Botswanan, with game and goat major features during boma based meals. Meals can be taken inside, outside, on the terrace, by the pool, or in the comfort of one's own tent.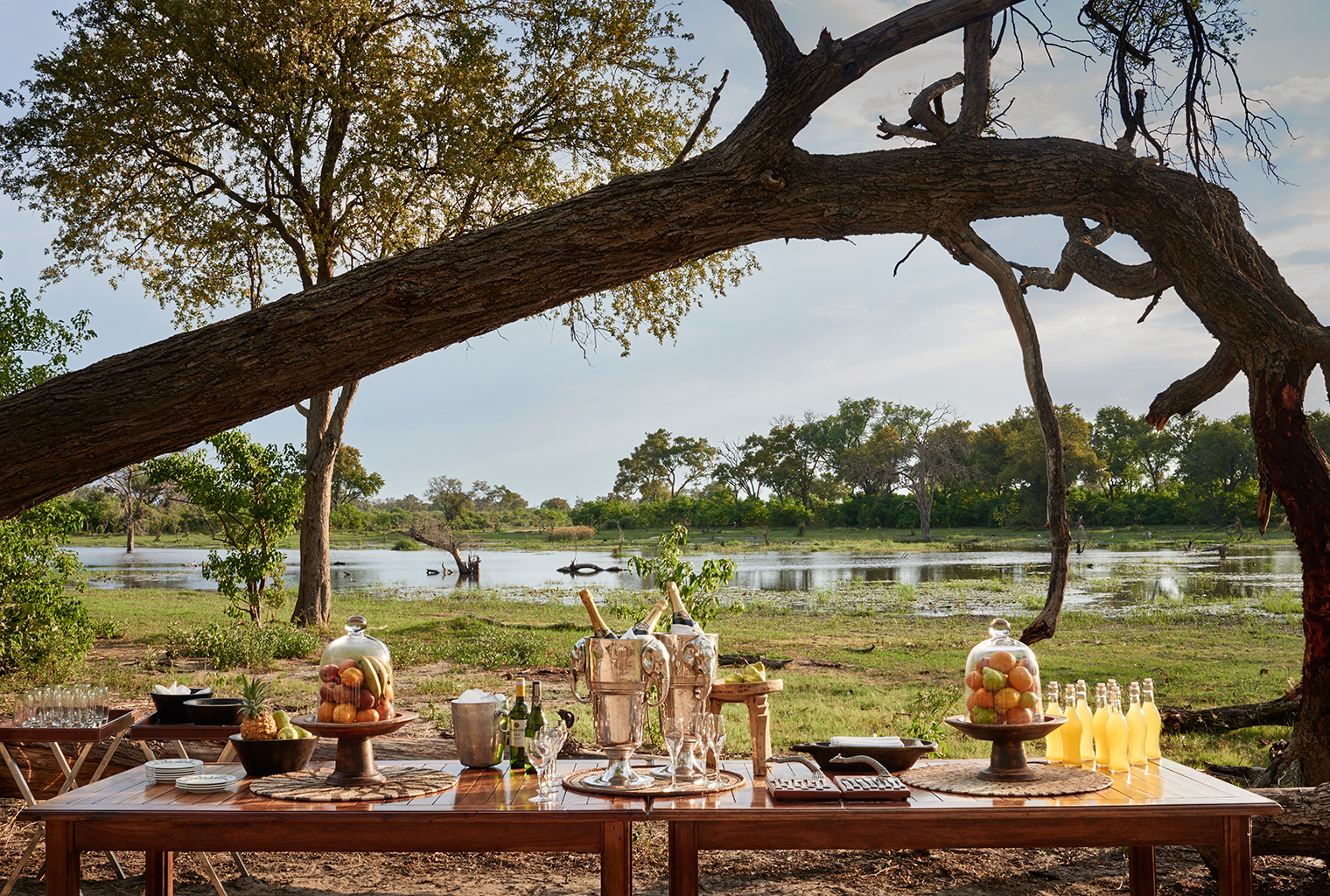 Strung along the riverfront, raised on platforms, and approached by means of flagstone paths, the sleeping tents at Khwai River Lodge are extraordinarily luxurious. Each possesses a twin bed, private veranda and en-suite bedroom. As with the main area, a great deal of thought has gone into the design. With just a writing desk, red lightweight weave seating, a chaise longue, the odd side table and a fantastic range of lamps, the furniture is extremely well chosen, and the bathroom – twin basin, shower and toilet – quite beautiful. As well as the tents, there is a private suite, which though similar, is wider and possesses its own lounge, a splash pool and the most gorgeous copper bath. Please be advised that some of the tents are positioned a longish walk away from the main area.
Activities at Khwai River Lodge include game drives, sundowners and spa and massage facilities. Please note that the lodge is open to children of 8 years and older.