Opened as of April 2011, located in Linyanti's Chobe Enclave, on the edge of the Linyanti Marshes, Linyanti is a small, luxurious and very well managed tented camp.
Overview
Situated a short walk away from Linyanti Bush Camp, in among a cluster of trees, overlooking the marshlands, Linyanti Ebony is a raised canvas and wood build and consists of a mess tent and 4 sleeping rooms. The main area includes a lounge, dining area, pool and bar.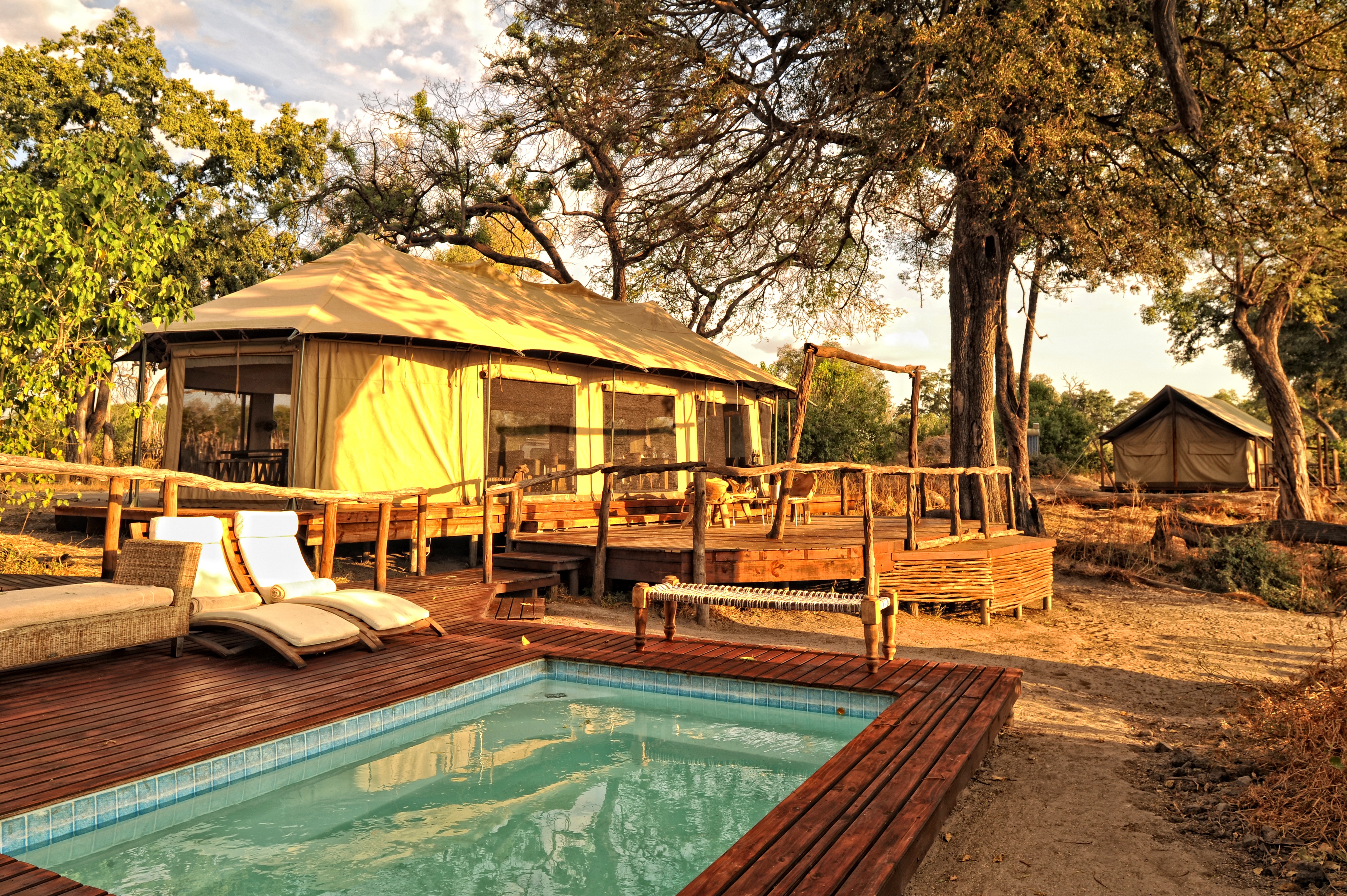 Open plan, cool and characterised by deep brown boards, comfy throws, slumber seating, a fascinating range (style-wise) of lightweight loungers, a thickset dining table and the odd artefact, the main area's the overall feel is all about space, shade, the chance to kick off flip-flops and relax.
Food & service
The service at Linyanti Ebony – from camp manager to guide to restaurant floor – something else, and the food, taken inside or out, communally or in the privacy of one's room, is excellent, the chicken pie a guest favourite. Keen to foster a sense of community, to give guests the chance to spread wings, exchange notes and so fully benefit from the experiences on offer, communal meals include staff.
Rooms
Accessed by means of raised walkways, the sleeping accommodation at Linyanti Ebony is divine. Set on the same dark brown wooden platforms, each Ebony tent includes a double/twin bed, seating area, writing desk, private veranda and en suite bathroom.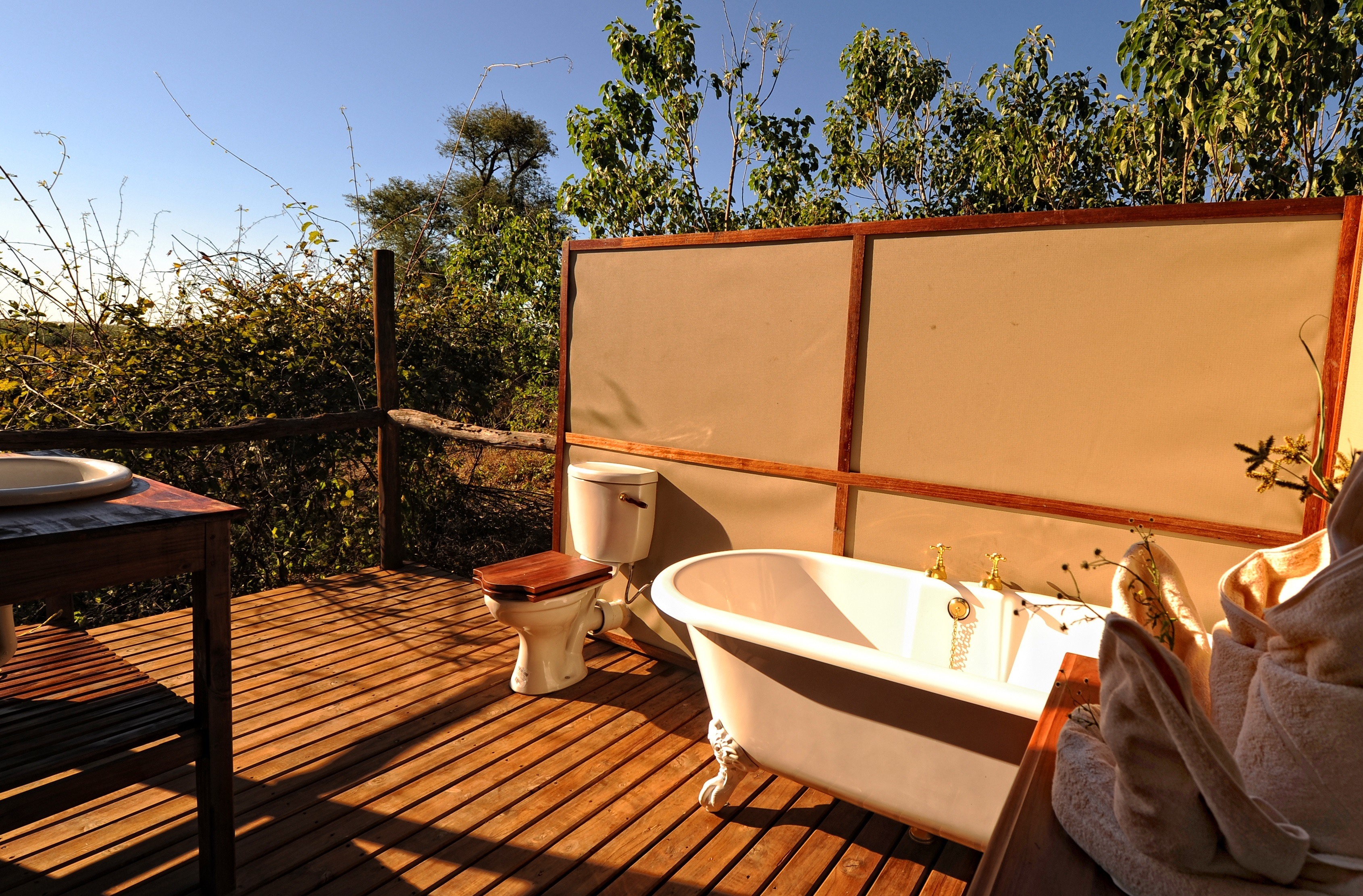 Marked by thick sisal carpeting, well made functional furnishings and not much else, the emphasis here is on the well-made, on – once again – the creation of a space that is at once refuge and inspiration. The bathroom's a delight, its very simple twin basin not much more than a table, the standalone claw-foot bath the only concession to gold tap luxury – and hardly so.
Activities
Activities at Linyanti Ebony include wildlife drives (day and night), guided walks, mokoro trips, fishing and bird watching. Please be advised that the camp is open all year round, offers a combination of both dry and wet safari experiences, and that visits will depend on individual needs. As a rule of thumb, May through to October is best for game as this is when the wildlife tends to congregate around perennial water sources – the marshes, for example.
Impact
Conservation
In a campaign to stop the use of environmentally unfriendly materials, African Bush Camps provides every guest with a stainless steel drinking water bottle to be refilled with pure filtered water which has undergone a triple water filtration system. The campaign aims to minimise the use of toxic plastic bottles which damage the environment.
In addition to the above, African Bush Camps has converted all camps to solar power for heating and lighting with backup generators where needed. The African Bush Camps Foundation is committed to operating in a sustainable manner and ensuring that the environment, culture and conservation of Africa is preserved.
Commerce
Kachikau Sewing Project:
This initiative was born out of the realisation from local residents that there was an opportunity to supply school uniforms to the surrounding areas in response to an overall shortage within the Chobe Enclave Community. This project has allowed the local community to develop other streams of revenue from using local resources. Fundamentally the profits made will then be directly fed back into the community and support vulnerable groups in the villages.
The Vuche Vuche Basket Weaving Co-operative:
For many women in the area, regular employment was very rare. In response to this, The Vuche Vuche Basket Weaving Co-operative was created. It is now formed of twenty ladies who use locally sourced materials harvested from the bush around Satau village. Moreover all dyes that are used in the making of the baskets are natural. This has been an incredibly valuable initiative, one that has supported widows who were the sole providers for families and others that were taking care of elderly parents or orphaned children.