Located in northern Botswana, in the Kwando reserve, on the banks of Kwando river, Lagoon Camp is a seasoned luxury camp known especially for the access it provides to nearby wild dogs during denning season.
Overview
Sheltered under a mix of ebony and marula trees, Kwando Lagoon Camp is a wood, canvas and thatch build, and consists of a main lodge and 8 sleeping rooms. The shared areas include a lounge, pool, bar, dining room, library, decking and shop. Relaxed, welcoming, the mess area is characterised by open sides, wooden flooring, a range of camping and slumber seating, low overhangs, an idiosyncratic bar and the most wonderful view.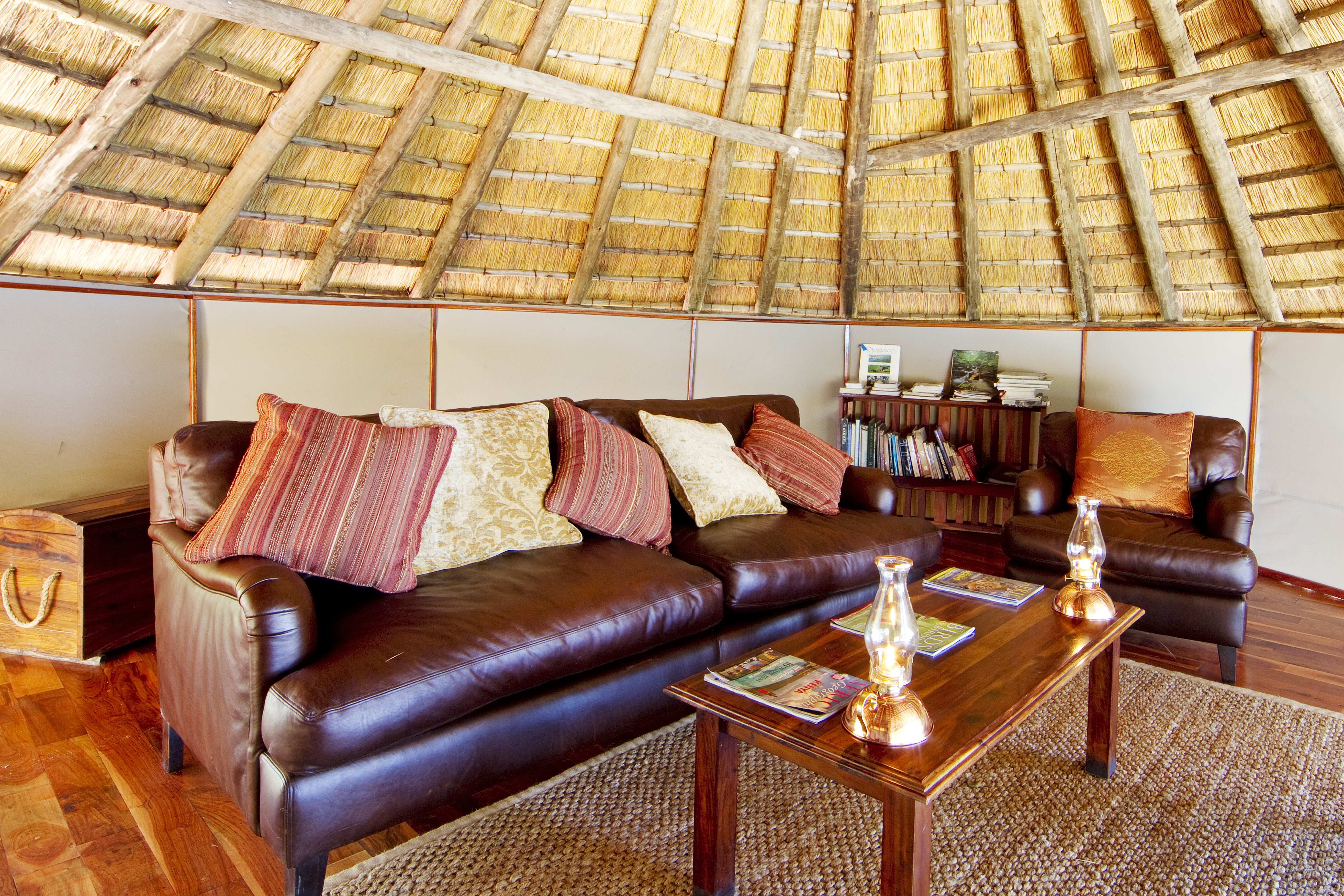 Food & service
Much is made by guests of the service, which is friendly, vital and efficient. The food at Kwando Lagoon is equally good, and meal times are guided by the quality and length of a given drive.
Rooms
With accommodation for up to 16 guests, the sleeping rooms of Kwando Lagoon are comfortable and spacious, and the camp has recently had a complete refurbishment. Each room includes a double/twin bed, private veranda, comfortable seating, a separate bathroom and outdoor shower.
Various safari essentials – mosquito nets, coils – are available, as are toiletries. The bathroom contains a flush toilet, sink and shower. Please be aware that the bathroom is merely screened off. Also note there is no Wi-Fi in the camp.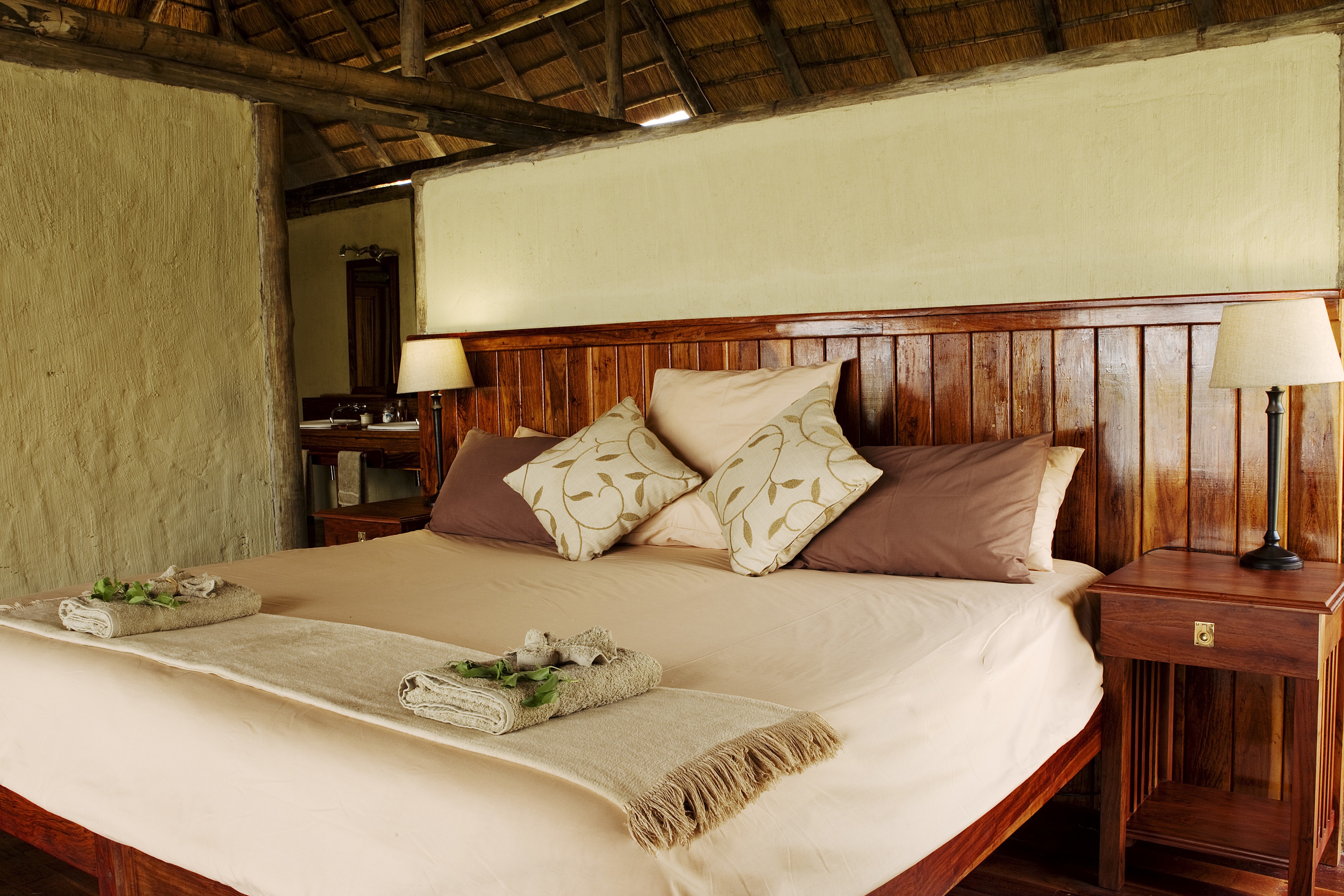 Activities
Activities include wildlife drives (day and night), guided walks, boat trips and bird watching. The driving and the guiding are really very good, and the close vicinity of a wild dog den allows for extraordinary sightings, when accessible. Please be advised that drives may include high speed chases. This is considered normal, and does not, says the camp, bother the dogs, who return year after year to exactly the same spot.
Impact
Conservation
Kwando Safaris camps are pioneering the comprehensive use of eco-friendly power, hot water generation and waste water treatment at this camp. Moreover all waste water at Kwando Safaris camps is treated using above ground state-of-the-art sewerage treatment plants. This ensures that there is no cross contamination of the soils or ground water through discharge of grey or black water. The fully treated end product is eventually returned to the ground.
Commerce
Kwando Safaris is a solely citizen-owned company and takes its employment and empowerment policies very seriously. All of Kwando Safaris' operations, including the sales and reservations team, are based in Maun, the tourism capital of Botswana.
Many of the camp managers started off in junior positions, the guides as trackers, and receptionists as waiters or tent ladies. The company pay scales are at the top of the industry in Botswana and both merit and long service awards are made to staff.
Community
As part of the company's social responsibility programme, Kwando Safaris supports the Lady Khama Charitable Trust (LKCT). The LKCT supports several charitable initiatives throughout the country and Kwando Safaris operates a 'matching' scheme for the benefit of the Trust and its associated charitable beneficiaries. In addition to this, Kwando Safaris also runs the Bucket Project and Mummy's Angels, which collect and donate much needed household items, from buckets for washing, to baby clothes and sanitary towels.