Sister camp to Jack's Camp, and located on Botswana's Makgadikgadi salt pans, on the edge of Ntwetwe Pan, San Camp is an exceptional tented camp.
Overview
Set among a spread of fan palms, San Camp consists of a mess tent and 6 sleeping tents. The mess tent includes a seating area, library, dining area, fire pit, toilet and outdoor seating. White, peaked, and embellished on its roof with sun and moon insignias, the Stewart Granger 1940s style mess tent is slightly reminiscent of a medieval jousting tent, and is characterised by open sides, a long dining table, book cases and canvas camping chairs. Bunched and fixed to uprights during the day, the side awning is fixed at night, when temperatures can drop considerably.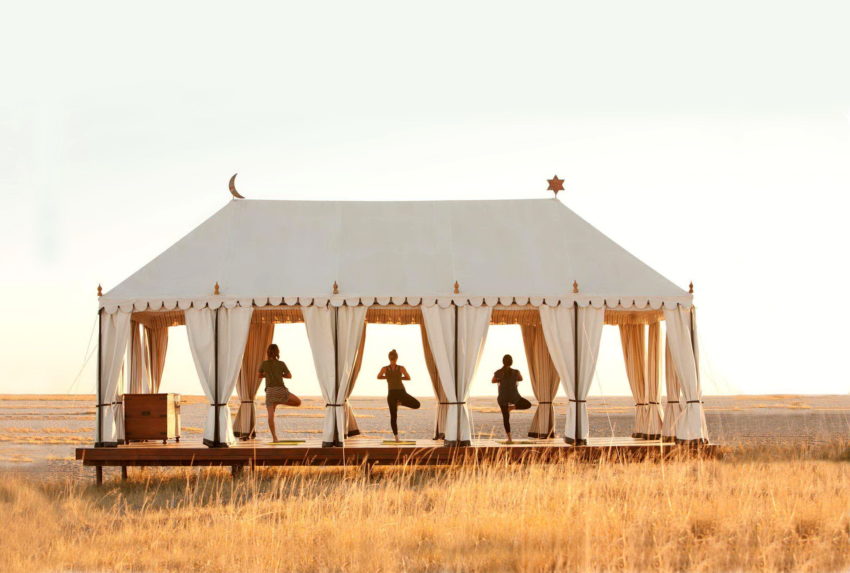 Food & service
The food at San Camp – European, African, game meats – is excellent, and the service relaxed, attentive, and involved.
Rooms
With no electricity, and lit by gasoline lamps, the sleeping tents are functional, well kept and very much in keeping with San Camp's nature. Each possesses a twin bed (wrought iron, bizarrely tall), a writing table, simple storage space, trunks and an en suite outdoors bathroom – flush loo, jug and bucket shower. While eschewing normal camp luxuries, a supply of toiletries, kikois and anti-bug paraphernalia is provided.
Activities
Focussing on select species, such as meerkats, brown hyena, oryx and springbok, as well as on the geology, archaeology and anthropology of the Kalahari and Makgadikgadi, activities at San Camp include wildlife walks with San trackers, visits to the historical baobabs (the campsites of Livingstone, Selous and Baines), and night drives to view unique desert wildlife (aardvark and aardwolf, as well as the brown hyena).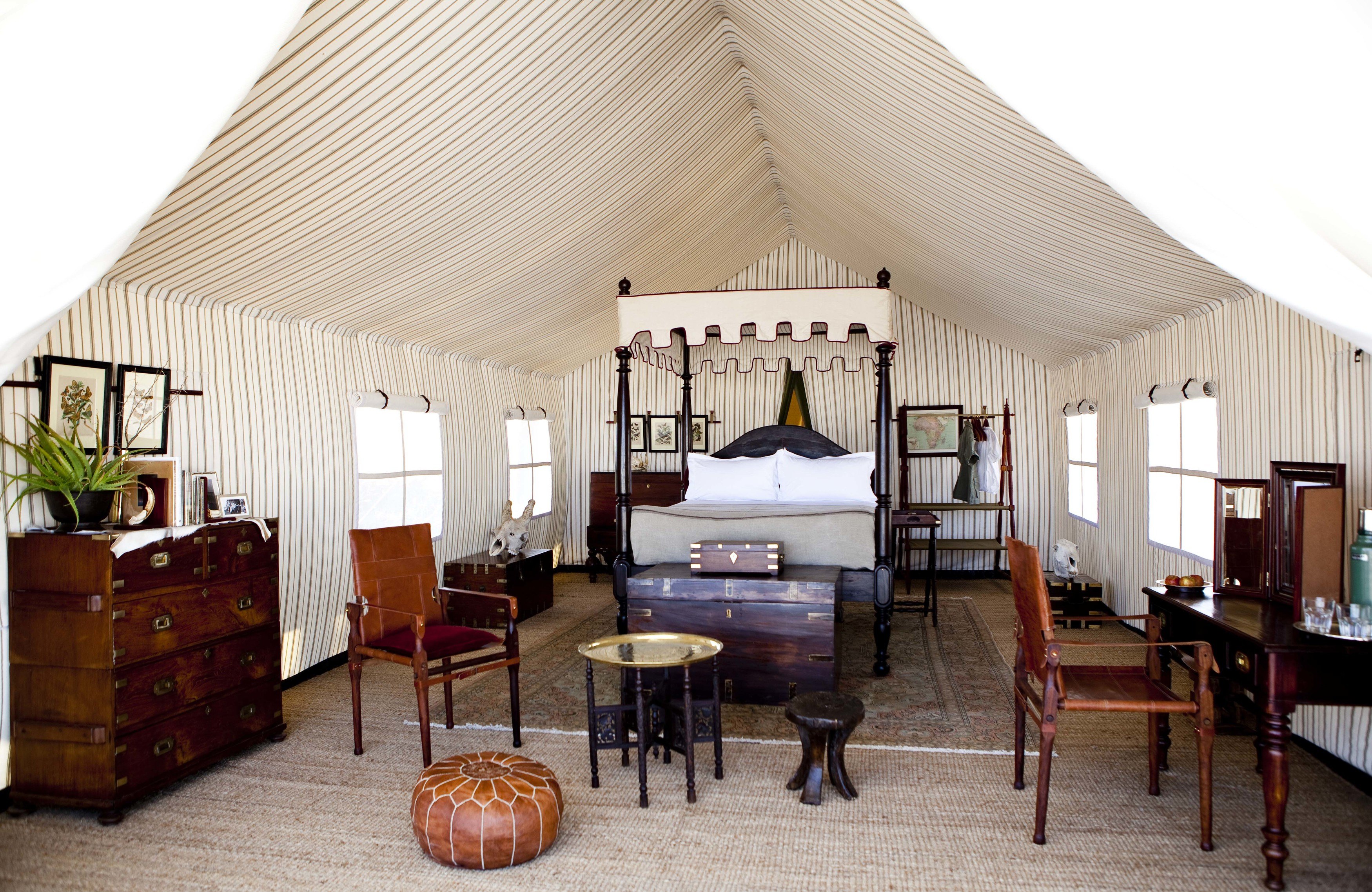 During the wet season guests are taken on wildlife drives to experience the annual zebra and wildebeest migration and on bird walks to observe migratory waterfowl breeding and feeding sites. During the dry season (April – October) guests will have extensive use of the 4WD quad bikes.
Please be advised that San Camp offers the option of combining a stay with a quad bike trip to Kubu Island, where guests sleep beneath the stars, and explore ancient fossilised beaches by day.
Impact
Conservation
San Camp is run entirely on solar energy, which hugely reduces the use of both petrol and paraffin in this camp.
The Makgadikgadi Brown Hyena Project was established 15 years ago in 2003, to assist Botswana's Department of Wildlife and National Parks (DWNP) with the management and conservation of the rare and least studied large African carnivore – the brown hyaena. With the assistance of Cape Town based researcher Wendy Wilson, Uncharted Africa also embarked on a process of habituating meerkats in the concession.
The camp supports the Makgadikgadi-Nxai Pans Conservation Initiative, which aims to forge optimal conditions for the mammal migration through the region.
Commerce
All the wood used in the building of San Camp is sustainable Teak from Zimbabwe. All timber is harvested in accordance with Forest Stewardship Council (FSC) principles and guidelines. This ensures sustainable harvesting, and the preservation of Zimbabwe's beautiful indigenous forests for years to come. Annual audits are undertaken by SGS (Societe generale de surveillance) to guarantee independent verification.
Community
The camp is involved with nearby communities, notably on bush walks through its partnership with Zu/'hoasi Bushmen.