You will no doubt be aware that Daphne Sheldrick's died over the weekend. Founder of the David Sheldrick Wildlife Trust, she was widely known as being the first person to hand-rear a newborn elephant, and spent a staggering 28 odd-years developing a milk formula that suited her young charges. According to a statement released by her daughter, Angela Sheldrick, she passed 'after a long battle with breast cancer.'   
Since starting the Elephant Orphanage in 1977, the trust has been responsible for the successful hand-rearing of over 150 elephants, many of which were successfully reintroduced into the wild, and went on to sire or give birth to their own young. A conservationist and writer, Sheldrick's understanding of the elephant were a wonderful mix of science and intuition. According to the National Geographic, she saw the elephant as a 'very human animal', saying that 'their emotions are very like ours', and described the newly orphaned arrivals as 'devastated, broken and grieving.' 
Apart from it having proved a popular destination for many a JbD guest, and in particular those travelling with children, my own contact with the orphanage was a brief visit to the Nairobi-based nursery, which was established in 1987. The nursery takes orphan-elephants until they are no longer dependent on milk, after which they are transported to the Tsavo East orphanages, where they spend the next five to seven years before being released into the wild.   
A quick fact-finding tour which included the opportunity to explore Sheldrick and the team's work from both a front-of-house and a behind-the-scenes perspective, I remember the nursery as being enormously sweet, and very real. After being shown around with a gaggle of schoolchildren, whose reactions were worth the trip alone, I met some of the calves, and learnt from their keepers about the design of some of their systems for successful rehabilitation, not least the fact that they sleep with their charges, and rotate so as to avoid calves bonding with just the one carer.  
It was a beautiful, warming visit, and while I'm always aware of the dangers of anthropomorphist approaches to conservation, there is, as Sheldrick says, something extraordinarily human about the elephant. When I think of the visit, and of the trust in general, I am frequently reminded of Lawrence Anthony's The Elephant Whisperer, of both his and Sheldrick's work, and in particular of the story told of Anthony's death, which saw many of the elephants gather outside his house, as if in a kind of mourning. Just as moving, there is the time Sheldrick went away for a wedding, a two-week trip which saw one of her charges refuse to eat, and subsequently die from starvation – hence the introduction of the aforementioned multiple-carers system.   
Whatever the truth of the humanness of the elephant, there is no doubt that some humans have a special understanding for the elephant. Daphne Sheldrick was one of those people. She was, as her daughter says, 'a shining example', who will 'continue to make a difference each and every day.' We are all better off for the fact of her work, her character, and the team she leaves behind.  
For more on Daphne Sheldrick and her work see Orphans No More, her own An African Love Story: Love, Life and Elephants  and Born to be Wild. If you are travelling to Kenya and would like to visit either the nursery in Nairobi or the orphanage in Tsavo East, I'd be happy to help.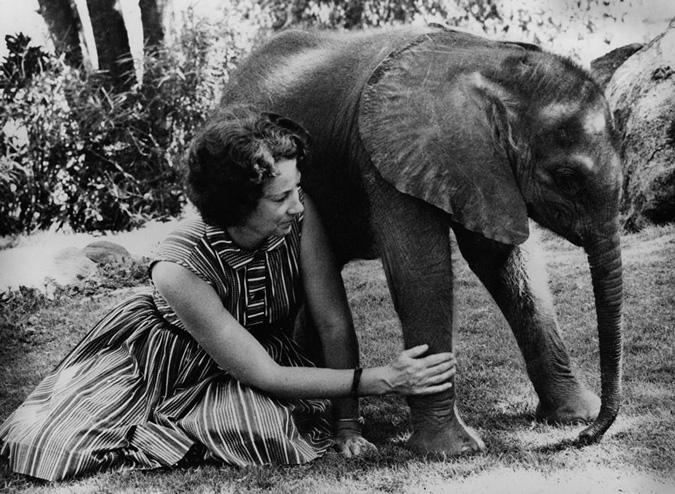 Credit for both images: The David Sheldrick Wildlife Trust